GismontiPascoal - A musica de Egberto & Hermeto
Hamilton de Holanda & Andre Mehmari
by Dr. Leo Rocha
Um encontro de quatro gigantes da Música Brasileira ! Trata-se do segundo disco da dupla Hamilton de Holanda e André Mehmari,agora,pelo selo Brasilianos de propriedade do primeiro. O nome já diz tudo: é uma homenagem a Egberto Gismonti e a Hermeto Pascoal. Egberto,músico,compositor,arranjador,há muito tempo já é um nome de carreira internacional,consagrado,enfim,um gênio,comparece nesse disco como autor de seis músicas e ainda toca violão na faixa "Fala da paixão"(um luxo só). Hermeto,o mago de todos os instrumentos(toca tudo) é também compositor (seis músicas são de sua autoria) e arranjador, participa em uma faixa "Música das nuvens e do chão" que encerra o disco. Hamilton de Holanda,jovem bandolinista já vai fazer 20 anos de carreira e é,sem dúvidas, um dos maiores bandolinistas do mundo (ouçam o que ele faz com o tema "Bebê" de Hermeto). André Mehmari dispensa apresentação e continua a mostrar todo o seu talento como pianista além de compositor inspirado. No CD há também quatro músicas de autoria de Hamilton e Mehmari como o lindo tema "Menino Hermeto",quase um acalanto. Belos também são os temas de Gismonti ,já bem conhecidos: "Palhaço" e "Memória e fado". O ano de 2011 começa, portanto,com tudo ! É uma bênção a reunião desses quatro craques num disco.
Pat Bianchi
Back Home
by Michael G. Nastos
Organist Pat Bianchi's turn to be in the spotlight as a premier player on his instrument is long overdue, and with the release of Back Home, it's clear his time has finally come. Since the 2006 issue of his album East Coast Roots on the Jazzed Media label and his estimable work with guitarist Corey Christiansen, Bianchi's star has been steadily rising, but now he's reached his zenith. Playing with two different groups, Bianchi transcends soul-jazz by playing the C-3 (church) organ, choosing heady progressive material, and showing his acumen on his instrument similar to peer Larry Goldings (see the Goldings masterpiece Sweet Science). With his "A" group -- the very energetic sidemen of drummer Ralph Peterson, tenor saxophonist Wayne Escoffery, and trumpeter Terell Stafford -- alongside, Bianchi whips out compositions not necessarily thought of as vehicles for organ, evidence including the super-fast and tricky Ornette Coleman post-bop piece "Blues Connotation" and Chick Corea's 6/8 groove and bop track "Litha," which came directly from fusion originally with electric piano. The "B" trio with drummer Carmen Intorre and guitarist Gilad Hekselman also tackles difficult music -- John Coltrane's "Fifth House" (and an additional shorter alternate take) challenges rhythmic parameters in a modal sense while Bianchi goes off à la Larry Young. But where Bianchi's three pieces also explore a mellower sound during ballads and blues, it is his deeply hued style on the C-3 that identifies a new approach to playing modern jazz. What Bianchi is doing is very nearly innovative, and this should only be the tip of the iceberg.
Miguel Zenon
Esta Plena
by Leonardo Barroso
This is one of the worst jazz cd I heard, some jazz is heard through some of the musics, but a lot of screaming(not singing) in the begining of each song. DownBeat Magazine gave 5 stars, I'll give 1 star. Run from this recording !!
by Jeff Tamarkin
Following the release of his previous album, 2008's Awake, Miguel Zenón was awarded both a Guggenheim Fellowship and a MacArthur Fellowship "genius grant," the latter alone putting half a million bucks in his pocket with which he could do anything he wanted. He used at least some of that cash to create Esta Plena, an album that expands on 2005's roots-conscious Jíbaro by linking traditional Puerto Rican plena music with modern jazz technique. In the album's liner notes, Zenón provides an in-depth explanation of the history and musical properties of plena, a folkloric style born of the poor class in a barrio in southern Puerto Rico. Its lyrics, he explains, tell of the lives and struggles of those people, and while the music has continually evolved since its inception, it still pays its respects to its roots. Here it evolves yet again as Zenón marries the time-tested form to his modern jazz sensibilities. He is a superb, dynamic alto saxophonist and a visionary bandleader, and working with a cast of ace contemporary players -- pianist Luis Perdomo, acoustic bassist Hans Glawischnig, drummer Henry Cole (all three of whom appeared on Awake), lead vocalist/percussionist Héctor "Tito" Matos, and background vocalists/percussionists Obanilú Allende and Juan Gutiérrez -- Zenón finds the place where the traditional plena and contemporary jazz, both of which share African roots, meet up and become something new together. From the fiery opening instrumental, "Villa Palmeras," through the vocal numbers, Zenón melds his well-defined melodicism with intricate rhythms and harmonies, allowing plenty of space for his fellow musicians and vocalists to contribute to the story. Perdomo, particularly, is a major factor: a masterful pianist, he virtually serves as a second leader here by co-crafting the melodic direction with Zenón. On tracks like the midtempo "Pandero y Pagode," the swinging "Oyelo," the sizzling "¿Qué Será de Puerto Rico?" (spotlighting drummer Cole), and the epic instrumentals "Progreso" and "Villa Coope," Zenón and his crew create music that is full of life, history, richness, and realness.
Steve Gadd and Friends
Live At Voce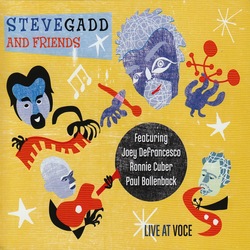 by PRWeb / Vocus
One of the most recorded drummers of all time, Steve Gadd has worked with everyone from Chick Corea to Paul Simon, Maynard Ferguson to Eric Clapton. When it comes to his own projects, Gadd loves to play good-time groove music that has the danceable qualities and bluesiness of the best R&B along with the adventurous solos and impeccable musicianship of jazz.
On "Live At Voce (Deluxe Edition)," Gadd is joined by Joey DeFrancesco (arguably the World's greatest organist), the passionate baritone-saxophonist Ronnie Cuber, and the versatile guitarist Paul Bollenbeck. Together they create grooves and hard-driving swing that are reminiscent of the best organ groups of the 1960s including an early George Benson band that featured Cuber. The infectious rhythms, catchy material, and colorful ensembles make this band impossible to resist.
For this project the quartet, which has been together since 2007, is heard at a popular club in Scottsdale, Arizona. "Watching The River Flow," which is based on "Swanee River," has exciting solos by all four musicians. The one-chord vamp "Way Back Home" gives Ronnie Cuber a chance to preach on his horn. "Undecided" is taken at a burning tempo that is perfect for the musicians, with DeFrancesco showing why he is considered the master of his instrument. "Bye Bye Blackbird" starts out with a surprising duet between Gadd on brushes and DeFrancesco, who is heard on a muted trumpet a la Miles Davis. "Them Changes" finds the group rocking out on an R&B groove that alternates with some furious straight ahead jamming.
Cuber is featured on a heartfelt rendition of "Georgia On My Mind." "Back At The Chicken Shack" has the Gadd band returning to the blues, really digging into the music. Horace Silver's "Sister Sadie" is given quite a ride by the musicians, with this being the most stirring performance of the heated set.
As a bonus, the deluxe version of Live At Voce concludes with a pair of intriguing duets ("Here I Am Now" and "Down") by Gadd and singer/songwriter Edie Brickell. Gadd and Brickell lead the newly formed band, The Gaddabouts, featuring Andrew Fairweather Low and Pino Palladino.
About The Musicians:
Steve Gadd has had a remarkable career during the past 40 years, and there are no signs that he plans to slow down. He began playing drums when he was three, sat in with Dizzy Gillespie at the age of 11, and became a major studio drummer in 1972. Since then his countless number of recordings include important sessions with Chuck Mangione, Bill Watrous, Jim Croce, Joe Farrell, Bette Midler, Chet Baker, Phoebe Snow, Bob James, Hubert Laws, Herbie Mann, George Benson, David Sanborn, Paul Simon, Tom Scott, Chick Corea, Grover Washington Jr, Jim Hall, Maynard Ferguson, Al DiMeola, Carla Bley, Judy Collins, Stanley Clarke, Stuff, Joe Cocker, the Brecker Brothers, Dave Grusin, Charles Mingus, Eddie Daniels, Weather Report, Lee Ritenour, Michael Franks, Carly Simon, Steely Dan, Al Jarreau, Grover Washington Jr, the Manhattan Transfer, Paul McCartney, Frank Sinatra, Diana Ross, James Brown, the Manhattan Jazz Quintet and Natalie Cole plus the Gadd Gang. Just in the past year, Gadd has toured and recorded with Eric Clapton, James Taylor, Alain Clark and Edie Brickell.
Joey DeFrancesco is largely responsible for the Hammond B-3 organ making a comeback in the 1990s. The son of organist Papa John DeFrancesco, Joey began sitting in at his father's gigs when he was just six. He learned from the masters, befriended Jimmy Smith, and toured with Miles Davis right after his high school graduation in 1988. His brilliant playing and enthusiasm led to the organ, which had been neglected in favor of electric keyboards, being restored to its former place of prominence. His success has led to many other young organists entering the scene, but Joey DeFrancesco still ranks at the very top.
Baritonist Ronnie Cuber, whose deep guttural tone is influenced by the late Pepper Adams, has been a major force on his instrument since the 1960s. His stints with the Maynard Ferguson big band and with George Benson made him well known in the jazz world. In recent years he has often been heard with the Mingus Big Band.
Guitarist Paul Bollenback started playing music when he was seven. Originally a rock player, he changed his musical direction after hearing Miles Davis. He has been associated with Joey DeFrancesco off and on since the early 1990s and has also worked with Mark Murphy, Gary Thomas, Ron Holloway, Joe Locke, Houston Person, Geoff Keezer, Jim Snider, Jack McDuff, and Tony Monaco.
Steve Gadd's Live At Voce lives up to its great potential, resulting in bluesy music that is both accessible and superbly played by four master musicians.
For more information about Live At Voce (Deluxe Edition), contact Heather Noonan at BFM Digital: pr (at) bfmjazz (dot) com or 818-761-0191.
Melody Gardot
My One And Only Thrill
by Stephen Thomas Erlewine
Melody Gardot's 2006 debut, Worrisome Heart, was greeted with warmly enthusiastic reviews that never failed to mention Gardot's musical similarities to Norah Jones and Madeleine Peyroux, or her sadly compelling story of surviving a severe hit-and-run accident at the age of 19. The tragedy gave critics an irresistible hook, and the musical similarities -- which also include her vocal resemblance to Fiona Apple's smoky tones -- gave new listeners a familiar touchstone, but both merely provided an entry into a fine, accomplished debut. Released three years later, Gardot's second album, My One and Only Thrill, proves that the first was no fluke; it doesn't build upon the debut so much as it sustains its quality. Like before, My One and Only Thrill is built primarily on Gardot originals (a fine version of "Over the Rainbow" that closes the album being the only exception) that seamlessly blend sultry, late-night jazz blues, singer/songwriter introspection, and sophisticated pop melodies. If anything, My One and Only Thrill emphasizes Gardot's chanteuse qualities, feeling like more of a jazz album than its predecessor, thanks both to its languid atmosphere and also Gardot's phrasing, which elegantly elongates her melodies and slips into scat. These are slight, subtle progressions but what impresses is how thoroughly My One and Only Thrill lives up to the promise of her debut, offering another album that is as enchanting in its sound as it is in its substance.