Arturo Puertas
Viva Jujuy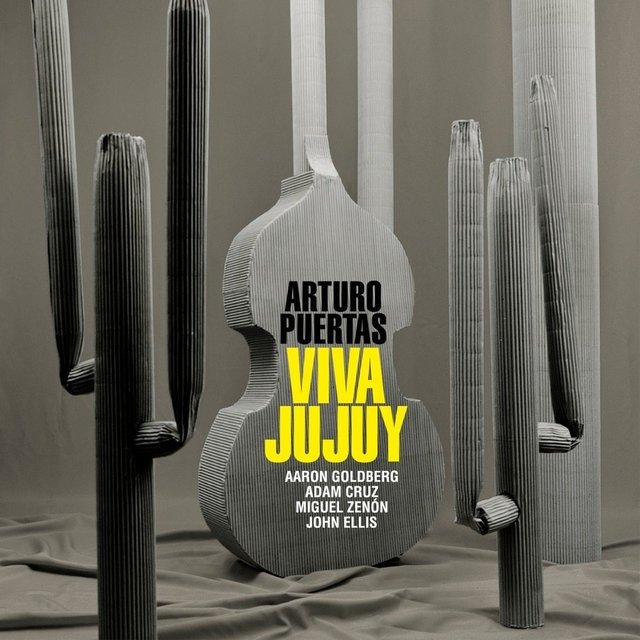 By El Intruso
El contrabajista y compositor argentino Arturo Puertas pertenece a esa raza de músicos casi en extinción que prioriza su arte por encima de todo lo aleatorio. Nacido en 1961 y a pesar de su bajo perfil, ha sabido construir un camino sólido, fructífero y abundante que lo ha llevado a compartir proyectos con una infinita cantidad de músicos locales de los que mencionaremos apenas a unos cuantos: Diego Urcola, Luis Salinas, Adrián Iaies, Gusavo Bergalli, Ernesto Jodos, Daniel Binelli, Ricardo Cavalli, Juan Cruz de Urquiza, Jorge Navarro, Baby López Furst, Walter Malosetti, Fats Fernández, Pocho Lapouble, Luis Nacht, Horacio Larumbe, Oscar Feldman, Osvaldo Fattoruso, Carlos Franzetti, Alberto Favero, Hernán Jacinto, Cirilo Fernández, Gillespi, Andrés Boiarsky, Pepi Taveira, Fernando Martínez, Ricardo Lew, Guillermo Romero, Oscar Giunta y en extenso etcétera.
Pero también músicos extranjeros han requerido de sus servicios, a saber: Clark Terry, Dave Liebman, Dave Samuels, Conrad Herwig, Walt Weiskopf, Gail Wynters, Ted Piltzecker, Jeff Siegel, Michael Tracy, Jacob Karlzon, Peter Asplund, Fredrik Lundin y Krister Jonsson, entre otros.
En 2008 decidió iniciar su carrera solista; así fue que al año siguiente debutó discográficamente como líder con Siete puertas, acompañado por Fernando Martínez en batería, Pablo Raposo en piano y Gabriel Santecchia en saxo tenor. En 2013 llegó el sucesor: Afropuertas, en esta ocasión con los aportes de Beto Merino y Ezequiel "Chino" Piazza (batería), Carlos Michelini (saxos), Cirilo Fernández (piano) y Marcelo Mayor (batería).
Y Arturo Puertas acaba de editar su tercer opus; pero esta vez el álbum, que lleva por título Viva Jujuy, fue registrado en Estados Unidos. Y la compañía, de excepción: Adam Cruz en batería (Danilo Pérez, Chris Potter, Charlie Hunter, Chick Corea, David Sánchez), Aaron Goldberg en piano (Wynton Marsalis, Joshua Redman, Kurt Rosenwinkel, Guillermo Klein), Miguel Zenón en saxo alto (Charlie Haden, Fred Hersch, Kenny Werner, Seve Coleman, Mingus Big Band) y John Ellis en saxo tenor (John Patitucci, Charlie Hunter, Sting, Darcy James Argue). El disco contiene ocho composiciones del líder (El hombre fuerte, Para Charlie H., Es diferente, No soy lo que crees, K.J. el pianista, Juegos en el viento, Sos mi bastón y Una música en el cordal) una de Rafael Rossa (Viva Jujuy) y dos versiones (una en trío y otra en cuarteo) de Tour de Force, de Dizzy Gillespie.
Como se desprende de los títulos, hay en Viva Jujuy homenajes a Charlie Haden y a Keith Jarrett (otra versión de K.J. el pianista aparece en el álbum debut de Puertas); también hay energía en El hombre fuerte y No soy lo que crees, blues en Una mosca en el cordal, aires folclóricos en Sos mi bastón y Viva Jujuy, vals con aires de bossa nova en Es diferente (también incluida en Siete puertas), interesantes relecturas de Tour de Force y todo con un excelso nivel de interpretación convirtiendo a Viva Jujuy en un destacado y fiel reflejo de las bondades de Arturo Puertas que supo conformar un grupo de notables que se han puesto a disposición del líder y que contribuyen a, dentro de la diversidad estilística, conformar un álbum compacto y homogéneo.
Adrian Iaies Trio
Vals de La 81ST & Columbus
Tracks:
Vals de la 81st & Columbus
Astor changes
Round midnight (Monk, Hanighen, Williams)
Algún día nunca llega
Juarez el casamentero
Sigilosamente (For Duke)
Valsecito para una rubia tremenda
What are you doing the resto f your life (Legrand, Bergman M&A)
Nefertiti (Shorter)
Mariposita (Aieta, G.Jimenez)
Personnel:
Adrián Iaies - piano
Michael Zisman - bandoneón
Pablo Aslán - contrabajo
Pepi Taveira - batería
Juan Cruz de Urquiza - trompeta (1,9)
Grabado en Sound Rec, Buenos Aires, enero 29 al 31 de 2008
Ingenieros de sonido: Ricardo Sanz y Carlos Melero
Mezclado en Sound Rec por Ricardo Sanz
Asistente de grabación: Facundo Colella
Técnico de piano: Roberto Rovira
Masterizado por Katsuhiko Naito en Avatar Stuidos, NYC
Fotos de Horacio Sbaraglia
Foto de 81st & Columbus: Ana Delgado
Cover art; Magdalena Casá
Diseño de arte: Javo Veraldi & Carolina Santantonín para plantabaja C.
Producciòn artística: Adrián Iaies & Fernando Gonzalez
Producido por Adrián Iaies, Fernando Gonzalez & Justo Lo prete para Sunnyside communications
Amaro Freitas
Rasif
By Mark Sullivan
Brazilian pianist/composer Amaro Freitas is from the coastal city of Recife in the northeastern state of Pernambuco. His geographic background is important, because he has been heavily influenced by the Afro-Brazilian maracatu (dating from slavery days) and the high intensity carnival rhythms of frevo and baião, as well as the jazz tradition. Most of this album is played by the Amaro Freitas Trio, his group with drummer Hugo Medeiros and double bassist Jean Elton.
Opener "Dona Eni" immediately establishes the unique rhythmic feel of the trio. Powerful, driving, with the piano treated like a huge 88-piece percussion instrument: an unquestionably Brazilian sound, but with no reference to the expected samba or bossa nova rhythms. "Paço" is built on a rhumba-like dance rhythm, albeit one a bit too jerky for dancing. The title tune "Rasif" (a colloquial spelling of Amaro's hometown) slows things down to a ballad feel. Elton's double bass plays the reflective melody, while Medeiros contributes melodic tom toms. "Mantra" achieves a meditative state through motoric repetition, frequently emphasized by the bass doubling Freitas' left hand. "Aurora" shows a more elaborate side of Freitas' compositional style. A three part suite depicting the daily motion of the sun, it goes through distinct changes in mood—from rhapsodic to a frenetic climax driven by dynamic drumming.
The trio is joined by reed player Henrique Albino for the two final selections. "Plenilunio" ("Full Moon") has a composed sound, more reminiscent of classical music than jazz. After an unaccompanied piano introduction, Albino takes the lead on flute, while also adding baritone saxophone to the ensemble. So it is a much bigger sound, forming an elegant contrast to the earlier rhythmic music. Closer "Afrocatu" features a twisted folkloric-sounding melody over a relentless odd-metered ostinato pattern. Brief baritone saxophone solos interrupt the flow like obbligatos. The band is back into power rhythm mode, and the album ends with an exciting unison.
This is Amaro Freitas' sophomore release as a leader, and he has already proven himself as a distinctive voice in jazz piano. Well established in Brazil, he is ready to step upon the world stage.
Track Listing:
Dona Eni; Trupé; Paço; Rasif; Mantra; Aurora; Vitrais; Plenilunio; Afrocatu.
Personnel:
Amaro Freitas: piano; Hugo Medeiros: drums, percussion; Jean Elton: double bass; Henrique Albino: baritone sax, flutes, clarinet.
Takuya Kuroda
Rising Son
By Michael J. West
Japanese trumpeter Takuya Kuroda currently works with singer José James, and Rising Son shares James' controversial penchant for genre bending. (James also produced the album, Kuroda's first for Blue Note and fourth overall, and performs on one track.) It's alternately jazz, funk, hip-hop, R&B, Afrobeat and club music, but the music isn't as muddled as that might sound; actually, it's quite tight. But it's not always successful, either.
The tunes follow a pattern: Drummer Nate Smith establishes a groove on which Solomon Dorsey and Kris Bowers vamp with bass and Rhodes electric piano, respectively, until Kuroda and trombonist Corey King enter with a unison melody. But there's enough rhythmic and melodic variety to prevent monotony. The hard-edged hip-hop of "Piri Piri" follows "Afro Blues," an intoxicating Afrobeat pastiche (no relation to the jazz standard) spiced by guest Lionel Loueke's guitar. Meanwhile, the Latin-disco "Mala"-on which King sits out and Bowers switches to acoustic piano-leads into James' sexy R&B vocal, "Everybody Loves the Sunshine." There's even internal variety: The title track juxtaposes a dark melody for processed horns and Rhodes with a party-time funk rhythm. And, of course, there are smart, virtuosic solos by (mostly) Kuroda and Bowers, who particularly shine on the mellow closer, "Call."
The clubby aspect of the disc is its use of extended rhythmic vamps à la 12-inch dance records. Here the music fails, because there's too much time spent on too little. "Mala" ends with over a minute of vamping. "Piri Piri" insists on including its 16-bar intro with every chorus except the improvised ones-vamps at the expense of solo space. Must jazz hobble itself to gain relevance?
Track Listing:
1. Rising Son; 2. Afro Blues; 3. Piri Piri; 4. Mala; 5. Everybody Loves the Sunshine; 6. Green and Gold; 7. Sometime, Somewhere, Somehow; 8. Call.
Personnel:
Takuya Kuroda - Trumpet; Corey King - Trombone (1-3, 6-8); Kris Bowers - Rhodes (all except 4),Synth (1,2,5 & 8), Piano (4); Solomon Dorsey - Bass, Synth Bass, Percussion (all), Vocals (5); Nate Smith - Drums & Percussion; Lionel Loueke - Guitar (2); Jose James - Vocals (5)