Giovanni Mirabassi
Live In Germany
By Daniela Floris
On 16 September 2014, in the recording and concert hall at Bauer Studios in Ludwigsburg, Germany, Giovanni Mirabassi put on a piano solo performance before an audience bewitched by his tribute to three singers through renditions of his most favourite of their songs: Ella Fitzgerald, Mercedes Sosa and Edith Piaf. After all, this extremely well-received concert was also a tribute to three countries with very different sonic backgrounds: the U.S., Argentina and France, the last being the adoptive country of this jazz piano star, where he is much appreciated and has been living for quite some time. Mirabassi is in a state of grace when launching himself into pieces so thoroughly internalized that he can convey their original melodic and harmonic essence through just a few masterful strokes of sound, but weaving into it an emotional world animated with colours, sensations, nuances completely free and instinctive, deeply his own. This CD includes three improvised tributes to Ella, Mercedes and Edith, true gems, unscripted and polished on the spot. You can listen to all that happened during this impressive live performance in Germany, on a mild day in September, throughout the passionate, sweet, joyful and sometimes also wistful flow of the thirteen tracks on this CD. You can also perceive the small miracle of empathic communication that took place between Mirabassi and his audience in a concert hall with excellent acoustics where no nuances were missed: because this same small miracle takes place when listening to this recording.
Recorded and mixed in Ludwigsburg on 16 September 2014 at Bauer Studios
Recording & mixing engineer Johannes Wohlleben
Nelson Ayres
Big Band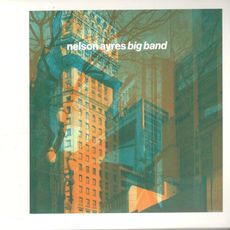 By Clube de Jazz
Big band é um grande grupo instrumental associado ao jazz. Esse tipo de formação foi muito popular, principalmente nos Estados Unidos, dos anos 1920 aos anos 1950, período que ficou conhecido como a Era do swing. No Brasil, a tradição das big bands só começou mais tarde, por volta dos anos 1970. Em 1973, após uma temporada norte-americana, o maestro, arranjador, compositor e instrumentista paulista Nelson Ayres decidiu criar a Nelson Ayres Big Band, que acabou abrindo espaço para muitas outras que viriam depois.
Em 1980, como o próprio músico diz, "reviravoltas que o mundo dá" fizeram com que o grupo perdesse o gás. Mas, em 2015, por sugestão de músicos que costumavam acompanhar as apresentações da banda, ela retomou suas atividades. "Esses artistas que sugeriram eram muito jovens na época em que a gente começou, mas sempre que podiam iam nos assistir. E para eles a big band até os estimulou a escolher a música como carreira profissional. Daí a ideia do resgate", comenta Ayres.
Para celebrar essa retomada, os músicos gravaram o disco Nelson Ayres Big Band, primeiro registro fonográfico do grupo musical. "A gente não tem nenhuma gravação daquela época. Era muito caro produzir um disco, porque tudo tinha que ser feito através de gravadora, ainda mais que é um tipo de música que não é muito comercial. Não tinha esse movimento independente que tem hoje", analisa.
APOIO Mesmo sem contar com nenhum estúdio por trás, os músicos tiveram o apoio cultural do Projeto Ceará 202, inciativa informal sem subsídios públicos do escritório Ernesto Tzirulnik Advocacia (ETAD). O repertório traz composições do próprio Nelson Ayres, como a vibrante Olé!, Só xote, Organdi e Gomalina, além de clássicos da MPB como Sebastiana (Jackson do Pandeiro), Fechado pra balanço(Gilberto Gil) e Corcovado (Tom Jobim). "Procuramos ter uma linguagem mais brasileira do que jazzística. Ao longo do processo de produção, as músicas foram surgindo. Temos bons exemplos da diversidade e de ritmos", ressalta.
O CD conta com 16 solistas, que vão desde músicos que fizeram parte da formação original, como Carlos Alberto Alcântara, aos que assistiam às apresentações, como Ubaldo Versolato e Nahor Gomes. Há ainda talentos que sequer haviam nascido na época de sua primeira formação, como o saxofonista Cássio Ferreira e o trompetista Rubinho Antunes.
O show de lançamento está previsto para o dia 13 de julho, em São Paulo, e a ideia é fazer uma turnê por outras cidades. Para o arranjador e diretor musical do CD, é quase um milagre ver o álbum pronto. "Temos várias big bands no Brasil, não só em escolas de música, mas também formações profissionais, como a Banda Mantiqueira. É bacana ver que pelo menos uma delas conseguiu fazer o seu disco", comemora.
Nelson Ayres tem uma ligação especial com os músicos mineiros. Ele considera os músicos da Orquestra Ouro Preto, por exemplo, seus "irmãos musicais". "Vira e mexe estou fazendo alguma coisa com os mineiros. Trabalhei com Milton em alguns discos, temos uma composição juntos (Cidade encantada), há uns dois anos fiz um trabalho com o pessoal do Conservatório da UFMG, com quem acabei até trabalhando esse repertório que entrou no disco. Por isso, espero poder mostrar este trabalho aí em Minas também", diz. (ACB).
Roni Ben-Hur & Harvie S
Introspection
By Hilary Brown
Guitarist Roni Ben-Hur is an established jazz figurehead with a keen sensitivity to his personnel and a limber, near-effortless fluidity. On Introspection—where he's joined by a savvy outfit comprising bassist Harvie S and drummer Tim Horner—his trio revisits a batch of lesser-known compositions, bringing mindfulness and nuance to the forefront on a set of 10 tunes.
Much as the name suggests, Introspection offers an almost autobiographical, inward look at Ben-Hur and Harvie S' collective musical evolution—lyrical and nuanced soloists, astute and mindful accompanists. Add Horner's timely diligence to the mix, and the album breathes some organic vitality into almost-lost jazz works. But as Ben-Hur and Harvie S provide scintillating back-and-forth, minimalism is the ultimate form of artistry here. Certainly, moments of near-perplexing virtuosity exist—Ben-Hur's harmonic prowess on super-vibey, Brazilian-style B-sides and a tasty, throwback to his bebop upbringing. From Harvie S' swinging solo fanfare to Ben-Hur's lightning-fast, touch-sensitive runs—under Horner's watchful, understated brushes—the chemistry found on the album is a unique, uncompromising force to behold.
Introspection:
Prá Machucar Meu Coração; Serenity; Conception; Introspection; Dexia; Focus; Blood Count; Nobody Else But Me; Repetition; Asiatic Raes. (50:37)
Personnel:
Roni Ben-Hur, guitar; Harvie S, bass; Tim Horner, drums.
Melody Gardot
Live In Europe
By Christopher Loudon at JazzTimes
The cover shows a woman, center stage, spotlit, back to the camera, nude save a guitar. The inference is obvious: This, her first live album, is Gardot laid bare. But Gardot has ranked among the most nakedly honest and emotionally vulnerable of singers, ever since her stellar debut with Worrisome Heart in 2008. Live in Europe's two discs—17 cuts culled from more than 300 concerts between 2012 and 2016—simply confirm that she exhibits the same breathtaking naturalism in front of thousands-strong audiences.
Rather than seek out the most perfect performances, Gardot assembled her choices based on the sage belief that "live there is only one element that counts: heart," as she puts it in her liner notes. Several tracks focus on her deeply simpatico rapport with cellist Stephan Braun, including exquisite duets on "Deep Within the Corners of My Mind" and "Over the Rainbow," as well as a "My One and Only Thrill" with Gardot at the piano and Chuck Staab on drums. There's a rousing, crowd-thrilling "Lisboa" from, of course, Lisbon. "Baby I'm a Fool" is the only song presented twice, first from Vienna, mirroring the tremulous beauty of the original studio session, and second from London, intriguingly sprier and sunnier. But the standout tracks are an 11-minute "The Rain," a resounding showcase for Gardot, Braun, Staab, bassist Aidan Carroll, and saxophonist Irwin Hall; and a colossal "March for Mingus" highlighting Hall and bassist Sam Minaie.