Alice Claire Ranieri Quartet
Every Song
by Laura Mancini per Jazzitalia
Un quartetto nato nel 2005 che si auto-presenta con modestia come un gruppo di amici/studenti (la sezione ritmica che accompagna Alice Claire è in realtà composta da elementi di provata esperienza), che "credono nella loro crescita collettiva, amano trascorrere il tempo insieme e perdersi nella gioia di suonare il jazz". Alice Claire Ranieri Quartet incide con la label Philology il secondo album, intitolato "Every song", omaggiando il Federico Garcia Lorca delle "primeras canciones" (1927) e proponendo i suoi versi, tradotti in inglese: "Every song is the remains of a love. / Every light is the remains of a time. A Knot of time. / And every sigh is the remains of a cry."
Alice Claire colpisce immediatamente per la sua voce melodiosa dalla timbrica fresca, che non suona già troppo sentita; non punta sulla potenza e sembra divertirsi senza sosta con lo scat. L'album si apre con una magnifica interpretazione di "Blue Eyes" (di cui è presente anche un video clip che ritrae la cantante in un misto di candore e voluttuosità), dove Frascaroli non si limita ad accompagnare al piano ed arrangia uno splendido pezzo, probabilmente la punta di diamante di tutto il cd, tratteggiando variazioni dinamiche della melodia. "Every Song" è invece speditissimo e vede alternarsi ai versi di Gracia Lorca, lo scat giocoso della cantante, con gli assolo raffinati di Cesare al contrabbasso e di Frascaroli al piano, fino a quello conclusivo del batterista Di Renzo. La terza traccia è un medley che lega elegantemente "Soneto del amor obscuro" di Frascaroli e lo standard "On Green Dolphin Street" in un'atmosfera noir che sfuma a tratti in tonalità più serene e consente alla voce della Ranieri di farsi più "femminile" dando un diverso colore all'interpretazione.
Passando per il mood spensierato di "The Good Life" (con l'intervento di Piero Masciarelli alla chitarra elettrica) e per quello rilassato e romantico di "Good morning heartache", si giunge all'attacco improvviso di "Black Nile" affidato allo scat scoppiettante della vocalist che crea anche un testo semplice e breve giocando sui termini "blue" e "black". Il brano multiforme è eseguito in una versione "frizzante" e contiene un ottimo assolo di Cesare al contrabbasso che disegna melodie per certi versi contrastate dagli accordi ripetuti al piano da Frascaroli. Lo standard romantico e sognante "Bewitched, bothered and bewildered" ci mostra una Ranieri dolce ed emozionante che non teme il confronto Ella Fitzgerlald e tante altre interpreti da cui lo abbiamo ascoltato. Il lungo assolo di Di Renzo alla batteria avvia invece il medley che chiude l'album: apre con un "canto/parlato" dai tempi mutevoli Alice Claire ed è poi il piano di Frascaroli a presentarci la melodia di questo "King of Harlem" da lui composto su ispirazione dei versi di Garcia Lorca. Dopo un lungo spazio lasciato a piano e contrabbasso, la Ranieri interpreta con tutta la sua carica blues le parole che Oscar Brown Jr. scrisse sull'ultima strofa di "All Blues" di Miles Davis, rendendole, ancora una volta, nuove e personali.
Alberto Varaldo & Luigi Martinale
Radio Waves
by Franco Bergoglio per Jazzitalia
Radio waves è l'ultimo lavoro discografico del duo torinese composto da Alberto Varaldo all'armonica cromatica e da Luigi Martinale al pianoforte. Questi è anche impegnato nelle vesti di compositore (con un lungo curriculum come membro fondatore dei Jazzinaria e collaborazioni con Alfredo Ponissi, Architorti, Emanuele Cisi e Fabrizio Bosso).
Alberto Varaldo dopo studi classici di pianoforte, arrangiamento e improvvisazione jazz con Mark Harris e Franco D'andrea, temporaneamente impossibilitato a suonare il pianoforte scopre l'armonica. Sono i casi della vita… Diviene solista apprezzato in ambito internazionale, si dedica allo studio dell'armonica Cromatica riscoprendo la tradizione di questo strumento nella musica classica e nel jazz (con gli incontri-lezioni assieme al decano dell'Armonica Jazz Jean "Toots" Thielemans) e si afferma in Italia ed all'estero (vincitore del Primo Premio al World Harmonica Festival 2005 in Germania come miglior solista di jazz).
Questo non è il disco adatto a chi ama il suono ruvido dell'armonica nel blues o nel rock, anche se Alberto Varaldo ammira diversi grandi armonicisti appartenenti a tradizioni diverse, sopra tutti Stevie Wonder. Si parte con un raffinato omaggio al Brasile di Jobim con Luisa. E da qui in poi abbondano atmosfere terse, dipinte in punta di pennello verrebbe da dire. Attenzione! Si parla di musiche dolci -non sdolcinate- valga il determinato e tyneriano assolo di pianoforte sul brano Stelle che contrappunta l'andamento malinconico del tema e l'intenso, lungo solo di Varaldo. Sempre di Varaldo è una saltellante Tarantella, mentre dalla penna di Martinale è scaturito My Cent, affascinante bozzetto melodico dove i due strumenti si intrecciano tra loro con grazia. La chiave di lettura del lavoro forse si trova proprio nella formula del duo che permette una libertà espressiva totale, a patto che l'interplay e le idee degli artisti coinvolti siano quelle giuste; come in questo caso. Completano il disco un paio di celebri standard come These Foolish things e la finale Over the rainbow. Per quest'ultima vale la considerazione già svolta: sarebbe facile su un tema così noto (e filmico) usare il mestiere, ma i due fin dal prologo mostrano di interpretare questo standard con spirito di ricerca, pur in una perfetta aderenza al tema.
Rosana Fedele
What Is It For ?
By Rai Muisc
"What is it for?" è il primo progetto artistico di una jazz singer di talento che farà parlare di sé: Rosanna Fedele. Un cd che presenta nove brani più un brano originale che dà il titolo al lavoro e di cui è stato realizzato il videoclip prodotto dalla Farbevideo per la regia di Andrés Rafael Zabala, che Rai Music vi regala.
Un debutto discografico in grande stile, quello di Rossana Fedele, che rivela già la sensibilità interpretativa di una artista presente sulla scena musicale dal 1998 e che si è formata ed ha perfezionato le sue evidenti qualità artistiche e la tecnica jazzistica con Norma Winston, Nancy King, Steve Christofferson, Rossana Casale, Marilena Paradisi.
Elegante e sempre misurata, leggera e professionale, la Fedele sorprende con un lavoro che la vede accanto a nomi importanti della scena jazz nostrana, protagonista indiscussa di un repertorio ricco e vario, tutto da ascoltare, fatto di jazz d'autore come di composizioni originali fino a rivisitazioni in chiave jazz di brani pop.
Zambrini, DiBiase, Scott
Songs From The Procol Harum Book
by JazzLoft
Antonio Zambrini is esteemed one of the best italian composer. The last three recordings by Antonio Zambrini , "Quartetto", "Due colori" and "Musica" ( all by Abeat records ) have been of great success either in critics and sales all around many countries. It's the first time that Antonio Zambrini is recording some songs by other people's.To do that he choose the repertoire of Procol Harum, the band from England who, during the '60 and '70 years, created some very well known songs all over the world such as "A Whiter Shade of Pale", "Homburg", "Salty Dog", "Something's following me" and many more…Elegance of touch, accurate care of choosing notes, deep but peaceful improvisation, predilection of intimate situations, makes Antonio one of the most original pianist of the Italian scene. In this Cd Zambrini has been supported by the doublebass player Andrea Di Biase , who studied at the Guildhall School of London and by the English drummer Jon Scott. The typical italian mood of Zambrini takes more inspiration from the "British"climate of the rhithmic section.
ARTISTS: Antonio Zambrini (piano); Andrea Di Biase (double bass); Jon Scott (drums)
Francesco Nastro, Gary Peacock, Peter Erskine
Trio Dialogues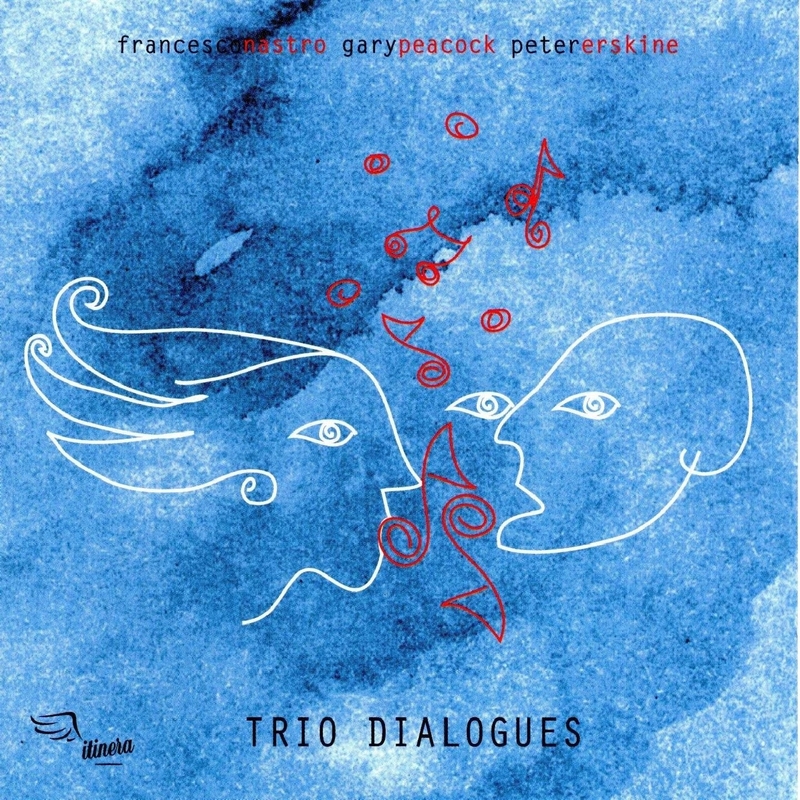 by Itineramusica
Registrato a Napoli nel 1996, pubblicato nel 1998, prodotto da Alessandro Bevilacqua per il jazz club Bill Evans, Trio Dialogues è una delle prime produzioni di Francesco Nastro, finalmente in ristampa grazie ad Itinera. Il disco testimonia la freschezza e l'eclettismo del suo talento compositivo, tanto quanto la forza delle sue doti esecutive.In Trio Dialogues, inoltre, le qualità del giovane pianista stabiese hanno la fortuna e l'onore di essere esaltate dalla sensibilità, dalla classe cristallina e dalla grande esperienza di due maestri assoluti del jazz internazionale: Gary Peacock e Peter Erskine.Il risultato è un disco ricco di variegate situazioni armoniche, molteplici direzioni melodiche, diversi andamenti ritmici e continui scambi di ruoli. E ricco di un grande interplay.Dialogare vuol dire confrontarsi, ricercare, condividere, ascoltare e suggerire idee: è quello che hanno fatto Peacock ed Erskine con Nastro, fuori e dentro la sala di registrazione.Il loro è un dialogo senza leader sulle possibilità della musica ("Wonder rhythm"), sulla tradizione popolare ("Fenesta vascia" sembra nata a Chicago), sulla bellezza dell'incontro ("Dialogo I", con piano e contrabbasso, "Dialogo II" con piano e batteria, "Dialogo III", con contrabbasso e batteria), su sentimenti fluttuanti ("Love waves") e verità sempre sfuggenti ("Looking in"). A completare il mosaico musicale-emozionale tessuto da Nastro, due gemme di Peacock ("Last first" e "Up, up, and…") e una di Erskine ("Time at home"). I tre brani si integrano perfettamente nel mood del disco. Un disco di preziosa raffinatezza, di rara naturalezza.
Francesco Nastro piano
Gary Peacock bass
Peter Erskine drums
registrato presso Studio Megaride, Napoli, ottobre 1996
Magnus Hjorth, Petter Eldh, Kazumi Ikenaga
Someday - Live In Japan
by EastWind Import
Pianist Magnus Hjorth and bassist Petter Eldh were both born in Sweden in 1983, and they met while studying at Rhythmic Music Conservatory in Copenhagen, Denmark. The credit for bringing these European rising jazz stars to Japan goes to producer Yoko Yoneyama who had a great idea of hooking them up with brilliant, creative Japanese drummer Kazumi Ikenaga.This CD represents a document of these three musicians meeting for the first time and performing live in jazz clubs in Tokyo, collecting the best performances from three nights in three different venues. The performances are free-flowing and adventurous. Each song takes its own course to develop organically and the performer s take time to stretch out and explore. The air of spontaneity and excitement is palpable, and the audience goes wild when the music takes unexpected turns and reaches collective climaxes.As an added bonus, these live performances were recorded with a purist, one point recording technique with only one pair of stereo microphones. This technique, rare in jazz recordings, captures the prestine tonality of each instrument, amazing amount of low-level details, and the true dynamic range of the performances. The unusually wide dynamic range means quiet passages sound really quiet, and loud passages really loud. Play the CD on a great stereo system and crank it up! You'll feel like you are transported to the live event. Recommended to fans of piano trios and audiophiles!Recorded live on June 26, 27 & 28, 2009 in Tokyo.