Riccardo Arrighini Trio with Fabrizio Bosso
Angela - A.C. Jobim Project - Chapter 3
By Leonardo Barroso
This is chapter 3 of 4. Riccardo Arrighini Trio is now joined by Fabrizio Bosso. This Project is one of a kind, Tom Jobim the great composer, played by great italian jazz musician. This is not the best one, but still worth the listening.
By Ken Dryden
Two top Italian artists join forces on this collection of works by Brazilian master Antonio Carlos Jobim. Trumpeter/flugelhornist Fabrizio Bosso and pianist Riccardo Arrighini have played together on earlier Philology sessions, but this date has an extra fire that finds them reaching new heights together. The normally quiet "Dindi" comes across much more forceful in their interpretation, while their Afro-Cuban setting of "Samba De Uma Nota So (One Note Samba)" is also refreshing. They stick to a more conventional arrangement with their leisurely take of "O Grande Amor," where Bosso's heartfelt trumpet and Arrighini's moving piano solo convey the song's message without need of the lyrics. As on many other sessions, bassist Massimo Moriconi and drummer Massimo Manzi provide a flawless rhythm section.
Riccardo Arrighini Trio
Luciana - A.C. Jobim Project - Chapter 4
By Leonardo Barroso
This CD, together with with "chapter 2 - Garota de Ipanema", are the best in this tribute. the trio is excellent shape, providing Riccardo a safe shore, to bring the best in his playing.
By Ken Dryden
Pianist Riccardo Arrighini's fourth CD in tribute to the late Brazilian composer Antonio Carlos Jobim avoids typical approaches to his well known compositions. With bassist Massimo Moriconi and Massimo Manzi, essentially the Philology label's house rhythm section much of the time, he transforms "So Danco Samba" into a strutting stride piano setting that would have made Willie "The Lion" Smith proud, though he eventually segues into a more bop-oriented arrangement. Arrighini is on fire in his initial interpretation of "Vivo Sonhando," buoyed by Moriconi's booming bassline and Manzi's driving percussion; the alternate take is shorter but every bit as exciting. "Insensatez" is one of Jobim's best loved songs and it has been recorded hundreds of times, yet the pianist's ruminating introduction in an expanded treatment of this standard brings it into new light. Highly recommended!
Renee Rosnes
Black Narciss - Tribute to Joe Henderson
By Leonardo Barroso
This CD was recorded in 2008. It has been a while the last I heard from Renee, and that made me forget the wonderful pianist she is. All songs are related with Joe Henderson, with whom she played. A great song list. The jazz in this recording is very good, the trio is very close together. One of Renee's best recording.
Tracks:
1. Black Narcissus (Joe Henderson); 2. Without A Song (Youmans/Rose/Eliscu)
3. You Know I Care (Duke Pearson); 4. Beatrice (Sam Rivers); 5. Recordame (Joe Henderson)
6. Chelsea Bridge (Billy Strayhorn); 7. Isotope (Joe Henderson)
8. What's New (Bob Haggart/Johnny Burke); 9. Serenity (Joe Henderson)
10. Night and Day (Cole Porter)
Personnel:
Renee Rosnes - piano; Peter Washington - bass; Lewis Nash - drums
By Renee Rosnes
In 1987, shortly after I moved from Vancouver to New York City, Joe Henderson hired me to play with his quartet. We began a musical relationship that lasted until he was no longer able to play due to illness. I was consistently awed by Joe's incredible artistry. From night to night, he played with such joy and command, and he inspired the same from his band mates. Joe used to say "Heaven is on the bandstand," and could often be found looking skyward with his hands in a prayer-like stance as he listened to the sounds being created around him. It was almost as if he was summoning the muses. I have many cherished memories of playing with him.It is for all these reasons that the music on this recording has great meaning to me. This set is not so much a tribute, but a celebration of the music and life of Joe Henderson.
Luca Mannutza Trio
Longin'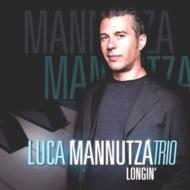 By Leonardo Barroso
Luca Mannutza is a great italian pianist, he also manages the Roma Trio with the same players from this set. Good originals, some standards, and Police tunes. Well..... what are these italians musicians drinking/eating ? Almost every day a new recording made on the highest level. This CD is worth every minute of listening pleasure.
Personnel:
Luca Mannutza (piano); Gianluca Renzi (b); Nicola Angelucci (ds)
Tracks:
1. Message in a Bottle (Sting) 7.51; 2. Pingoli (Luca Mannutza) 6.19
3. Whisper Not (Benny Golson) 10.03; 4. Sarasong (Luca Mannutza) 7.21
5. Airegin (Sonny Rollins) 6.07; 6. Tea in the Sahara (Sting) 7.33
7. Longin' (Angelucci - Mannutza) 5.59; 8. Tea for Two (Vincent Youmans) 7.14
9. Clowns (Luca Mannutza) 8.00; 10. Heartly (Nicola Angelucci) 7.17
Bill Mays Trio
The Best Is Yet To Come
By Leonardo Barroso
I had a idea while listeing to this CD, Bill Mays is one of the great jazz player of our time ! This set is a live recording, great tunes, and Bill singing !. This is the first recording that I heard Kawamura, Joe La Barbera is one my great drummers. This trio recording is very good, another one from the great Bill Mays, check out "Send In The Clowns" great !
By EastWind
Bill Mays is one of my favorite jazz pianists working today. With firm roots in the traditional, straight-ahead jazz, he has impeccable technique, great taste and a streak of adventurous mind that makes his solos unpredictable and exciting.
His latest recording, a fresh live date from October 2009, is now released by a small independent label in Japan, Five Stars Records. Recorded live in concert at the Five Stars' own "jazz house" in Yokohama, this CD brought Mays together with the legendary drummer Joe LaBarbera and a young Japanese bassist, Ryu Kawamura.
Judging from the performance and Mays' own liner notes (printed in English!), the three were relaxed, inspired, and thoroughly enjoyed playing together for the appreciative audience. Flanked by two giants, Kawamura more than holds his own with his big tone and great command of the instrument. Indeed, he is given ample solo spaces and turns in impressive performances. LaBarbera is perfect both as accompanist and soloist, and Mays displays his creativity throughout.
A very satisfying and enjoyable trio album by a formidable pianist in his prime! Recommended!
Recorded at Five Stars Records, Yokohama, Japan, on October 9, 2009.
Tracks:
The Best Is Yet To Come (Coleman); Jitterbug Waltz (Waller); These Foolish Things (Strachey/Link)
Here's That Rainy Day (Van Heusen); Moanin' (Timmons); Send In The Clowns (Sondheim)
Speak Low (Weill); Willow Weep For Me (Ronell); Get Out Of Town (Porter)