Roberto Taufic & Eduardo Taufic Duo
Bate Rebate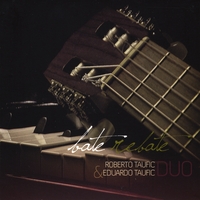 By CDBaby
Brasilian touch, classical, jazz and much more in this especial album. Piano and classical guitar duo; chords, melodies, silences, gestures, tears, laughter and musical guffaws. This is good music, made with lots of love, talent and attention.
Brad Mehldau Trio
Seymour Reeds The Constitution
By Dan McClenaghan
Pianist Brad Mehldau has an adventurous and innovative side, one that he displays on Largo (Warner Brothers, 2002) and Highway Rider (Nonesuch, 2010), albums that feature expansive and—with Largo—electronic inputs. But he always returns to the acoustic trio format that brought him to prominence. It began with a series of five Art Of The Trioalbums on the Warner Brothers label released between 1997 and 2001, a project that led to a rise that hit its zenith with the near masterpiece, Anything Goes (Warner Brothers, 2004), followed up with a full masterpiece, Day Is Done (Nonesuch Records, 2005), one of the finest piano trio albums of the new millennium.
More trio records followed: Ode and Where Do You Start, both on Nonsuch Records in 2012; Blues and Ballads(Nonesuch, 2016). With Mehldau—as it has been with the trio work of Bill Evans and Keith Jarrett—everything he does in the format has to be judged by comparison with his own oeuvre, a body of work that stands, consistently, above (with some exceptions; Evans and Jarrett, Marc Copland and Fred Hersch come to mind) the most skilled and inspired competition.
So where does the oddly-titled Seymour Reads The Constitution fit in? Near the top, bumping elbows with Anything Goes and Day Is Done. Mehldau is, of course, a virtuoso with deep classical leanings that he pulls over into the jazz realm, where he mixes it up with improvisational acumen and a trio dynamic—featuring bassist Larry Grenadier and drummer Jeff Ballard—that crackles with energy.
Mehldau employs something of a template on his trio outings—and this is a good thing. Some originals, a Great American Songbook tune or two, a visit to the jazz standards, and some inspired and perhaps seemingly unlikely contributions from the pop/rock world. Of the last of the mentioned categories, "Friends" from the Beach Boys songbook, that waltzes with an exceptional and vibrant elan, veering into near unrecognizability—first they're playing the tune; then they're sort of not playing the tune as they roll into something related but not quite the same—is in the best jazz tradition.
The Mehldau originals, "Spiral," the title tune and "Ten Tune" are as strong as anything the pianist has written—not walk-away-whistling-the-melody compositions, but rather accessibly cerebral sounds, that give way to Lerner and Lowe's familiar "Almost Like Being In Love," laid down here with an urgency, and maybe with a bit of chip on the shoulder. And Elmo Hope's "De-Dah" sounds as if it was written specifically for Mehldau, like it belongs in the twenty-first century instead of the middle of the twentieth.
The trio closes it out with saxophonist Sam Rivers' beautiful "Beatrice." It is the avant-garde-leaning Rivers' most engaging composition, and Mehldau and company treat it with respect, revealing in a vivacious fashion new facets of it loveliness.
Track Listing:
Spiral; Seymour Reads the Constitution!; Almost Like Being in Love; De-Dah; Friends; Ten Tune; Great Day; Beatrice.
Personnel:
Brad Mehldau: piano; Larry Grenadier: bass; Jeff Ballard: drums.

Leny Andrade
Bossa Nossa: Canta Fred Falcão
By Biscoito Fino
Fred Falcão, Pernambucano radicado no Rio de Janeiro começou a compor em 1964, vidrado no repertório de Leny Andrade e Os Cariocas e construiu sua obra sob as bênçãos da bossa nova.
Lançando o seu quarto CD autoral, Bossa nossa – Leny Andrade canta Fred Falcão, no qual a cantora carioca empresta seu suingue à obra do compositor acompanhada de Jorge Helder (baixo), Lula Galvão (violão), Rafael Barata (bateria) e João Carlos Coutinho (produção musical, arranjos, piano e acordeom) e Marcelo Costa (percussão).
Metade das faixas do novo álbum já estavam prontas, mas Fred lembra que compôs as outras pensando na intepretação de Leny. "Pensando bem, as que já estavam prontas também eram para ela, tanto que Leny gostou de todas".
John Abercrombie Quartet
Up and Coming
By Thom Jurek
When pianist Marc Copland formally joined the John Abercrombie Quartet for 2013's wonderful 39 Steps, he brought with him the fruit of the musical relationship between himself and the guitarist that had been established some four decades earlier with Chico Hamilton, and in the fusion band Dreams. Their evolution continued the guitarist's participation on several of the pianist's albums, and as sidemen playing in the same bands with Kenny Wheeler and David Liebman. Bassist Drew Gress, who has worked with both men separately over the years, is a further link in the chain, while drummer Joey Baron has played with the guitarist often enough to be intimately familiar with his compositional and improvisational processes.
Abercrombie wrote five of these eight tunes, Copland contributed a pair, and the group offers a startling read of Miles Davis' nugget "Nardis." It's in the reinvention of the latter number where this band showcases its greatest strengths. While they remain faithful to the song's harmony and spirit, they open up its inner space a moment at a time, almost imperceptibly at first. Abercrombie parses his phrases, albeit fluidly, to reveal the hidden magic in Davis' nuances, as Copland follows through and around them to crystallize its striking chorus. There's a great deal of magic in the originals as well. Opener "Joy" commences with a poignant minor-lyric statement, picked up by Copland before the pair stagger the melody and begin a gradual yet emotive and inquisitive interplay. Gress accents the changes while Baron adds dimension and texture with his whispering cymbal work. The pianist's solo highlights each melodic fragment with canny lyricism. The guitarist's "Flipside" is brief, but its swinging tempo and tight changes spotlight the band breezing through post-bop with zest, humor, and chops to spare. A more complex side of that nature is expounded upon in Copland's "Silver Circle," providing an opportunity for Abercrombie to underscore the edges in a rounded yet knotty solo. The pianist's "Tears," with its processional yet lithe chord voicings, hushed cymbals, and muted tom-toms, is initially so gentle and tender, it momentarily distracts from the darkness within. Abercrombie's break caresses the melody's haunting frame; Gress picks apart its elements and exposes its spine reinforced subtly by Baron, and Copland opens the seam to expose drama, vulnerability, and loss. The set concludes with the guitarist's "Jumbles," a jocular, midtempo workout that juxtaposes angles and breezy harmony with a varying rhythmic palette.
Up and Coming
clocks in at under 50 minutes. Its compositional and improvisational economy is countered by the quartet's disciplined ability to colorfully and authoritatively illustrate an abundance of creative ideas without hinting at compromise.