Christian Sands
Reach
By Dan Bilawsky
A lot plays into the success of an artist's reach, with content and presentation obviously ranking high on the list. But above all, an artist has to be willing to extend a hand if they expect listeners to do the same. Many simply reach for the musical stars without really considering the need to reach out to potential audiences through the music. Pianist Christian Sands doesn't fall into that trap. His reach—both up and out—is long and wide, exemplified on this aptly named date.
Despite any potential allusions in the previous paragraph or the titular ideal, Reachdoesn't pander to populist tastes or compromise in anyway. It simply has quality material performed at an extremely high level that can appeal to a wide variety of listeners, ranging from the jazz curious to the jazz cognoscenti. If you've found your way to this site and this review, chances are there's something that appeals to you here, whether you fancy yourself a modernist, a traditionalist, a blues adherent, a neo-soul devotee, a post-bop fan, a Latin jazz lover, or something else entirely. Sands manages to craft unique statements that touch on all of the aforementioned topics, often blending or countervailing one with the other within a single song, and once your ear is hooked, that's it.
Reach opens with "Armando's Song," a nod to the great Chick Corea that seems to be cut from the same cloth—or, perhaps, the same vocabulary—as Corea's "Armando's Rhumba." Sands, however, isn't one to plagiarize, and the propulsive swing roller coaster that follows the theme proves that point. A rush of optimism blotting out the face of hate follows that eye-opening number. "Song Of The Rainbow People" speaks to the need for unity and togetherness, both in name and sound. There are hints of gray skies in the mix, but the sun burns the clouds away.
Those opening invitations expose listeners to the tightly-formed trio that's the backbone of this album—Sands, bassist Yasushi Nakamura, and drummer Marcus Baylor—and the three tracks that immediately follow demonstrate how that group reacts to new voices in the mix. Marcus Strickland first spurs the band on with his tenor saxophone on the driven "Pointing West." Then he puts his tenor and bass clarinet to good use on an electro-dusted chill ride dubbed "Freefall." Both numbers find the core band expanding its outlook and adapting to the presence of their guest. The same thing can be said to happen when percussionist Cristian Rivera drops in to add some Latin sizzle to the festive "¡Óyeme!."
The second half of the album is just as inclusive in all respects. "Bud's Tune" pares things back to a trio configuration as Sands salutes bebop pioneer Bud Powell; "Reaching For The Sun" walks on a pseudo-Brazilian groove, carries hints of Corea and Pat Metheny in its DNA, gives Sands a chance to dazzle with his glistening glances, and brings guitarist Gilad Hekselman into the picture for the first of his three consecutive appearances; a cover of "Use Me" retains its Bill Withers-born soulfulness while taking on a new skulking-turned-swinging-turned-skulking rhythmic shape and opening up some space for Christian McBride to bow the truth; and "Gangstalude" injects a hip-hop attitude and foundation into the program. Then Sands ends with what's, perhaps, the biggest surprise of all: a heartfelt performance of "Somewhere Out There" from An American Tail (Amblin Entertainment/Sullivan Bluth Studios, 1986). It opens lyrically and loyally before taking flight in reflective-cum-resounding fashion. It's the last chapter in this tale of many tones, serving as the final indication of Sands' willingness to embrace diversity in sound and scope. Everything and everyone seems to be within his reach.
Track Listing:
Armando's Song; Song Of The Rainbow People; Pointing West; Freefall; ¡Óyeme!; Bud's Tune; Reaching For The Sun; Use Me; Gangstalude; Somewhere Out There.
Personnel:
Christian Sands: piano; Marcus Baylor: drums; Yasushi Nakamura: bass; Gilad Hekselman: guitar (7-9); Christian McBride: bass (8); Cristian Rivera: percussion (5); Marcus Strickland: tenor saxophone (3, 4), bass clarinet (4).
Pietropaoli/Mazzariello/Paternesi
The Princess
By Mark Corroto
It can be risky for jazz musicians to play pop songs. They have to navigate the memories that each composition holds for the listener while also making the music distinctive and personal. Miles Davis could do it with Michael Jackson's "Human Nature" and Cyndi Lauper's "Time After Time," and of course Sonny Rollins can make any popular song his own. Add to that list, Enzo Pietropaoli. The bassist has been exploring popular music with his quartet, which has released three volumes of Yatra (Via Vento Jazz). Here he gets more intimate with a piano trio session, performing mostly slow tempos and meditative pieces.
His trio has the same lineup as the Yatra quartet, minus trumpeter Fulvio Sigurta. It comprises pianist Julian Mazzariello, drummer Alessandro Paternesi, and Pietropaoli on double bass. The seven covers and three original tracks on The Princess invite a type of nostalgia, not for the way it was, but for the sense of possibility those particular songs spurred in us when we heard the originals. Take Brian Wilson's "God Only Knows." Played at an achingly decelerated pace, the trio teases out the unsung lyric to great effect, making the Beach Boys into the most romantic band ever. Not your era? Eddie Vedder of Pearl Jam wrote "The End," and the trio performs it with the same magic. The formula is consistent here. Pietropaoli has a knack for diving deeper into pop music to reawaken the message. Bob Dylan's warning call "A Hard Rain's Gonna Fall" is reiterated with Mazzariello's very simple piano lines and Paternesi's brushes. Where an act like The Bad Plus tends toward the overelaborate cover song, this trio favors the understated. Even when they travel back to 1932 for Cole Porter's "Night And Day," there is no hint of saccharine. Just the most gentle swing. Of the three Pietropaoli originals, "Supereroa" is the one composition that reroutes the trio into an up-tempo (think Ahmad Jamal) swing. The title track opens with a bass solo, before walking the same territory as the cover tunes. It's begging for someone (anyone?) to write some lyrics.
Track Listing:
Jealous Guy; A Hard Rain's Gonna Fall; Night And Day; Scaleno Beat; Father Son; The Princess; Supereroa; Philadelphia; The End; God Only Knows.
Personnel:
Enzo Pietropaoli: double bass; Julian Mazzariello: piano; Alessandro Paternesi: drums.


Mario Adnet
Saudade Maravilhosa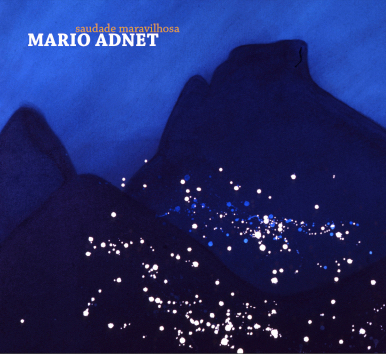 By Egídio Leitão
If you have been following our site for a while, the name of Mario Adnet is not going to be unknown for you. His discography and special projects have been keeping us pleasantly busy. It is always a joy to find out he has a new album in the works, and it's even better when we get to hear what he has released.
In Saudade Maravilhosa we get to hear more of Mario Adnet's composer abilities. Although he's had original tracks in previous albums, here eight out of the ten tracks are his own compositions. These original tracks bring back all the influences in Mario's career. The listener can hear echoes of Tom Jobim, Villa-Lobos, Moacir Santos and other composers who were the focus of Mario's refined arrangements and extensive productions. The same quality we have experienced in the past is, of course, abundant in Saudade Maravilhosa.
The musicians who accompanied Mario previously in other releases all return for this album. Produced together with Antonia Adnet, and with Mario's own musical direction and arrangements, Saudade Maravilhosa assembles a team of experts all very familiar to us. You will hear Jorge Helder (double bass), Rafael Barata (drums), Marcos Nimrichter (piano, fender rhodes), Armando Marçal (percussion), Eduardo Neves (tenor and soprano saxophone, flute, alto flute), Aquiles Moraes (trumpet, flugelhorn), Everson Moraes (trombone), Cristiano Alves (clarinet), Ricardo Silveira (guitar), João Cavalcanti (vocals) and Leonardo Amuedo (guitar). With these heavyweights, nothing could go wrong, naturally.
With the exception of one vocal track, all others are delightful instrumental music. Two tracks have been previously recorded by Mario. The first is "Chorojazz," which appeared in his 1999 Para Gershwin e Jobim album. The second is "Sambaqui," which was in his 2001 Rio Carioca under a different title, "Sete Rios." In this new recording, two top-notch guitarists, Leonardo Amuedo and Ricardo Silveira, take center stage and bring lots of fun to the arrangement. One big repertoire surprise is the inclusion of "Caravan." Mario's emphasis has often been to feature Brazilian music in his albums. However, as he explains it in the liner notes, he wanted to "show how Duke Ellington would sound like with a Moacir Santos' face." The result is amazing, especially because of Armando Marçal's percussion and the trumpet/trombone addition from the brothers Aquiles and Everson Moraes, respectively. Another clear Moacir Santos' influence is the opening track, "Ancestral," dedicated to Armando Marçal. The Afro theme in the composition gave Mario the impetus to create the arrangement as is. Once again, Armando Marçal is present with his vibrant percussion. From an Afro influence to choro, we move to "Cecilia no Parquinho," inspired by Mario's grand-daughter. He captures the happy moments he spends with her in this cheerful melody. Also worth to note is the gorgeous soft Bossa "Saudade Maravilhosa," which takes us back to a nostalgic Rio de Janeiro with the allusion to Cidade Maravilhosa in its title (Rio's nickname, Marvelous City).
Saudade Maravilhosa is a fine addition to a growing and solid discography. Great arrangements and musicianship flourish in an unpretentious set. Selo SESC says that by the end of 2017 the album should be available in all the usual streaming sites. For now, you have two options to grab this excellent album: buy the physical CD or listen to the tracks in the Selo SESC YouTube channel. If you opt for the latter, please note that the album is played twice in that stream.
Robert Glasper
Covered
By Bill Beuttler
Robert Glasper's plunge into the world of R&B and hip-hop widened his fan base and earned him a pair of Grammy Awards, but he found himself missing the piano. So he reconvened his original acoustic trio with bassist Vicente Archer and drummer Damion Reid and cut Covered: The Robert Glasper Trio Recorded Live at Capitol Studios. Like Herbie Hancock before him, Glasper demonstrates on his new disc that jazz stars who indulge a taste for popular music can go home again.
Glasper's piano here is as immediately identifiable as ever: deeply soulful, emphasizing vibe over show-offy virtuosity. That formula dominates a half-dozen sophisticatedly listenable jazz covers of artists ranging from megastars Radiohead ("Reckoner"), Joni Mitchell ("Barangrill") and John Legend ("Good Morning") to lesser-known Glasper associates Musiq Soulchild ("So Beautiful"), Jhené Aiko ("The Worst") and Bilal ("Levels"). He brings more flash to bear on the lone jazz standard here, "Stella by Starlight," but really reminds people what he is capable of instrumentally on "In Case You Forgot." The latter chops showcase begins with Glasper, unaccompanied, blazing his way through lighting-quick runs and a kind of space-age stride with pauses for quick, mood-lightening quotes of Bonnie Raitt's "I Can't Make You Love Me" and Cyndi Lauper's "Time After Time." Archer and Reid each get their lone, memory-jogging solos on this one as well.
Two socially conscious tunes close the album. Harry Belafonte's raspy recitation of his life story on "Got Over" is aimed at inspiring listeners, particularly those of color, to follow his lead in overcoming humble origins to achieve greatness. Glasper's spin on Kendrick Lamar's "I'm Dying of Thirst" features the pianist's 6-year-old son, Riley, and other children reading the names of recent black victims of shootings by police.