Alan Broadbent Trio
Live At Giannelli Square: Volume 1
By Leonardo Barroso
Alan Broadbent is one of the most prestigious jazz player of our time: a superberly gifted pianist, arranger and songwriter. A two-times Grammy Award winner. His music has the lyricism of Bill Evans' own; has a profound taste and an emotional balance hard to find these days. But, is when, captured by the Jazz spirit, using his powerful Jazz Trio, that this great musician blossoms for the gratitude of Jazz lovers around the world.
Alan's "Personal Standards" is among one my all-time favorite. Since that recording, I kept waiting for a sequel. He has recorded excellent cd's ( You & The Night & The Music, Moment's Notice and Round Midnight), but none had got close to that true masterpiece. When my hopes were starting to vanish, Alan puts out a new CD recorded on January 29 and 30-2010, live, trio (Putter Smith-Bass & Kendall Kay-Drums) , and with a mix of standards and originals. On Saturday, August 07, 2010 I had my first contact with the new recording. After the first two tracks ( "Lullaby Of The Leaves" and "I'll Be Alright"), I was sure it was something special, but.... how dare he plays the evanesque/non-original "My Foolish Heart" that would follow? You all must listen to it!
Well...... "Live At Giannelli Square: Volume 1" is fantastic, an eargasm, the true heir for Alan's 1997 masterpiece.
Can't wait to hear Volume 2 !!
George Colligan
Come Together
By Michael G. Nastos
George Colligan's previous recording Runaway was, in his viewpoint, sonically less homogeneous than this one, but the diversity he has embraced on Come Together is much more pronounced. Sticking with the piano-bass-drums acoustic trio setting, Colligan is stretching out into more arenas of modern jazz, exploring the progressive inclinations of his persona, and dipping into the simplistic side on occasion. This three-piece combo of pianist Colligan, bassist Boris Kozlov, and drummer Donald Edwards has provided the rhythmic component of both the Mingus Dynasty and Mingus Big Band, but this is their first recorded excursion apart from those acclaimed jazz orchestras, playing Colligan's inventive and distinctive music. Fans of the Bad Plus might appreciate tracks like the darker "Lift" or off minor "Uncharted Territory" that display a rock edge within their dank heaviness. Then there's the paradoxical "Have No Fear," merging tricky 6/8 and simpler 4/4 rhythms into one against a driving beat from Edwards. Colligan's stabbing piano chords during "Reaction" sidle with fleet lines and very complex ideas for the more open-minded, while the playful swing of "Venom" with repeat themes, and the funky cover of the Beatles "Come Together" are conversely easily rendered and not so challenging. A lithe and bouncy, rather straight read of "The Shadow of Your Smile" adds further emotional depth, while the pile-driving, McCoy Tyner-styled "To the Wall" again offers the yang to the yin in hip, heavy, harmonic ways. Colligan is a great talent whose musicality is immediately recognizable even if his personal style is not. Kozlov and Edwards are also extremely talented performers who can push the pianist just to the brink without plunging to the bottom of the Grand Canyon. It's this kind of camaraderie that allows this modern jazz to bend but not break, making for a very satisfying listening experience for both heart and head.
FóVea Jazz Project
Almeno tu.....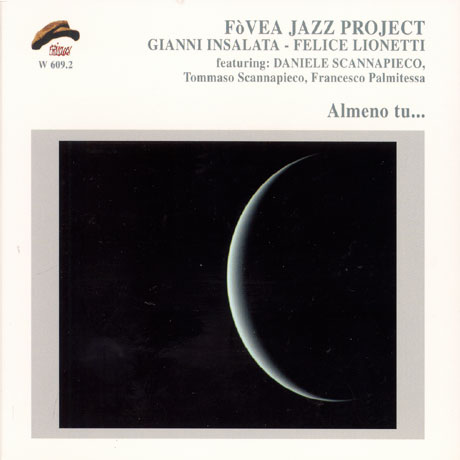 Tem a faixa "Theme from The Pink Panther" com um novo arranjo utilizando uma forte influencia Hancockiana.
E' da poco uscito il nuovo CD del FòVEA JAZZ PROJECT di Gianni Insalata e Felice Lionetti dal titolo Almeno Tu... prodotto dalla prestigiosa etichetta discografica Philology di Paolo Piangiarelli e distribuito in Italia e nel mondo dalla I.R.D.
Alcune liner notes presenti all'interno del CD di Paolo Piangiarelli: "un lavoro che mi ha da subito coinvolto per la sua musicalità sino a via via addirittura entusiasmarmi....ce n' era abbastanza per decidere di accettare questo stupendo disco di Carneadi nel -prestigioso(posso definirlo tale?) - catalogo Philology..."
PERSONAL:
Gianni Insalata: drums; Felice Lionetti: piano; Daniele Scannapieco: sax; Tommaso Scannapieco: bass; Francesco Palmitessa: guitar
John Abercrombie Quartet
Wait Till You See Her
By Michael G. Nastos
John Abercrombie's longstanding partnership with Mark Feldman has yielded several albums of exquisite music, and Wait Till You See Her is no different. The mood is naturally restrained, contemplative, and introspective as you would expect, while there's a common thread of healthy respect that keeps the quartet in the softer mezzo piano range. With acoustic bassist Thomas Morgan and the irrepressible drummer Joey Baron, the electric guitarist and violinist weave their way through one standard and seven originals from Abercrombie that comes straight from the heart. It's not all sedate music — check out "Line-Up," a fun listen as sneaky melody lines and frisky interplay is infused in a neo-bop context. A sprightly two-step beat, walking along with a brief, folksy musical snippet makes "Out of Towner" a tongue-in-cheek tribute to Ralph Towner. Then there's another cutely titled parody, "Chic of Araby," a bass-led tango with Abercrombie's secretive, snake-like guitar in the lower key dynamic the band prefers. A bluesy and reverent piece, "Anniversary Waltz" is in the midtempo pace that sports a more universal appeal, and it's draped in a pretty, elegant dress. The extremely slow "Sad Song" paraphrases the melody of "Speak Low" as Feldman's violin speaks to the emotions of the fallen, the title selection, a Richard Rodgers/Lorenz Hart evergreen, is reduced to a wisp of an anticipatory theme, and "I've Overlooked Before" has the seascape-at-midnight audio quality evocative of the best film noir soundtrack, ultimately dusky and sighing. One track sans Feldman — "Trio" — is a pretty good jazz swinger as you hear the sparse signature sound Abercrombie has held close to his soul for four decades. Feldman always holds sway with his beautiful and piquant voicings. Alongside Abercrombie, you always know there's a compatible, agreeable sound forged between these high-level contemporary jazz string players. It's not a commanding performance, but the subtle nuances outweigh any kind of loud pronouncements that distract from musicality. At the bottom line, it's another consistent and at times excellent effort from these tried and true modern musicians.
Rufus Reid
Out Front
By Michael G. Nastos
Rufus Reid, one of the most magnificent jazz bassists in history, scores here again with another recording in a trio featuring musicians who live up to his virtuosic tendencies. With pianist Steve Allee and drummer Duduka Da Fonseca, Reid breezes through a program of understated originals, Latin-tinged music, and a bit of bop-flavored material sure to please all mainstream jazz fans. Clearly well-rehearsed, Reid puts the band through its paces with sounds more subtle and sophisticated than blaring, forced, or tough-faced. Three tracks are originals composed by the bassist, with Allee credited for two and one for Da Fonseca. The lone standard, "If You Could See Me Now," showcases the ultimately tuneful Reid, who plays the melody all the way through, while his bowed bass on "Caress the Thought" is ultimately dramatic. With the leader in stunning unison with Allee, the deep, heavy, and off-minor "Glory" should stop all listeners in their tracks, while conversely, the light, airy "Ebony" is far from dark, with a little shuffle tossed in. On the Brazilian side there's Marcos Silva's hopping samba "Dry Land," and Da Fonseca's "Doña Maria" suggests that Allee has heard his fair share of the modal McCoy Tyner. The musicianship is at such a high level that you cannot help but be pulled into this exceptional music, going far beyond the pale of most regular piano/bass/drums trios, led by the succinct, deft, and consistently brilliant bass playing of Reid, easily one of the top five bassists in modern jazz.