Bamboo
Bamboo
by Dr.Leandro "Leo" Rocha
O grupo Bamboo é composto por Alex Buck(bateria),Bernardo Ramos(guitarra e violão),Bruno Aguilar(baixo acústico),Josué Lopez (sax tenor) e Vitor Gonçalves(piano e acordeon) e é um caso sério. Música da melhor qualidade,do mais alto nível. A faixa de abertura "Maracatu no bamboo" é de autoria de Bernardo Ramos como também mais 6 composições presentes nesse trabalho; esta música lembra aqueles maravilhosos temas compostos por Moacir Santos para o disco "Coisas". "Sem início,sem fim",a música seguinte, traz um vibrante solo de piano de Vitor Gonçalves,excelente pianista e acordeonista que arrasa também nas músicas "Gratidão"(lindo tema) e no final de "Nova Bossa"(tem a cara da Bossa Nova, uma beleza!).O sax tenor de Josué Lopez soa bem suave e belo no lindo tema "Eu te amo",logo seguido por um solo arrasador de guitarra por Bernardo Ramos. Outra faixa que merece destaque é "Márcio Bahia" onde Hamilton de Holanda comparece com seu genial bandolim e se junta ao acordeon de Vitor Gonçalves num duelo emocionante.
Sem dúvidas,um dos melhores trabalhos instrumentais desse ano.
Dudu Lima
Ouro de Minas
by Leandro "Leo" L. Rocha
"Quase caí duro quando o vi tocando contrabaixo". A afirmação é de Milton Nascimento e está estampada na capa do encarte do disco desse notável baixista mineiro,Dudu Lima que juntamente com Ricardo Itaborahy(piano acústico,teclados e escaleta) e Leandro Scio(bateria) compõem o Dudu Lima Trio. O disco conta ainda com as participações preciosas e luxuosas de João Bosco(voz e violão inigualáveis em "O ronco da cuíca"), Milton Nascimento(voz e violão em "Um cafuné na cabeça,malandro,eu quero até de macaco") e outros músicos convidados como: Dudu Viana(piano),Emmerson Nogueira(vocal),Fofinho Forever(percussão),Hermanes Abreu(vocal na obra-prima de Milton,"Cravo e canela"),Ivan Conti(bateria),Marcos Suzano(pandeiro,endiabrado,) e Weber Martins(bateria).
A performance do trio é precisa e inventiva,demonstrando o alto nível desses músicos que passeiam por três temas de João Boscoe Aldir Blanc ("Corsário","Bala com bala" e"O roco da cuíca"), três canções de Milton("Um cafuné...", "Cravo e canela" e "Fé cega,faca amolada") e ainda revivem a belíssima "Nascente" da dupla Flávio Venturini e Murilo Antunes. Há também três faixas da autoria do baixista líder do grupo. Enfim, o Ouro de Minas é garimpado aqui nesse CD que pode ser considerado como um dos melhores trabalhos instrumentais desse ano.
Fay Claassen
Sings Two Portraits Of Chet Baker - In Remembrance Of His 75th Birthday
by Jeffrey Epstein
This two-CD set, which comes with a lavishly appointed booklet and pictures, is intended as a tribute to Chet Baker (1929-1988) the famed trumpeter and singer of American jazz. Baker is considered to be a stylistic innovator, particular during his rise to fame in the bebop era of the 1950s. Although raised in Oklahoma, he was a global traveler, and particularly in the 1980s played mostly in The Netherlands and elsewhere in Europe. This project is a creation of some of the musicians he played with during that time. The Volume One CD contains instrumental pieces associated with Baker during his tenure in the Gerry Mulligan Quartet in the 1950s. Volume Two focuses on songs from his solo years when he began singing. Dutch vocalist Fay Claassen sings these, as well as performing bebop scat over the tunes in Volume One. Together, the discs comprise 25 tracks. The producers and musicians specifically disclaim any attempt at imitating Baker's distinctive brass and vocal styles, a task that would be both impossible and perhaps degrading to his uniqueness as an artist. Since Baker was not a composer, however, we are then reduced to the awkward reality that this set contains no Chet Baker at all. Once the squirmy premise is set aside, we are left with the music on its own merits. The arrangements are inoffensive and generally well done, although a little of Claassen's scat goes a long way. Her vocals on the second set are pleasant enough. The material includes many of the old standards Baker worked with, such as "My Funny Valentine" and "The Thrill Is Gone." These tunes have been interpreted by many artists, and Claassen and company offer their interpretations here. But the end result will likely seem strange to anyone who remembers the originals. These tracks are neither an original declaration of a band nor an authentic reading of Baker. They are more like a scientist reading out a dead comedian's jokes. Perhaps these so-called portraits will evoke memories of Chet Baker as the group intended. Still, given the man's extensive discography, including anthologies, it would seem a much simpler matter to remember Baker by purchasing those discs that actually feature his own work.
Musicians:
Fay Claassen, vocals; Jan menu, baritone sax; Jan Wessels, trumpet; Karel Boehlee, piano; Hein Van de Geyn, double bass; John Engels, drums.
Francesco Cafiso
4 Out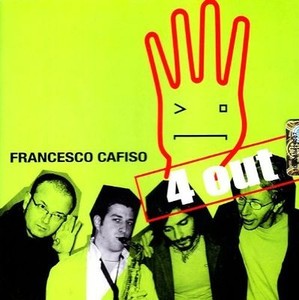 By JazzLogical.net
Francesco Cafiso (sa, f, ss)Dino Rubino (p)Paolino Dalla Porta (ctb)Stefano Bagnoli (bat).
Escrevi há não muito tempo sobre Francesco Cafiso e eis que um novo disco me chega às mãos. Gravado já este ano com um trio de ilustres desconhecidos músicos italianos, o jovem Cafiso não pára de nos surpreender. 4 Out é a confirmação do que antes tinha observado, que Francesco Cafiso não é mais um subproduto artificial da indústria, mas que ganha a cada dia o seu espaço próprio no sobrelotado mundo dos saxofonistas. Ele é um parkeriano óbvio, mas creio que ninguém ousará já dizer que se trata de um clone. O que ele herdou de Bird é antes de mais um entusiasmo esfusiante e uma linguagem clara e exuberante, mesmo se este será porventura o mais contido dos seus discos. Classificar Francesco Cafiso de mero bopper poderá ser menorizador (mesmo se eu penso que o bop persiste a maior das escolas) e é claro que ele evoluiu muito rapidamente para um saxofonismo moderno. 4 Out balança entre os clássicos e alguns temas escritos por Cafiso onde o saxofonista parece procurar alguma atenção. Enigmatic night é uma balada lenta, iniciada com uma flauta dir-se-ia cinematográfica e um acompanhamento «exótico», completada no saxofone. Mais despretensioso e interessante é King Arthur que arranca com um inflamado solo do saxofone, e que se completa com um solo tayloriano do pianista Dino Rubino, seguido de dois outros curtos solos da bateria e do contrabaixo. O contrabaixista introduz Bach's Flower, uma melodia simples interpretada por Cafiso no saxofone soprano, bastante radiofónica, mas que pouco acrescenta ao disco. Outra coisa são os clássicos: o disco começa com Everything I Love de Cole Porter, e outros standards são How About You de Gershwin, I Hear a Rapsody tocadas em tempos médios e um rapidíssimo Just In Time; todos eles em interpretações inspiradas, a revelar também a eficácia da secção rítmica.Nem sempre feliz nos temas próprios, 4 Out confirma Cafiso como instrumentista, mas adia um pouco mais a entrada no escalão seguinte dos saxofonistas contemporâneos. Apesar das reticências, um disco que se ouve com muito prazer.
Manabu Onishi Trio
Wish
By EastWind Import
Japanese pianist Manabu Ohishi's debut CD from Atelier Sawano marks a major milestone for Sawano: As the catalog number indicates, it's the 100th album released by the boutique jazz label.Label owner and producer Yoshiaki Sawano decided to do something special for this occasion. First he met and fell in love with the pianist who had never recorded for the label, and then he took him to France to record a trio date with his favorite bassist in the world, Jean-Philiippe Viret, and his bandmate and great drummer Simon Goubert. A very special Fazioli piano was prepared for this occasion. Aided with a superb rhythm section and the fantastic piano, Ohnishi performs a program consisting mostly of his original compositions (two exceptions are "My Foolish Heart," and a solo piano rendition of "What A Wonderful World") with deep lyricism and romanticism. His piano style is economical and elegant, and his touch is prestine. As is typical of Sawano's release, the recording quality is superb -- natural, detailed, delicate and dynamic. Strongly recommended to fans of lyrical piano jazz! Recorded May 8, 2010 in Paris, France.