Jake Saslow
Crosby Street
By Mark F. Turner
One of 2011's many notable debuts is saxophonist Jake Saslow's Crosby Street, an ode to the street in New York's iconic SoHo, where the musician's formative years recalled the neighborhood's sights, music, and people. An analogy is formed between the music and the community, one that speaks of a distinct personality carried in Saslow's full-bodied horn that's filled with lyricism and communication interpreted by peers and fellow-New Yorkers that include guitarist Mike Moreno and pianist Fabian Almazan.
The seven pieces visualize an assortment of aural dreamscapes and tempos, supported by bassist Joe Martin and drummer Marcus Gilmore, as the soloists deliver lively movements in Saslow's "Early Riser" and "Taiga Forest." But it's the chord-less trio rendition of Horace Silver's "Lonely Woman" where Saslow's sepia-toned notes give a truer indication of his capabilities. Its depth and detail exudes not only knowledge of the source material but also a fresh statement.
"Lucky Thirteen" is the smoothest piece in set with its street-savvy cadence and elastic solos, whereas "Until Next Time" has the most personality. With a rich sonic quality it begins slowly with Saslow's sumptuous horn, before the melody changes and swings seductively, carried by Moreno's unique phrasing. It's got a certain ambiance and personality—just like a vibrant neighborhood, the essence of what Saslow's debut portrays.
Track Listing:
Early Riser; Taiga Forest; Lonely Woman; Lucky 13; Crosby Street; How Things Were; Until Next Time.
Personnel: Joe Martin: bass; Marcus Gilmore: drums; Jake Saslow: tenor saxophone; Mike Moreno: guitar; Fabian Almazan: piano.
Markelian Kapedani Trio
Balkan Bop
By C. Michael Bailey
Were we able to quantitate talent density as a function of label catalog size, Sergio Veschi's Red Records would doubtless be close to the top. His generosity to Italian and foreign musicians alike has resulted in a great jazz label. Albanian activist/pianist/composer Markelian Kapedani adds to this fine catalog with Balkan Bop, a standard piano trio performance of ten original compositions, marking his second recording for the label, after 2008's solo Balkan Piano.
Choosing a single track from this disc is a chore; the entire collection is uniformly fine. The title piece, however, illustrates amply the breadth of Kapedani considerable musical vision. The pianist's composing bears the hallmarks of careful study and consideration. Kapedani avoids the diaphanous and ethereal tone of other Eastern European trios in favor of a more volcanic and orchestral approach. In short, Kapedani's compositions have a beginning, a middle and a coda, all well constructed and precisely performed.
"Balkan Bop" illustrates how an assertive drummer can make a trio sound like a larger ensemble. Drummer Asaf Sirkis opens with a funk back-beat right out of the Clyde Stubblefield book, before getting down to business with more straight-ahead percussion. His sound is big and outspoken and needs to be, in order to equal that of the leader. Kapedani is a chain reaction of musical ideas, each building on the next. His performance is percussive without being aimless, playing hard, without losing momentum at tempo. The song is traditionally structured and so polished that it is blinding; uneful to the max and ending on an explosive Balkan fanfare. Bassist Yuri Goloubev proves a capable and equally powerful timekeeper and soloist. All of Balkan Bop is superb.
Personnel: Markelian Kapedani: piano; Yuri Goloubev: bass; Asaf Sirkis: drums
Jurgen Hagenlocher
Leap In The Dark
By Edward Blanco
German-born saxophonist Jürgen Hagenlocher's third album as a leader, Leap In The Dark, is an interestingly designed mix of traditional and modern-styled jazz—an interesting walk through a selection of eight sophisticated, airy and remarkably accessible original compositions. Recording in New York, Hagenlocher formed a new quintet for this album, retaining trumpet luminary Alex Sipiagin from his previous disc, and putting him alongside veteran pianist David Kikoski, bassist extraordinaire Boris Kozlov and drummer Nate Smith.
The saxophonist—who has recorded as a sideman with other groups in addition to composing and producing film scores—takes a leap of faith with this disc, exploring the modern side of jazz from a traditionalist foundation. The outcome is more than successful. Eschewing the familiar, less demanding approach of performing jazz standards or covering others' tunes, Hagenlocher chose to pen new, intricate melodies geared toward his goal of advancing and reshaping the music—this is not the usual contemporary sound that's just more of the same.
The dynamic duo of Hagenlocher and Sipiagin present a take-no-prisoners approach on the swinging "Pollyanna," the opener and first burner of the set, combining for a frontal attack with their horns before launching their individual salvos. The saxophonist and trumpeter, who play well off each other and together, provide the meat of the music. Nevertheless, the other players do claim their portion of this session with stellar solos and strong supportive instrumental work. Kozlov displays his talents with superb bass lines on "The Myth Of The Dreamcatcher" and elsewhere, while Smith is notable for his delivery of a strong introduction to "Corruptionists," as well for his aggressive playing on the title track.
Hagenlocher blows hard and furious on the title piece, delivering his version of tenor madness as Kikoski gets his opportunity to shine on electric piano. The feeling turns decidedly mellow with "April's Mood," a soft melodic number where the dynamic duo lends its skills in turns on warm solos. "Turmoils" is one of the outstanding charts of the set; Kikoski's dynamic chords on the acoustic piano guide the music on this truly modern burner.
The experiment in the dark ends on the blistering "Step By Step," another modern blazer that brings the group together for the last challenging tune of a scintillating jazz session. Though only his third album as leader, Jürgen Hagenlocher is no novice. He performs like a seasoned veteran and writes innovative, intelligent compositions. Leap in the Dark is an illuminating experience that brings to light an interesting artist with an exciting musical repertoire. It should be well-received and appreciated. Well done.
Track Listing:
Pollyanna; The Myth Of The Dreamcatcher; Leap In The Dark; Corruptionists; April's Mood; Turmoils; Dark Turns Bright; Step By Step.
Personnel: Jürgen Hagenlocher: tenor saxophone; Alex Sipiagin: trumpet, flugelhorn; David Kikoski: piano, electric piano; Boris Kozlov: bass; Nate Smith: drums.
Javier Constenla
Improvia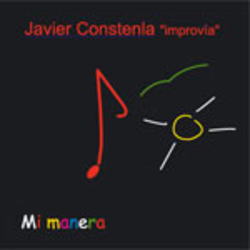 By La Terraza Café Jazz
Nacido en Ourense. Comienza sus estudios musicales a los 9 años en el Conservatorio Profesional.Cursa estudios completos de armonía clásica, canto coral, solfeo, transporte y repentización,7 cursos de piano ,formas musicales , estética de la música.
Ha tocado en multitud de formaciones de rock, cabaret, folk, pop, orquestas de baile y formado parte de la "mítica" orquesta del circo internacional de "LOS MUCHACHOS" .
Despierta su interés por el jazz muy pronto, pero no es hasta los 24 años , que empieza a tocar en grupo "Abuña jazz" que con "Clunia" son los precursores del jazz en Galicia. En su mayoría autodidacta . Se traslada a Santiago de Compostela donde estudia en la "Escola-estudio" de música moderna y jazz (escuela perteneciente a la asociación internacional de escuelas de jazz IASJ) los 5 cursos de improvisación,7 de armonía y arreglos, combos,etc.
Asiste a numerosas Master class de músicos como Barry Harris, Skip hadden, Four in one con Sergio Pelaggio, Skip Hadden, Jarmo Savolainen, Dave Frank, Rick Peckham, Eric Urdaneta y un largo etc.
Al año de empezar estudios en ESCOLA ESTUDIO le proponen ser profesor de piano (hace 12 años) hasta hoy, residiendo en Santiago de Compostela.
Ha hecho giras musicales por JAPON, VENEZUELA, COLOMBIA, PORTUGAL, ARGENTINA, URUGUAY con diversos grupos y formaciones de Jazz .Ha trabajado como musico en Cabaret , compuesto música para teatro,etc.
Ha participado como componente, colaborador o fundador de .: ABUÑA JAZZ, CID Y TRIO, ALTAMARA JAZZ, THE HOT JAZZ TRIO, A.M. TRIO, SALLY ALBAUGH QUARTET, IMPROVÍA, QUARTETO D'KY, 4X4 LATINJAZZ, GUERRATRACTION, COMBO HAVANA CAPITOL, FANJAZZ, THE GROOVE FATHERS, TRIO XINGRA, D'XAZZ 3, LATINÁPOLIS, JAVIER CONSTENLA"IMPROVÍA", JAZZENCUENTRO,PILOCHA+IMPROVIA etc...
Ha tocado con multitud de músicos de Galicia y de fuera de ella y participado en varios festivales de jazz como el I FESTIVAL de JAZZ de SANTIAGO DE COMPOSTELA, EL PRIMER FESTIVAL DE JAZZ DE LALIN, FESTIVAL DE JAZZ DE MONFORTE, FESTIVAL DE JAZZ DE PRIMAVERA (LATINO)DE OURENSE , FESTIVAL DE JAZZ DE VIGO, FESTIVAL FEITO A MAN(Santiago) FESTIJAZZ (Viveiro)IBEROJAZZ etc...
En la actualidad trabaja con su trio : JAVIER CONSTENLA "IMPROVÍA" (siéndole otorgada "MENCIÓN ESPECIAL" como compositor en el concurso autor de la S.G.A.E. celebrado reciéntemente), el cuarteto "JAZZENCUENTRO", LEO GIANETTO JAZZ PROJECT (ha sacado cd recientemente) con el cantautor EMILIO RUA. Ha compuesto parte de la música para los espectáculos teatrales "ECOS E VOCES DUN TEMPO" y "MEMORIAS DE LA REPÚBLICA ESPAÑOLA" del TEATRO DO ATLANTICO.Colabora como COMPOSITOR y PIANISTA con ésta compañia de teatro y ha sido elegido reciéntemente director de LA BIG BAND de la DIPUTACIÓN de Ourense . En éste momento promocionando su primer trabajo discográfico como lider a trio : "MI MANERA" producido por Audia records.Recien llegado de una gira por Argentina y Uruguay,elegido su trio y la cantante Pilocha por la conselleria de cultura para representar musicalmente a Galicia en actuaciones para la emigracion con arreglos originales llevados al jazz, de repertorio clasico gallego.
Track List:
1. Caravan (6:05); 2. Deica (7:37); 3. Celia (6:10); 4. Pilar(5:10); 5. Preparate(4:56); 6. Jauria (8:04);
7. Mi Nina (6:40); 8. Podria Sucederte A Ti (11:00); 9. QS-8 (5:32); 10. Jauria 2 (6:52)
Javier Constenla (p); Miguel Cabana (ds); Quique Alvarado (elb)
Kapsa, Reininger, Fleau
Parhélie
By CitizenJazz.com
Formé voici plus de quatre ans maintenant, le trio Sphère vient de publier avec Parhélie ce qui constitue en réalité son deuxième album, après Greenland Road, disque autoproduit paru en 2009. Sphère (on notera que cette dénomination n'apparaît pas sur le disque, publié sous la triple identité Kapsa-Reininger-Fleau) est la réunion attachante de trois jeunes musiciens dont la rencontre remonte à leurs années de formation au Centre des Musiques Didier Lockwood, et qui ont créé leur trio au bout de quelques mois. Le début d'un chemin qu'on souhaite le plus long possible.
On évitera d'emblée l'erreur consistant à lui chercher à tout prix une branche dans le grand arbre généalogique de la musique en général et du jazz en particulier. Certes, la formule piano-contrebasse-batterie est des plus éprouvées, et dans doute des plus difficiles à faire perdurer tant les références majeures sont écrasantes. De Bill Evans à Brad Mehldau en passant par Keith Jarrett, les figures tutélaires en paralyseraient plus d'un. Et si l'on devine aisément que la musique de Mehldau fait partie de ce que tous trois ont écouté et aimé, à l'écoute de Parhélie on sent vite que ce trio sans complexe a su s'en émanciper pour parvenir avec aplomb à ce Parhélie à la maturité et la petite musique séduisantes. Il n'est pas si courant que la première écoute d'un disque suscite une telle attraction.
Arrêtons-nous un instant sur le sens de ce nom masculin, qui n'est pas là par hasard mais définit le trio tel que le conçoivent Kapsa, Reininger et Fleau : « [...] phénomène optique, lié à celui du halo solaire, consistant en l'apparition de deux répliques de l'image du soleil, placées horizontalement de part et d'autre de celui-ci. ». Or, la marque de Sphère est bien l'absence de leader, chaque musicien composant et intervenant à égalité, en répétition comme sur scène, en position tantôt centrale, tantôt latérale, mais toujours au cœur et au service de la musique. Les silhouettes floues qui illustrent la pochette en sont la manifestation visuelle, démonstration d'une vraie volonté collective, mais aussi marque d'une humilité à souligner, confirmée par l'entretien que Jean Kapsa et Maxime Fleau nous ont accordé après le concert de Sphère au Théâtre du Petit Hébertot le 29 mai 2011.
Il y a dans Parhélie quelque chose de séduisant qui retient l'attention : un attachement profond à la cause mélodique (les dix compositions sont autant d'invitations (en)chantées), une sobriété de tous les instants, une saine interaction entre les musiciens qui ont bien retenu la leçon de l'improvisation comme proposition individuelle faite au groupe, invitation à l'émulation, et non manifestation d'un ego. Ces trois instrumentistes accomplis n'en viennent jamais à cacher derrière la virtuosité un éventuel manque d'inspiration. Au contraire, c'est leur sens de la retenue, leur manière de suspendre les notes et de créer la tension/l'attention qui nous entraîne dans un univers méditatif et chaleureux. Quand on les interroge sur cette simplicité bienvenue, les musiciens disent qu'elle est le fruit de quatre années de travail : « Au début, on avait tendance à vouloir tout déballer, à l'énergie ; on nous critiquait parfois pour ça. Alors on a vraiment travaillé dans le sens d'une plus grande retenue, il fallait laisser venir la musique, ne pas aller la chercher ».
Pour la petite histoire, rappelons que Jean Kapsa et Maxime Fleau forment aussi Festen, dont nous avons salué le premier disque. Deux formations très distinctes, toutefois : si la première s'imprègne volontiers de ses amours pour le rock et s'appuie sur des riffs et des scansions qui ne sont pas sans rappeler le travail d'E.S.T., le seconde revendique une identité jazz, une approche plus mélodique et plus libre dans ses improvisations.
Ce disque est produit par Mélisse, le label d'Edouard Ferlet, et on comprend que le pianiste ait pu se laisser séduire par les histoires musicales de Sphère : les qualités de Parhélie pourraient s'appliquer à son propre univers : même approche mariant mélancolie, élégance et pudeur, même apparente simplicité des compositions, même refus de l'exhibition virtuose même souci de l'aboutissement du travail. Autant d'atouts évidents dans le jeu de Jean Kapsa, Antoine Reininger et Maxime Fleau, dont on attend les projets en cours. Le deuxième album de Sphère germe, semble-t-il, d'ores et déjà dans leurs têtes. Accordons-leur notre confiance, ils nous réserveront certainement une belle surprise.
Jean Kapsa (p), Antoine Reininger (b), Maxime Fleau (dms)