George Cables
In Good Company
By Michael J. West/JazzTimes
George Cables' title refers first to the pianist-composers he covers—John Hicks, Kenny Barron, Ellington and Strayhorn—and second to his trio with bassist Essiet Essiet and drummer Victor Lewis. The album's a cheery swinger, an exemplar of mainstream piano jazz. In short, the kind of record Cables always makes. But it's his accompanists, and Victor Lewis in particular, that earn the titular salute.
Essiet records semi-regularly with Cables, and evinces an ability to disappear inside the pianist's rich left-hand chords and the architecture and tenderness of his touch, as on Hicks' "After the Morning" and Ellington's "Love You Madly." But Lewis has been with Cables for 15 years, and the album's second track, Cables' "Mr. Anonymouse," plainly shows why. A bass ostinato bears down as Cables barrels over it with speedy single-note lines; underneath, Lewis lays out a cymbal-and-kick locomotion that's preternaturally steady. If the pianist is a runaway train, the drummer lays down tracks for it in real time.
Lewis' fingerprints are everywhere on In Good Company. His frequent accents shape Cables' "EVC" almost singlehandedly, and the upshot of rendering Strayhorn's poignant "Lotus Blossom" midtempo is to establish the ride cymbal as a playful foundation for Cables' improvisation. (It also gives Essiet a chance to shoot the breeze.) Lewis gets his own snappy solos on "It Don't Mean a Thing" and Kenny Barron's "Voyage," and space for his brushwork on "Lush Life" and "Day Dream."
The pianist shouldn't get short shrift; his lithe but thoughtful fingerings uplift every corner of In Good Company, and provide occasional surprises like the Monk-esque glissandi on "Lotus Blossom" and subtle syncopation breakdowns on "Naima's Love Song." Lewis simply shows himself to be Cables' equal—surely the best of company.
Stanley Cowell
Reminiscent: Plus A Xmas Suite
By Parsifal
'Reminiscent' includes a featured program of Christmas melodies ("A Xmas Suite") as well as Stanley Cowell originals and compositions by Brahms, Thad Jones and Richie Powell. His trio includes the acclaimed bassist Jay Anderson and drummer Billy Drummond.
Since his retirement in 2013 from the professorship at the prestigious Rutgers University, where he led its jazz department, pianist/composer Stanley Cowell has been increasingly active on the scene both in concerts and recordings.
In a glittering career Cowell has recorded for labels such as Strata-East - the cult jazz label he started with Charles Tolliver, ECM, Galaxy, and as a sideman on Blue Note, Atlantic, Muse, Impulse! and many others. He has recorded with an array of jazz stars, including Bobby Hutcherson, Stan Getz, Johnny Griffin, Art Pepper, Max Roach, Charles Tolliver and Clifford Jordan.
Track Listing:
1. Intermezzo - 4:11 2. Re-Confirmed - 6:05 3. A Child Is Born - 7:55 4. A Xmas Suite - 10:03 5. Peace - 6:44 6. Midnight Diversion - 9:06 7. Hear With Me - 3:34 8. Time - 6:48 9. Reminiscent - 5:11 10. Sweet Song - 5:22
Personnel:
Stanley Cowell (piano, thumb piano) , Jay Anderson (bass) , Billy Drummond (drums)
Mirko Signorile
In Full Life
By Jazzos
Gia' da piccolo manifesta una passione per la musica ed in particolare per il pianoforte.
All'eta' di 6 anni prende le prime lezioni di strumento e solfeggio entrando dopo qualche anno nell'Accademia musicale diretta dal m° Battista Bia.
Il luogo e' molto stimolante perche' gli permette di conoscere gli altri strumenti a tastiera come l'organo Hammond, i sintetizzatori; strumenti che per molto tempo...
Personnel:
Fabio Accardi ( Drums ); Fabrizio Bosso ( Trumpet ); Gaetano Partipilo ( Percussion )
Gianluca Petrella ( Trombone ); Giorgio Vendola ( Double Bass ); Mirko Signorile ( Piano )
Stefano Jacoviello ( Electronics )
André Ceccarelli/ Jean-Michel Pilc/ Thomas Bramerie
20 - Twenty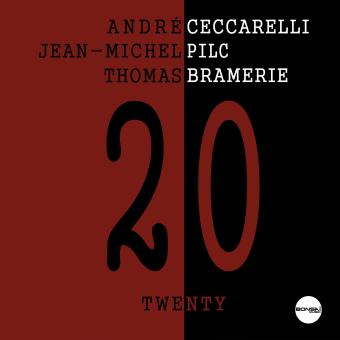 By Catfish
To become a co-star for 20 years, Andre Ceccarelli (1945~), Jean-Michel Pilc (1960~), Thomas Bramerie (1965~), Recorded by the powerful All-Star trio of. Piano nice sharp hard touch crisp in the clearing is, sing the middle. Undulating vigorously emotion in dynamic and bluesy, explosive power and mobility to the rich drums and bass of attacking a touch also showed an antagonistic the first time in the thrilling , some crunchy, and taste of even enough fighting bravely content. Such as rhythm form and tempo, while also a variety of creative is one after another note to arrange plane, extremely high realistic improvisation degree in total, a rich sharp "serious, lyrical-action" type of high-tension bravely continued, while Watariai a guerrilla invasion of Ceccarelli and Bramerie, of Pilc to carry through the valiant resolute down as being in high spirits - complete combustion in the seat of the protagonist, the narrative of a certain deep in the furious playing, indescribably. It stands out. → by the hard touch of Me percussive, while exhibiting the underlying strength of the large-action offensive of irregularities some aggressive with an emphasis on swordfight ish mechanics properties, to truly expertness, or was more meditative, introspective or was aesthetic (or chic such of lyricism-oriented approach of bluesy Dattari ditty wind), thoroughly there like the depth of rich poetic that sitting of the waist is also in the rarity, while traffic to the extremes in an instant, only discussions and exhilarating Millionaires entertainment tone of storytelling to show finish in the road (good support of Ceccarelli and Bramerie also shining) is, indeed wonderful masterpiece.
Tracks:
1. All Blues; 2. Cry Baby Cry; 3. On Green Dolphin Street; 4. Twenty; 5. Opus #3
6. Ne Me Quitte Pas; 7. Old Devil Moon; 8. Returning; 9. Things Are
10. Straight No Chaser; 11. L'Auvergnat; 12. Solar
Personnel:
Jean-Michel Pilc(p); Thomas Bramerie(b); Andre Ceccarelli(ds)