Michele Di Toro Trio
Play
By Adrian Pallant
Di Toro's companions on a recording mainly of originals are Milan-based double bassist Yuri Goloubev and Gallarate-born drummer Marco Zanoli. Together they magically forge delicate chamber jazz, comparable to the gracefulness and exactitude of Italian classical baroque, with Mediterranean finesse and attention to detail reminiscent of the music of Paolo Paliaga (Alboran Trio) and, at times, Stefano Bollani.
Clarity, balance and crisp technical execution are immediately discernible as the album proceeds – but, importantly, there is also the lifeblood of emotional sensitivity which undoubtedly flows through the veins of this music. Lutetia launches the ten-track sequence, characterised by a wistful, seemingly-perpetual (Escher-like) cycle of shifting minor keys which introduces Yuri Goloubev's unmistakable, deftly cantabile bass soloing; the quickening tempo spotlights both Di Toro's bright, Jarrett-inspired pianistic style and Marco Zanoli's incisive, percussive brilliance. There's a quirky charm to waltzing Ninna Nanna, with its bass harmonics, reverse-processed cymbal scrapes and an amiable development of melody (even a hint of Svensson's e.s.t.); and the spirited bossa nova of Yuri Goloubev's Daunted Danceprompts Di Toro and Zanoli to wallow in its unalloyed positivity.
Perhaps unsurprisingly, Di Toro's Corale declares Bachian characteristics as deep, resounding arco bass instils reverence before its exquisitely tempered animation is introduced, including the most sumptuous of melodic extemporisations from the bassist. Marco Zanoli's Distances sustains the baroque feel (almost referencing Anna Magdalena's Clavierbüchlein of 1725) in a gently lucid minuet which showcases the precision of each of the players; and Remembering Chopin's romantic mood, announced by the pianist's deeply-felt lyricism, widens into irresistible vivacity. The reticent demeanour of Goloubev's Joni… suits the trio well as Di Toro eloquently and chromatically paints impressive, broad canvasses of rich colour (Zanoli contributing shimmering shafts of light), whilst pressing miniature Change of Scene(ry) is punctuated with alluringly free explorations.
Very much the essence of 20th Century British classical composition, William Walton relocated in mid-life to the Italian isle of Ischia, so the arrangement of Touch Her Soft Lips and Part (from Walton's Henry V suite) has a geographical connection here. Its aching beauty clearly finds a resonance with jazz musicians – Pete Erskine just one its interpreters (Time Being, ECM) – and this trio magically stamps it authority on it with measured, bejewelled delicacy (Sir William and Lady Susanna would, I'm sure, vehemently approve of this (to date) most perfectly realised of reinterpretations). Brief Chorale VIII – Ascension closes the album, Goloubev's bowed variation of the earlier Corale echoing his orchestral past and confirming this trio's unquestionably informed correlation of jazz and classical worlds.
Play is available from
Abeat Records
and online retailers. Discover its crystalline beauty.
Personnel: Michele Di Toro piano; Yuri Goloubev double bass; Marco Zanoli drums
micheleditoro.com
Tõnu Naissoo Trio
Live At Osaka City Museum Of Fine Arts
Personnel :
Tõnu Naissoo: piano; Taavo Remmel: bass; Ahto Abner: drums
Track list :
CD 1:
Disc.1-01. Isn't it Romantic; Disc.1-02. Angel; Disc.1-03. My Favorite Things
Disc.1-04. I'll Close My Eyes; Disc.1-05. Pensativa; Disc.1-06. Maria
Disc.2-01. All I Want
CD 2:
Disc.2-02. What a Difference a Day Made; Disc.2-03. Love Theme from Sunflower
Disc.2-04. I Say a Little Prayer; Disc.2-05. Dirhami; Disc.2-06. My Back Pages
Disc.2-07. Moon and Sand; Disc.2-08. Don't Say Goodbye
Michele Polga
Little Magic
By Luigi Sforza
In quest'ultima fatica discografica Michele Polga insieme alle sue pronunciate qualità di tenor sassofonista conferma ampiamente il suo appassionato orientamento estetico -già dichiarato nei precedenti lavori a suo nome. Dotato di notevole tecnica strumentale, di senso instancabile per la melodia e di un'ampia capacità di sintetizzare in forma organica e unica un ampio patrimonio storico legato al suono del suo strumento -che va da Joe Henderson a John Coltrane passando per Wayne Shorter-Little Magic rappresenta non un punto d'arrivo ma una tappa importante della sua carriera da leader e compositore.
Tornato ad incidere per la Caligola Records, il musicista vicentino senza distanziarsi molto dalla sua visione mainstream del jazz -un concentrato originale di stili moderni che si rifà alla musica dei tre maestri afroamericani già menzionati sopra -si arricchisce di un ulteriore grado timbrico ed espressivo, il piano elettrico Rhodes, che conferisce al sound effetti cangianti e quadri espressivi che oscillano continuamente alternando momenti onirici ad altri più muscolari.
Le tracce racchiudono impronte di elementi provenienti dalla storia del jazz: "Too Young for Chocolate" è un attraente brano dai connotati soul jazz, mentre "Lost Gift" possiede il dono della maestosità coltraniana, declinato in un supremo e imponente suono sassofonistico che a quello del maestro nero americano si ispira. "Gi" approfondisce i rapporti tra il modo "lineare" di intendere il 4/4 e la possibilità di creare asimmetricità ritmica come capita di ascoltare in certa musica newyorkese contemporanea (Greg Osby e Steve Coleman, solo per citare due nomi). Spicca per intensità "Little Magic": qui più che altrove si realizza pienamente e in forma riuscita il connubio, l'incontro tra l'acustico e l'elettrico (pianoforte e rhodes), tra il sassofono e gli strumenti a tastiera. In "Day Light" tale dialettica viene approfondita e argomentata dall'intero quartetto in forma interattiva, al punto che in certi momenti tutti gli strumenti si pongono sullo stesso grado espressivo annullando temporaneamente il concetto stesso di solismo accompagnato e facendo altresì intravedere una possibile nuova e interessante visione estetica da percorrere. Allo stesso modo, la presenza del woodwinds in "Lost Gift (reprise)" apre un ulteriore grado di fuga verso altre vie stilistiche.
Il progetto si regge armonicamente su un perfetto equilibrio tra i musicisti: solida e fluente, ma anche sostanziosa e pungente, è la sezione ritmica composta da Stefano Senni al contrabbasso e dal bravo Walter Paoli alla batteria; efficace, brillante e puntuale insieme -al contempo deciso e marcato -è il tratto pianistico che contraddistingue lo stile di Paolo Birro.
Con assoluta convinzione ed evidente padronanza tecnica Michele Polga declina un intero ed ampio frasario modernista, dando forma ad un'opera in cui si concentrano mirabilmente esempi di esperienze musicali ben realizzate e in grado di rendere "Little Magic" un disco di buona levatura. Con questo lavoro il musicista veneto si ritaglia uno spazio importante nel panorama jazzistico italiano.
Track Listing:
Too Young for Chocolate; Way of Escape ; Day Light; Blue Grassa; Gì; Little Magic; Against; Dark Green; Lost Gift; Lost Gift (reprise).
Personnel:
Michele Polga: sassofono (tenore), programmazione; Paolo Birro: pianoforte, Fender Rhodes; Stefano Senni: contrabbasso; Walter Paoli: batteria; Giulio Polga: woodwind.

Bergalli & Navarro
Tráfico Porteño
Track listing:
1-What's New; 2-Lullaby; 3-Tráfico porteño; 4-Will Be Together Again
5-Waltz for Debbie; 6-Hi Fly; 7-First; 8-Up Jumped Spring; 9-Day Dream
10-Speak Low
Personnel:
Gustavo Bergalli-trumpet; Jorge Navarro-piano; Arturo Puertas-contrabass
Fernando Martínez-drums
Daniele di Bonaventura & Giovanni Ceccarelli
M
are Calmo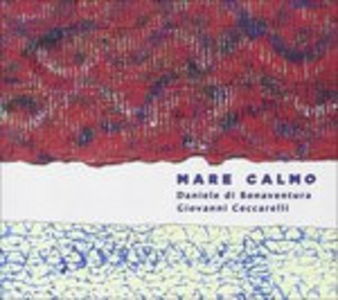 By EvArt
Daniele di Bonaventura and Giovanni Ceccarelli meet on stage for the first time. Together they conceived this original, brand new duo project. Both Daniele and Giovanni had their frst approach to music on the piano. As a matter of fact, di Bonaventura and Ceccarelli share even more affnities: they are both prolifc composers, and are very fond of playing in small musical units, thus allowing musicians to express themselves by wisely using nuances, space and silence. The Bandoneón and the Piano weave a dialogue which enhances the two instruments' rich expressive palettes: chant, percussion, counterpoint, choral textures, and pure sound. As a result, they blend together and they juxtapose by interacting in delicate balance between written parts and improvisation. Daniele and Giovanni propose themselves in concert with a répertoire of original compositions and arrangements. The duo has already performed for classical music festivals and concert seasons, such as the "Chamber Music Festival" in Chieti, and the "Jeunesses Musicales" in Fabrian and Fermo, Italy. Their frst recording project together is due to be released in June 2015.
It consists of a CD/DVD package which will be published by brand new Italian label EvArt.
Personnel:
Daniele di Bonaventura, bandonenon
Giovanni Ceccarelli, piano