Piero Frassi Trio
Konitz Plays Konitz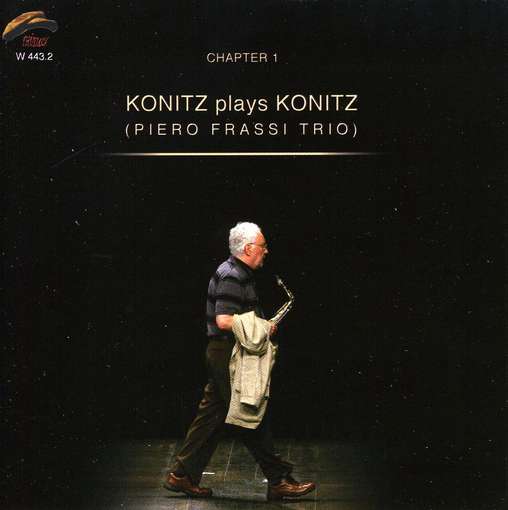 By Alberto Bazzurro
All'epoca di questa incisione (11 settembre 2008), Lee Konitz viaggiava spedito verso gli ottantuno (compiuti il successivo 13 ottobre), ma miracolosamente (e non per questo sorprendentemente: ci siamo felicemente abituati) ancora in possesso del suo inconfondibile suono, rilassato e tuttavia costantemente innervato da fremiti intestini, mai supino, con la bellissima cavata, chiara quanto in qualche modo sorniona, indolente, lievemente sghemba e nasale, controllatissima e dal sempre invidiabile aplomb.
Come ci dice il titolo (che parla anche di Chapter 1, per cui è prevedibile un seguito), si tratta di pagine estratte dal songbook del chicagoano (tranne "My Romance," di Richard Rodgers), nelle cui pieghe il trio di Piero Frassi s'insinua con competenza (raramente rifugiandosi nel mestiere) e fertilità ispirativa.
Delle due versioni di "S.B.S." poste alle estremità del CD, si fa preferire la seconda, più avventurosa, con prologo per alto e piano e chiusura con un Konitz unaccompanied. Tutti i brani viaggiano del resto dal buono in su, con note di merito specie per quegli episodi che, appunto come il secondo "S.B.S.," vedono Konitz impegnato in segmenti in duo, ad alimentare felicemente le dinamiche del disco. Si segnala in particolare la quaterna di brani dal terzo al sesto, dal godibilissimo "What Is It?" al più rilassato "My Romance" (che peraltro non manca a sua volta di espandersi), da "Oceanic," con un magistrale frammento in cui l'alto si "siede" da par suo sopra il drumming di Melani, nel frangente suo unico interlocutore, a "Many Things," in cui è invece Pedol a ritagliarsi un tête-à-tête col sassofonista.
Se pure avete venti dischi di quel grande maestro che risponde al nome di Lee Konitz, quindi, sarà il caso che vi accaparriate anche il ventunesimo...
Visita il sito di Piero Frassi.
Valutazione: 3.5 stelle
Elenco dei brani:
01. S.B.S; 02. Softlee; 03. What Is It?; 04. My Romance; 05. Oceanic; 06. Many Things; 07. Solee; 08. Lonelee; 09. S.B.S (alternate).
Musicisti:
Lee Konitz (sax alto); Piero Frassi (pianoforte); Filippo Pedol (contrabbasso); Andrea Melani (batteria).


Luigi Ruberti
Dedicated To Bill Evans
CDH 1549.2
Splasc(h) Records
Luigi Ruberti double bass – elaboration and arrangements
Mark Sherman vibraphone
Gianfranco Campagnoli trumpet and flugelhorn
Mimmo Napolitano piano
Giuseppe La Pusata drums
By Jazzitalia
Non stupisca che a dedicare un omaggio a Bill Evans (nel trentesimo anniversario della sua prematura scomparsa) per la Splasc(H) Records sia un contrabbassista qual'è Luigi Ruberti, napoletano di solida formazione classica e arrangiatore di tutti i nove brani del cd.
In sei di questi c'è la presenza veramente speciale del vibrafonista Mark Sherman, le cui parole riportate nel libretto rendono bene l'idea del risultato raggiunto "…sono sicuro che se Bill Evans avesse potuto ascoltare questa registrazione sarebbe stato molto felice di questo lavoro e dell'eredità che ci ha lasciato".
Mimmo Napolitano al piano, che, evitando una vieta imitazione del maestro rende decisivo il suo contributo, Gianfranco Campagnoli alla tromba e Giuseppe La Pusata alla batteria contribuiscono degnamente ad un omaggio perfettamente riuscito. (dalle note di copertina di Stefano de Stefano)
Tracks:
1 MY BELLS (Bill Evans-L.Gene) 4:46
2 VERY EARLY (Bill Evans-L.Gene) 8:17
3 TIME REMEMBERED (Bill Evans) 6:11
4 BILL'S HIT TUNE (Bill Evans) 6:43
5 PEACE PIECE (Bill Evans) 2:41
6 MAXINE (Bill Evans) 8:02
7 WE WILL MEET AGAIN (Bill Evans) 7:58
8 CARNIVAL (Bill Evans) 4:33
9 EPILOGUE ((Bill Evans) 4:34
recorded on 1-2-3 december 2009 at BLUE MEGARIDE Studio - Napoli
Renee Rosnes
Manhattan Rain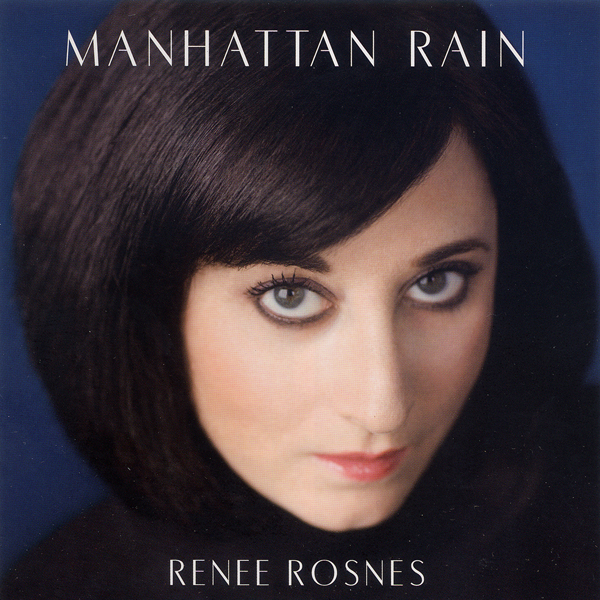 by EastWind Import
Pianist Renee Rosnes has enjoyed critical acclaim both in the US and Japan, and particularly strong popularity in the latter country thanks to her many wonderful piano trio albums that mostly showcased her lyrical piano interpretations of well-known standards. She took a different tack in this latest album produced and released by the Japanese label M&I, by adding two more voices to her usual trio format and highlighting her composing and arranging skills.The first-rate band includes Steve Nelson on vibraphone, Rich Perry on tenor sax, Peter Washington on bass and Bill Stewart on drums. Using different combinations of these top-notch musicians (trio, quartet and quintet), Rosnes brings out sophisticated sound colors through her four attractive originals and sophisticated arrangements of well-picked standards and jazzmen's compositions -- one each by Ellington, Berlin, Jobim and two by Lohn Lewis.The sonic textures of the quintet with the vibraphone and tenor sax leans towards soft, gentle and cool, and the stylistic approach is post-bop and modal. The band is tight, and the solos are inspired. This is a sophisticated and satisfying album that lets us appreciate Rosnes' compositional and arranging talents in addition to her superb piano performance. Recommended! Produced by Makoto Kimata and Todd Barkan.
Recorded September 25 & 26, 2009 at Avatar Recording Studio, New York.
Renato Sellani Trio with Camilla Battaglia
Joy Spring
Recording information: Mu Rec Studio, Milano (02/05/2010).
Photographers: Stefania Romano, Paolo Piangiarelli.
Personnel:
Camilla Battaglia (vocals); Renato Sellani (piano); Luciano Milanese (double bass); Stefano Bagnoli (drums).
Geri Allen
Flying Toward The Sound

by Thom Jurek
Pianist and composer
Geri Allen
is an artist who has never been complacent or self-deceiving. She has always listened deeply, and in the process has pushed her own envelope of expression and creativity, looking toward a horizon as eternally on the move as she is.
Flying Toward the Sound
, subtitled "A Solo Piano Excursion Inspired by
Cecil Taylor
,
McCoy Tyner
and
Herbie Hancock
," features an eight-part suite called "Refractions: Flying Toward the Sound."
Allen
doesn't play the music of her muses. Rather, she invokes their very spirits in her own utterly unique compositional method. On the opening title track it's
Tyner
, with his open-ended lyricism, extended chord voicings, and use of space. But
Allen
builds on his use of modes by adding her masterful large chord rumblings with the left hand in the deep registers of the piano while using the middle ones for a series of elegantly voiced melodic statements. On "Red Velvet in Winter," for
Hancock
, she employs her inspiration's method of composition as orchestration. Themes are inviting; she blends left-handed constructions, soulful lyric notions, and right-hand technique to evoke the timbral voices of many other instruments. But it is on "Dancing Mystic Poets at Midnight," for
Taylor
, where the work really begins to sing. She reads through not only
Taylor
's use of rhythm and harmonics but his declared debt to
Duke Ellington
as a cornerstone. Playing two-handed melodies in high and middle registers that create a pulsing palette, she begins to improvise by alternating melodies and creating a third that, while percussive, is fluid and evocative of the space and distance a dancer must travel in a leap. The 16-minute centerpiece of the album is "God's Ancient Sky." It denotes the spiritual nature of this recording.
Allen
arrives in new territory after her muses, in order to create a set of sonic wings with which to fly from them toward the unknown. Its use of density and space, elegance and force, and its conscious engagement with the elliptical, both harmonically and rhythmically, is literally breathtaking. It walks a labyrinthine path between jazz and classical music in the musical world, and between earth, sky, and underworld in the spiritual realm. "Dancing Midnight Poets at Twylight" (sic) employs
Taylor
's interpretation of
Ellingtonian
swing dramatically. The pulse here dances between rhythm and harmony with her signature lyricism ever at the forefront. The work reprises its opening theme in summary, but with noted harmonic extensions from a new musical terrain. She closes with "Your Pure Self (Mother to Son)," a gorgeous personal ballad outside this suite.
Flying Toward the Sound
is a major work for solo piano: courageous, vulnerable, poetically articulated, and technically awe-inspiring in form and execution. [There is a video program at the end of the disc featuring three of the suite's titles in performance.