Paola Arnesano
The Police Songbook
by Gianluca Cardellicchio
Restyling di classe ad opera di Paola Arnesano, recentemente fregiata del premio Best Jazz Singer ai Luca Flores Italian Jazz Awards 2009 che qui, oltre ad incantarci con la sua vellutata e ricercata vocalità, si cimenta nell'arrangiamento degli inconfondibili successi dei Police. Nella registrazione live senza tracce, dall'interplay di sicuro effetto, ritroviamo i grandi classici della band di Sting e soci. Qui si tenta la strada del jazz e si reinventa un mondo completamente nuovo, sottoposti ad un continuo make-up sonoro, moderno ed evocativo, quasi da soundtrack per un genere, quello dei Police, già di per sé dotato di particolarismo musicale: la nota commistione di Rock, Reggae e New Wave che li ha sempre resi unici e omnicomprensivi nel gotha del pubblico musicofilo. Ci perdiamo in lidi sconosciuti lasciandoci ammaliare dal sortilegio di una sapiente ricostruzione armonica, edificante per chiunque, dai puristi del jazz ai veterani del rock pop più esigente. Esemplare l'inciso di "Wrapped Around Your Finger" che susciterebbe incanto allo stesso Sting, noto ammiratore di Nina Simone. O anche la completa rivisitazione dell'hit "Every Breath You Take" che ci culla in una ballad in odore di cool jazz con arrangiamento dalla moderna originalità. Altrove invece si percepisce la necessità (e qui la deontologia del musicista doc si fa sentire) di mantenere le convenzioni estetiche regalandoci un momento ritmico dal risvolto interessante, grazie ad un ritrovato Fabio Accardi, forte dell'esperienza sonora parigina, fautore di poliritmie e innovazioni costanti nell'impianto ritmico che si incastrano alle perfezioni celebrative di Giorgio Vendola al contrabbasso, ora efficiente tappeto sonoro, ora creatore di linee e fraseggi sublimi (dotato di straordinaria musicalità il suo solo in "Every Breath You Take"). "Roxanne" riprende appieno questa visione d'insieme, dalla percussiva intro, alle ritmiche rielaborazioni dispari (e qui il tributo al grande Stewart Copeland). Poi Paola ci prende per mano e ci guida verso l'apertura serena dell'inciso. Il piano cerebrale di Mirko Signorile, appaga anima e corpo con quella versione elitaria del jazz contemporaneo, un ascolto di finezza ed eleganza senza esclusione di momenti di forza e passionalità estrinsecata da diligenti esperienze newyorkesi. Evansiano nel refrain di "Tea in The Sahara" è fautore di un solo, fra i tanti memorabili, dalla sapiente gestione moderna degli intervalli seguita da un fraseggio libero e immaginifico, dalle profonde aperture sonore. Subito dopo contrappunti di contrabbasso e piano rivelano un tocco di finezza nell'arrangiamento. Un'ulteriore rifinitura lo da il sax dell'abilissimo sassofonista Gaetano Partipilo, qui col suo sax alto a ritoccare melodicamente con inserti semplici ma efficaci e con soli dal timbro ineccepibile e dal gusto attualizzante nella sua modernità ("Wrapped Around Your Finger", "Don't Stand So Close Me", "Roxanne") Importante l'aspetto meramente amicale della band, che da anni condivide sonorità, esperienze, palchi e invenzioni musicali non da poco. Ciò ci restituisce quella dimestichezza del sapersi muovere in uno spazio conosciuto, reinventando, ricostruendo, mantenendo l'identità e comunicando abilmente, come solo i grandi jazzisti fanno, nonostante il notevole corpus degli adattamenti. Paola Arnesano erede delle più disparate situazioni musicali riesce dunque nel creare un progetto di incredibile validità e può coronare il suo sogno grazie all' inconfutabile estro creativo e alla comprovata professionalità della band che l'accompagna in questa dimensione sonora vecchia e nuova, lasciando qua e là input melodici di facile restituzione alla memoria musicale, immersi in un cosmo sonoro completamente rinnovato. La sua voce poi, fra le più importanti del nostro panorama jazz e bossa nova (e non solo) con all'attivo le più disparate registrazioni in studio (sotto l'etichetta Fo(u)r ricordiamo "Trio de Janeiro", con Guido Di Leone ed Enzo Falco), si districa con consapevolezza emotiva e semplice efficacia fra le interpretazioni più personali, ad elevato impatto e di sicuro coinvolgimento e abile fraseggio scat ("Wrapped Around Your Finger", "So Lonely"). Sicuramente una delle migliori ultime produzioni della giovane, ma qualitativamente elevata Fo(u)r.
Makoto Ozone
Jungle
by Ken Dryden
After three decades of recording as a leader, pianist
Makoto Ozone'
s
Jungle
, featuring his
No Name Horses
big band, is a twist in a new direction. Co-leading the band with trumpeter/flügelhornist
Eric Miyashiro
,
Ozone
and his musicians offer an array of Latin jazz works that blend elements of the past with progressive influences. The leader's "Coconut's Meeting" and "B&B" are straight-ahead Afro-Cuban jazz tunes with infectious grooves. "Cave Walk" opens with an eerie piano solo, then moody brass with chugging baritone sax, highlighted by trumpeter Sho Okumara's muted solo. Trombonist
Eijiro Nakagawa'
s "Safari" is a dissonant blues that bubbles with energy, while tenor saxophonist
Toshio Miki'
s "Moon Flower" opens as a delicate ballad with a rich tapestry of horns and brass behind
Ozone'
s spacious solo, though it blossoms into a driving affair. It's a shame that so few of
Makoto Ozone'
s releases have been issued in the U.S. since 2001, though this strong effort will hopefully increase his opportunities to share his music with the American market.
Tõnu Naissoo Trio
Blue Pearl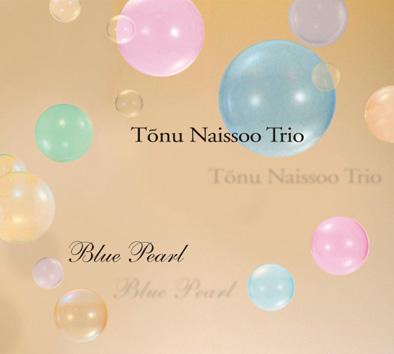 by EastWind Import
In 2005, Atelier Sawano introduced to the Japanese audience a jazz star from an unlikely country: Estonia. Tonu Naissoo dazzled us with his soulful playing, modern sensibilities and prestine touch. His previous releases from Sawano became huge hits and his second CD was even selected as the "Best Engineered Jazz CD of 2006" by the Jazz Critique Magazine.His seventh album from Sawano will only solidify his standing as one of the premier jazz pianists of today. In an eclectic program of lesser-known standards, jazz musicians' compositions and one attractive original ("Just Takin' A Ride"), the listener is swept away with his beautiful touch and swinging lyricism. Interesting choices of tunes include Kenny Barron's "Water Lily," Bud Powell's title tune, Michel Petrucciani's "It's A Dance" and Keith Jarrett's "Country."As with Naissoo's previous releases, the sound quality of this CD is just superb. If you liked his previous albums, you'll definitely love this one. Heartily recommended to the fans of high-quality piano jazz! Recorded May 26, 27 and June 2, 2009.
Tm Garland
Libra
by Chris May
Track Listing: CD1 (Sun): The Eyes Of Ages; Hang Loose; Arabesque For Three; Frontier - Pt. 1 SunGod, Pt. 2 Moongod, Pt. 3 On Sungod, Pt. 4 Libra; Old Man Winter. CD2 (Moon): Blue In Green; Bajo Del Sol; Darkhouse; Sly Eyes; Black Elk; Break In The Weather; Nostalgia In Times Square.
Personnel: Tim Garland: tenor and soprano saxophones, bass clarinet, bass flute; Gwilym Simcock: piano; Asaf Sirkis: percussion set, hang drum, udu, frame drums; Paul Bollenback: guitar (CD1#2, 5, CD2#7 ); Royal Philharmonic Orchestra conducted by Tim Garland (CD1#4); Sacconi Strings (CD2#3).
Listening to British reed player Tim Garland, it's easy to be reminded of saxophonist Sonny Rollins' remark, decades ago, about Stan Tracey, the Ronnie Scott's house pianist who accompanied Rollins on many of his appearances at the London club. "Does anybody here realise how good he is?" asked Rollins rhetorically. Happily, times have changed and many Brits do realise how good Garland is, but there remains the suspicion that were he an American, half the country would be genuflecting before him.
A magisterial tenor and soprano saxophonist and bass clarinetist, Garland is also a richly atmospheric composer and arranger. He is at home in both jazz and classical musics, and in either big orchestral settings or smaller, more intimate surroundings. These qualities are all heard, seamlessly woven together, on the outstanding 2CD set Libra, which features one of Garland's current trios alongside the massed ranks of the Royal Philharmonic Orchestra.
Garland has two trios on the go in 2009. One is the prettily understated Acoustic Triangle, with pianist Gwilym Simcock and bassist Malcolm Creese; the other is the more expansive, at times ferocious Lighthouse Trio, in which Creese is replaced by percussionist Asaf Sirkis, who plays not a conventional drum kit but a customised percussion set-up. Since it was featured alongside the Northern Sinfonia on If The Sea Replied (Sirocco, 2005), the Lighthouse Trio has been Garland's most active live band and it is at the core of Libra.
The trio, augmented by the Sacconi Strings on just one track, is heard unaccompanied on Libra's second disc, "Moon," a series of live recordings. Most of the crowd noise has been edited out and the sound is rich, resonant and warmly embracing, live recording at its best. There are three covers—Miles Davis' "Blue In Green," Kenny Wheeler's "Sly Eyes" and Charles Mingus' "Nostalgia In Times Square"—and four Garland originals. The salsa and tango informed "Bajo Del Sol," with Garland on bass clarinet, shows how intense the Lighthouse Trio can be and just how much noisy excitement three musicians can create while still remaining lyrical.
On the first disc, "Sun," the trio is featured alongside the RPO on the four-part suite "Frontier." The first part, "Sungod," featuring the orchestra alone, has Garland the composer and arranger exploring the same high volume, high impact territory as the trio did on "Bajo Del Sol," but magnified by a power of ten going on a hundred. Thunderous timpani, big brass, crashing cymbals, and what sounds like bass saxophones dominate. The trio are on an equal footing with the orchestra by the third part, "On Sungod," which includes a killer Garland tenor solo of dervish-like ferocity.
The trio completes the first disc with four studio-recorded tracks. Guest guitarist Paul Bollenback adds a thrillingly percussive, chordal solo to "Hang Loose," which also features Sirkis on hang, the must-have exotic drum for British-based percussionists since it was introduced by the Portico Quartet on Knee Deep In The North Sea (The Vortex, 2007).
Garland's most rounded statement to date, Libra is a masterpiece by any standards.
Tizian Jost Trio
We Will Meet Again
By EastWind Import
German pianist Tizian Jost follows up his hit album
The Night Has A Thousand Eyes (AS-079)
with a swinging collection of standards and jazz composer's songbook.In this, his fourth release from Atelier Sawano, his beautiful tone and straight-forward approach is reinforced with an uplifting sense of swing. The selection of tunes are quite interesting and eclectic, featuring many fabulous compositions by jazz pianists including Duke Jordan, Wynton Kelly, Ray Bryant, Lorraine Geller, Cedar Walton and Russ Freeman in addition to Bill Evans who wrote the title track.In a sad turn of event, Jost's supporter, mentor and great drummer Klaus Weiss passed away before this recording, but bassist Thomas Stabenow (who is one of the very best in Germany) brought in a wonderful replacement in Wolfgang Haffner. This is a truly impressive trio album and Jost's versatility is especially amazing. As is typical with all Atelier Sawano releases, the sound quality is superb. Highly recommended to fans of piano trio jazz!Recorded May 20 & 21, 2009.