Denny Zeitlin
Wherever You Are: Midnight Moods For Solo Piano
By Ken Dryden
Denny Zeitlin has balanced careers as a psychiatrist, medical school professor, and jazz pianist/composer since earning his MD at Johns Hopkins in 1964. Equally at home performing with his working trio and as a solo pianist, Zeitlin focuses on the latter in this striking session which he recorded himself in his home studio. His imaginative arrangements of the familiar standards that make up much of this collection put them into a new light, perfect for late-night listening with someone special. "Body and Soul" has been recorded so frequently in the decades since Coleman Hawkins' landmark 1939 record that it would seem that there is little left to explore within it, but Zeitlin's lush reharmonization reveals new glistening facets in this timeless gem. "Good-Bye," long associated with Benny Goodman as his sign-off theme, packs an even greater emotional punch with Zeitlin's deliberate, thoughtful setting. Jazz musicians have often turned the '40s ballad "I Hear a Rhapsody" into an uptempo swinger, though Zeitlin's introspective rubato treatment returns it to its romantic roots, seducing the listener with his lyrical playing. The pianist's fresh rendition of the poignant ballad "You Don't Know What Love Is" begins with him improvising on its bridge and slowly working his way into it, adding a subtle Latin undercurrent as he reharmonizes its familiar theme. Zeitlin also revisits two of his originals, the mysterious "Time Remembers One Time Once" and the richly textured "Wherever You Are." This compelling solo piano CD is destined to become one of Denny Zeitlin's landmark recordings.
Rita Marcotulli/ Javier Girotto/ Luciano Biondini
Variazioni Su Tema
By PianoSolo
"Comporre le immagini, radunare ombra e luce, canone e fuga in un racconto legato armonicamente, è il segreto di una partitura paziente, è conoscere la corrispondenza [musicale e cromatica] fra tono e tono, fotogramma dopo fotogramma, fino alla formula che, improvvisa, spalanca il mondo: musica da vedere, ogni tasto del pianoforte come un fotogramma…" così scrive nelle note di copertina di questo cd Francesco Giardinazzo.
Fotogrammi, ovvero musica da film questa che la pianista Rita Marcotulli compone per il suo nuovo trio di insolita costituzione: l'argentino Javier Girotto al sax soprano e baritono e Luciano Biondini all'accordion. Tre voci con forte personalità che danno corpo ai dodici brani, dodici "Variazioni su tema" che non sono altro che dodici racconti in musica, scene di cui ci sembra di carpire uno svolgimento visivo perché nascono da un contesto in cui è l'immagine a dominare: il cinema appunto. Rita Marcotulli consolida così un'esperienza compositiva che già da anni conduce con passione: la scrittura di musica per il cinema, che le ha fatto guadagnare il Ciak d'oro, il Nastro d'argento e il David di Donatello per la sua colonna sonora del film "Basilicata coast to coast" di Rocco Papaleo e per le sue composizioni dedicate al cinema di François Truffaut. Basta leggere i titoli di questi dodici brani per comprendere il carattere evocativo di questa musica.
"L'amore fugge" è ritmicamente incalzante, come una cadenza di passi in corsa trafelata, un passo marcato dal pianoforte di Rita Marcotulli, qualcosa di imprendibile, qualcosa che se ne va senza poter essere afferrato, mentre la voce dell'accordion di Luciano Biondini echeggia dolcezza, essenza dell'amore, una vena di malinconica tenerezza che il sax di Girotto completa con l'elemento ardore. "La vanità" esibisce se stessa prima con spudoratezza, per poi indugiare in un momento di ampio e profondo respiro, sospesa nella contemplazione di sé, quasi drammatica ammissione della propria vacuità con gli inserti insinuanti del sax di Girotto, differente da ciò che ritroviamo poco dopo ne "La vanità apparente", in cui cambia l'atmosfera, cambia il sentimento, e la vanità è solo vezzo, maschera esteriore che nasconde un'anima larga e ricca, e sono le voci del trio che si intrecciano in melodie cantabili, quasi arie.
Il pianismo di Rita Marcotulli in questo lavoro non rinnega una delle caratteristiche del suo stile: la capacità evocativa mediante linee melodiche ampie e liriche nella loro sostanza espressiva, ma si trasforma al tempo stesso in potente sezione ritmica del trio al momento opportuno. Interessante l'incedere lento e riflessivo del brano di apertura "L'essenza dell'essere", in cui l'incipit della nuda voce del pianoforte della Marcotulli ci ricorda persino Satie in un'essenzialità del suono che fa pensare a un movimento verso le cose. Questo movimento ci conduce però in un luogo dove qualcosa di magico sta accadendo, una scena che si popola di cose e persone, lo spazio in cui nasce una storia.
Track list:
1.L'essenza dell'essere/ 2.I due ubriaconi/ 3.L'amore fugge/ 4.La vanità/ 5.Il piccolo Principe/ 6.Nothing lasts for long/ 7.I danzatori delle stelle/ 8.Vanità apparente/ 9.Bambini nel tempo/ 10.Interludio/ 11.Nel mare colore del vino/ 12.Varia.
Pablo Seoane Trio
Falou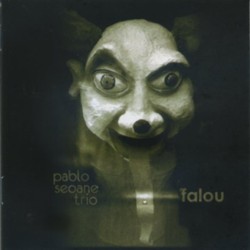 By EastWind
Pablo Seoane is a bright, young jazz pianist whose star is rising fast in Europe. He has a very modern style that is based on modal jazz with a post-Brad Mehldau sensibility. At the same time, he has a wild, passionate side to his playing. The all-original compositions are wonderful, combining the heritage of traditional jazz, modern harmonies and varied rhythmic devices. Recommended!
Album Tracks:
1. Alceo negro
2. Se acabo la molicie
3. Poplitea
4. Trevas de Queluz
5. Cambio cidades por mapa
6. Drologo
7. Rua conselheiro La Fayette
8. Sly en Lubeck
Olivier Antunes Trio
Theme From Elvira Madigan
By EastWind
Olivier Antunes, born in Paris in 1973 and grew up in Denmark, is arguably the premier jazz pianist from that country. His three albums from the Japanese label, Marshmallow Records, have firmly established him in my mind as the most lyrical and imaginative pianist of the Bill Evans school.
In this relatively early recording (originally released in 2003), Antunes is backed by two legendary Danish musicians: bassist Mads Vinding who became a star on Duke Jordan's Flight to Denmark<.b> and drummer Alex Riel who has played with Ben Webster, Bill Evans, Dexter Gordon and more recently with Jan Lundgren. This superb trio collected beautiful melodies from many different corners of the musical world, including the great American songbook, classical music (Mozart, Grieg), and tunes written by by Ennio Morricone, Nat Adderley, and Elton John.
These beautiful melodies are played beautifully, with imagination, subtlety and thoughtfulness. A beautiful piano trio album that should be treasured by many jazz fans for many years. Very highly recommended!
Produced by Makoto Kimata.
Album Tracks:
1. Someday My Prince Will Come
2. Chi Mai
3. The Old Country
4. Boy on a Dolphin
5. Theme from Elvira Madigan
6. My Foolish Heart
7. Solveigs Song
8. Hush-A-Bye
9. Can You Feel The Love Tonight
10. Den Bla Anemone (The Blue Anemone)
Dena DeRose
Travelin' Light: Live In Antwerp, Belgium
By JazzCorner
The First Solo Recording of Her Illustrious Career.
Dena DeRose is a swinging jazz pianist, a gifted vocalist and a talented composer and arranger. Renowned for her intelligent interpretation of standards and her distinctive voice, DeRose's new solo recording, "Travelin' Light," features her in the intimate venue, The Chromatic Attic in Antwerp, Belgium. For this recording, DeRose digs deep into the Great American Songbook unearthing some little-known gems along with other well-known classic compositions.
"This recording is one that I have wanted to make for years. Solo...just me and the piano. Live. I've received many requests to do a solo recording. I wanted to make it happen, but it took awhile to find the right time to do it, the right songs, the right audience and the right room for such a recording. The perfect setting was the Chromatic Attic in Antwerp, Belgium, operated by Herman Van Hove. I was encouraged to record there by my good friend and great jazz pianist, Jack Van Poll, and Herman 'handpicked' the audience, so the evenings were 'right' in every respect.
To do a 'live' solo recording seemed daunting at first, but at the same time it gave me a sense of comfort as it reminded me of how I began this whole journey of singing and playing jazz. I started my career in my hometown of Binghamton, NY performing solo, weekly for about 2 years ...singing and playing piano in the corner of a hotel bar on an old Wurlitzer upright with a very supportive, encouraging and 'regular' crowd that came by every week!
The songs I chose for this recording are quite dear to my heart. Some were challenging and new for me, while some were songs I've done for more than 20 years, but not in a solo format until now. I fell in love with Nice 'n Easy and Travelin' Light when I heard the great Shirley Horn perform them live in NYC many times. Two Different Worlds has a story that many people can relate to as the world becomes a smaller place with people living and working in countries other than where they grew up, meeting and falling in love with someone of another culture, nationality or color of skin. This is a song inspired by vocalist Sammy Davis, Jr. Portrait in Black and White has a wonderful English lyric by Roger Shore. It's a Brazilian song written by the great Tom Jobim, but, Shore's story hit home for me a few years back and I'm sure the lyrics will speak to many who hear it.
Why Did I Choose You? is from the movie 'The Yearling' written in 1966 (a great year!). I remember watching the movie when I was very young and I liked the song.
Blue in Green is a Miles Davis (and Bill Evans) tune, but with a lyric by the incredible lyricist Meredith d'Ambrosio (a true Renaissance woman!!). She titles it "Blue and Green." Meredith's lyric really brought this song to my attention again after having played this tune many times through the years. I Never Told You has a heart breaking story by the incomparable Arthur Hamilton and the music is from one of my all time favorite composers, Johnny Mandel. A rare gem! Twilight World by Marian McPartland and Johnny Mercer has an interesting story that one can see...very visual, very clear, very clever as many Mercer lyrics are. Marian's music truly makes the lyrics come alive. The rest of the tunes I just love - period. I hope you will enjoy them as much as I do."
Nesin Howhannesijan Trio
Sonocore
By EastWind
Once again, Atelier Sawano of Japan discovered a talented European jazz musician who deserves our attention. Born and raised in Berlin, German bassist Nesin Howhannesijan began playing violin at age six and later switched to bass. His trio, with pianist Kelvin Sholar and drummer Ernst Bier, exudes quiet tension, flowing lyricism and tight interplay.
The program of original compositions shows influences from different genres of music and displays quiet emotions and soulfulness under the surface of well-constructed beauty. The sound quality of this CD is also superb.
Release Date : 10/22/2011
Recording : 2010
Personnel :
Nesin Howhannesijan (bass)
Kelvin Sholar (piano)
Ernst Bier (drums)

Track list :
1. Seven Seals
2. Circles
3. Ballad New
4. Sonocore
5. Monolyth
6. Gypties
7. Homecoming
8. 1915
9. Stereotype Threat
All Compositions are by Howhannesijan
*Except Gypties by Sholar
Matteo Negrin
Jouer Sans Frontières


By Marco Buttafuoco per Jazzitalia
Brezze leggere e cieli tersi, piccole storie, malinconie leggere. Quella di Matteo Negrin e una musica rassicurante, che prende per mano l' ascoltatore e lo porta - senza mai farlo perdere - in luoghi aperti, calmi, rassicuranti.
A volerlo, un po' forzatamente, inquadrare "Jouer sans frontieres" potrebbe essere definito come una proposta "easy listening" di classe, basato com'è su temi ricorrenti e leggermente ipnotici (un po' alla Ludovico Einaudi. mai troppo scavati, mai troppo sviluppati o variati). Il chitarrista torinese ed i suoi compagni di viaggio sembrano puntare più sulla bellezza e sulla purezza del suono che sull'esplorazione del loro materiale musicale. Ed in questo senso occorre dire che il loro lavoro è perfettamente riuscito, perché il disco è molto piacevole da ascoltare. La musica, lo dice il titolo basato forse sull'identico vocabolo che in francese si usa per giocare e suonare, è ricca di echi non invadenti di varie culture musicali: profumi di Sud America, di Medio Oriente, di jazz, ovviamente. Il tutto risulta alla fine molto gradevole anche se, a parere di chi scrive, fin troppo minimalista. Un po' troppo bozzettistico. Un pizzico di energia in più non avrebbe, forse, guastato.
Una parola di elogio meritano i tre musicisti che collaborano col leader, che completano con eleganza e buon gusto il quadro sonoro proposto da Negrin.