Max Ionata & Dado Moroni
Two For Duke
By Franco Fayenz
E' con un omaggio a Duke Ellington che Dado Moroni e Max Ionata hanno deciso di incrociare il loro percorso artistico dando vita e suono al cd "2 for Duke", prodotto da Jando Music, che verrà presentato in anteprima, venerdi 18 maggio alla Casa del Jazz di Roma.
Un viaggio di sola andata per Ellingtonia, una terra creata da due tra i più importanti artisti del '900, Duke Ellington ed il suo alter ego Billy Strayhorn, un uomo che amava stare nell'ombra, a detta di molti il vero ispiratore dell'estetica ellingtoniana. Ma non importa chi abbia fatto cosa. Ciò che conta è che questi due geni contemporanei abbiano lasciato un'impronta indelebile su tutta la musica, non solo nel Jazz. Ellington e Strayhorn hanno inventato qualcosa che prima non esisteva, gettando le basi armoniche e melodiche di un linguaggio che anticipava i tempi di parecchi decenni.
Prodotto da Jando Music, in collaborazione con Via Veneto Jazz, questo disco è lo specchio della passione che Dado e Max hanno da sempre per la musica del "Duca" che li ha fortemente influenzati facendone nel tempo due Ellington "maniacs".
Nel raffinato dialogo a due tra piano e sax c'è tutta la passione, l'amore e l'ammirazione per l'eredità musicale che il genio del grande jazzista americano ha lasciato al mondo.
Dado Moroni, tra l'altro, ha collaborato a lungo con Jimmy Woode e Sam Woodyard, contrabbassista e batterista storici di Duke Ellington, consentendogli di immergersi a pieno nelle sonorità originali di colui che, da molti, è considerato il più grande compositore jazz di tutti i tempi. Sonorità che ritroviamo in "2 for Duke" anche grazie alle straordinarie capacità interpretative del sax di Max Ionata. Dado Moroni in un brano del disco suona anche il contrabbasso e in ultro coniuga la voce con la tastiera.
"Questo è un disco bellissimo. Perché è suonato con intensa partecipazione da due eccellenti solisti fra loro complementari. Originale e pregevole è l'idea di proporre un'interpretazione creativa in duo di musiche di Duke Ellington e di Billy Strayhorn: da un lato c'è il pianoforte di Dado Moroni (che in Just Squeeze Me usa anche il contrabbasso e in Solitude coniuga la voce con la tastiera); dall'altro Max Ionata che fa letteralmente cantare il suo sax tenore.
Di Max Ionata, ne ho apprezzato dal primo ascolto, qualche anno fa, il bel fraseggio sicuro e il suono del suo sax tenore che mi piace definire quasi intimo e privato e soprattutto "suo", in quanto non ci sono somiglianze da citare, neppure – direi – dagli esperti che ne fanno deprecabile abuso. Qui ho trovato la migliore conferma, e la più continuativa, delle sue qualità e della capacità di immergersi nel nobile e complesso mondo ellingtoniano.
Quanto a Moroni, lo considero da oltre vent'anni il più "americano" e il più completo dei pianisti italiani di jazz, e so di non scoprire alcunché con una simile affermazione. Dado ha trovato queste particolarità nella sua indole, nella sua tecnica, nella sua consapevolezza di intenditore di musica e le ha perfezionate decidendo di vivere fra l'Italia e New York. E' un pianista-jazzman a proprio agio in qualsiasi situazione, capace di trascorrere da momenti di stride tradizionale a un gioioso mainstream e a inattese torsioni informali. E non si dimentichi, per quanto riguarda <2 duke="duke" for="for">, la sua lunga collaborazione con Jimmy Woode e Sam Woodyard che furono sidemen storici di Ellington.
Ma sembra il caso di rilevare, dopo l'ascolto ripetuto di questi undici brani uno più bello dell'altro nella composizione e nell'esecuzione, il vecchio problema del rapporto artistico Ellington-Strayhorn, per il quale si cercava di capire fin dove arrivasse il maestro e dove invece prevalesse il discepolo. E' un problema insoluto, tuttavia è bene cogliere l'occasione per rievocarlo. Sei brani di <2 duke="duke" for="for"> (cioè la maggioranza, ed è giusto) sono di Ellington; uno è di Ellington-Strayhorn insieme, tre sono di Strayhorn e infine c'è Perdido firmato da Juan Tizol. Strayhorn si presentò nel 1939 a Ellington con umiltà come paroliere di canzoni, ma lo impressionò assai con due brani, lo stupendo Lush Life e Something to Live for (un titolo simile a What am I here for?). Le differenze stilistiche ed estetiche sono minime e portano acqua, caso mai, al mulino di Strayhorn. Non credo che simili pensieri da azzeccagarbugli fossero presenti a Moroni e a Ionata, ma li hanno ridestati con la scelta dei brani e anche per ciò questo è un disco bellissimo".
Robert Lakatos Trio
2>2>
Bumerang
By EastWind
One of the premier pianists from Hungary, Robert Lakatos has released quite a few great albums through Japanese label Atelier Sawano. His latest release is another high-quality trio recording of originals and a few standards. All the qualities that made his previous work wonderful are here -- the warm, beautiful tone, flowing improvisations with singing quality and lyricism.
On three tracks, Lakatos expands his group to a quartet by adding an up-and-coming tenor saxophonist Gabor Bolla. Bolla's soulful sound and performance increases the bebop quotient and brings an entirely new dimension to the proceedings. Recommended!
Recorded 2011.
Performed by:
Robert Lakatos (piano)
Christian Lakatos (bass)
Dre Pallemaerts (drums)
Gabor Bolla (tenor sax)
Album Tracks:
1. You Must Believe In Spring
2. Felteni Kell
3. Bumerang
4. Solar
5. Love Letters
6. Steps of the Lord
7. Butter and Sol
8. Spring Is Here
9. Passing Months
10. Homage to Bach
Pat Metheny
Unity Band
By Thom Jurek
On Unity Band, Pat Metheny reveals that he can look in two directions at once. The group he's assembled here is an all-star ensemble. Drummer Antonio Sanchez has been with him for a decade, while double bassist Ben Williams makes his first appearance with the guitarist, as does tenor saxophonist Chris Potter (whose soprano and bass clarinet playing are on display, too). Metheny makes full use of this ensemble's possibilities. That said, he looks back through his catalog and composes for this band from some of the information gleaned there. One can recall the swirling melodic euphoria of the Pat Metheny Group in the guitar and guitar-synth interplay in "Roofdogs." On the ingenious "Come and See," Metheny's many-stringed Picasso guitar meets Potter's bass clarinet to create a tonal inquiry beforeWilliams and Sanchez establish a deep blue groove. When Potter adds his tenor and Metheny his electric, we get a Latinized swinging pulse that is ever so slightly reminiscent of the 80/81 band with Michael Brecker and Dewey Redman (this isn't the only place that happens here). Fans of Metheny's more abundantly lyrical side will appreciate the breezy sway of "Leaving Town," though its melody -- twinned by his guitar and Potter -- is full of compelling tight turns, before the rhythm section evokes a deep, swinging blues and the guitarist gets refreshingly funky in his solo. On "Signals" Metheny uses his Orchestrion and guitar with live loops; the band employs live loops throughout the intro on top. Potter's tenor solo is emotive, grainy, and reaching, while the atmosphere recalls -- only generally -- the album the guitarist cut with Steve Reich. The nocturnal, smoky "Then and Now" has a torch ballad quality due to Potter's utterly songlike solo. Set closer "Breakdealer" begins at the boiling point and gets hotter. The title hints at what Sanchez does throughout the tune while pushing forward, but Williams not only keeps up, he adds propulsive shades of his own and rocks the arpeggiated changes fluidly. Metheny and Potter are free to sprint and they do; both dazzle with their lyric invention and knotty, imaginative, nearly boppish solos. The two front-line players are surely at their best in one another's company on the date; you expect them to be. Yet it's the rhythm section that astonishes thoroughly. Their interplay is not only intuitive, it's informative; it points to new corners for Metheny and Potter to explore. Given the guitarist's more compositional solo experiments of the last few years -- all of which have been very satisfying --Unity Band is a return to what he does best: composing for, and playing with, a band of top-shelf players.
Luciana Souza
The Book Of Chet
By Donnagene O. Palmer
Numerous "tribute" albums to Chet Baker have been done; but, in my opinion, none have captured the essence of his style until this one by Luciana Souza. Not only is her delivery slow and quiet, but she TELLS the listener in song a love story rather than appearing to show us her singing style and expertise. Since Chet Baker was first a musician and secondly a singer, his approach, to me, was to use the lyric to give a glimpse into his soul, instead of being concerned with the rules a "good" singer should follow. I commend Luciana Souza for doing justice to the memory of a great jazz artist.
Borja Cao Trio
Match-Ball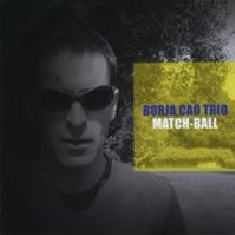 By EastWind
Borja Cao is a young Spanish pianist with tremendous talent. This CD, recorded live (without an audience) on a theater stage, shows his great skills both as pianist and composer. Throughout the all-original program, his songs and performance are characterized by power, drive, colorful harmonies, sophisticated melodies, tension and dynamism. A very exciting piano trio album!
Performed by:
Borja Cao (piano)
Juan Canada (bass)
Max Gomez (drums)
Album Tracks:
1. El cielo debe esperar
2. Something For You
3. Ons Blues
4. Nada sigue igual
5. Gambeteando con swing
6. House Party
7. Xogo bonito
8. Reflexiones
9. Love lanzado
10. Sientelo