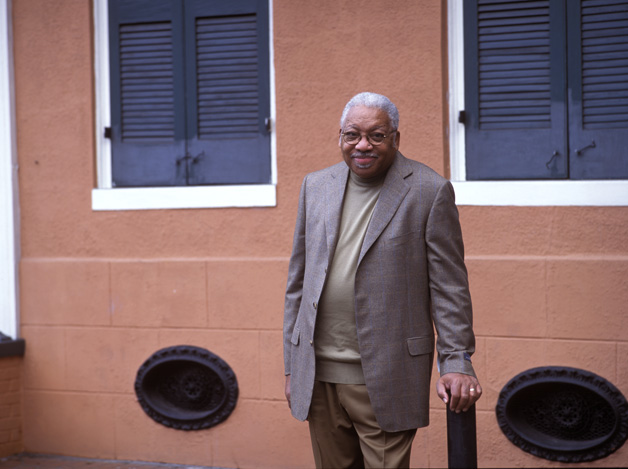 By Leonardo Barroso
Ellis Marsalis, Jr. is, for me, one of the best Jazz musicians I ever heard. The first time I heard him was on Wynton's "Standard Time, Vol.3". Why did Wynton put his father playing ? The record has 21 tracks and for that reason, short in each song playing, my thoughts on the album were of a nice work, but couldn't have a opinion on the piano player.
Not long after, Mr.Bob(JazzGuru) Barroso, played an album of a piano trio. I loved it !!!! Beautiful melodies and top playing of that Trio ! Who is the pianist ? Ellis Marsalis ?! That's not possible ! I just heard Wynton's and didn't hear any of this wonderful playing I was witnessing.
Ellis Marsalis Trio (Blue Note) is since then one of my TOP 10 Desert-Island Record:
http://worldjazz.blogspot.com/2008/03/desert-island-top-ten-cds.html
Well, that's how my passion for Ellis music began.
All of his recordings, comes with the majesty of his playing.
Since the death of Bill Evans, I've been looking for the next great pianist. Musicians like Enrico Pieranunzi, Fred Hersch and Steve Kuhn are on my Top-High Eargasm Level.
Ellis earned his place on my Top-High Eargasm Level !
This jazz pianist, educator, professor, and father is a TRUE JAZZ MUSICIAN !
Born
November 14, 1934 in New Orleans, Louisiana, USA.
Son of Ellis Marsalis, Sr., and Florence.
Marsalis and his wife Delores Ferdinand have six sons:
Branford Marsalis, Wynton Marsalis, Ellis Marsalis III , Delfeayo Marsalis, Mboya Kinyatta Marsalis
and Jason Marsalis.
http://ellismarsalis.com
SELECTED DISCOGRAPHY:
Wynton Marsalis & Ellis Marsalis
Standard Time, Vol. 3: The Resolution of Romance
On the third of his three standards albums, trumpeter Wynton Marsalis meets up with his father, pianist Ellis Marsalis (along with bassist Reginald Veal and drummer Herlin Riley), for 17 standards and three of his originals (including "In the Court of King Oliver"). Wynton, perhaps because of his father's presence, is very respectful of the melodies, sometimes overly so. The result is that this set is not as adventurous as one would like although Marsalis's beautiful tone makes the music worth hearing.
Ellis Marsalis
Syndrome
By Lousiana Music
The CD reissue of the 1983 LP of the same title with six alternate takes included. This is classic Ellis Marsalis with the great and under-recorded James Black on drums. In the late 70's and early 80's James would inspire Ellis in remarkable sets all over town. This recording is proof of that. When it was released in 83 it received a five star rating from Down Beat magazine. Recommended.
Ellis Marsalis - piano
Bill Huntington - acoustic bass
James Black - drums
Guest Artist - Kent Jordan
Ellis Marsalis
Piano In E - Solo Piano
Ellis Marsalis got his time in the spotlight with this fine solo piano session. His mix of swing, Afro-Latin, classical, and bebop was spotlighted on superbly crafted versions of Horace Silver's "Nica's Dream" and John Lewis' "Django," as well as Bud Powell's "Hallucinations" and Fats Waller's "Jitterbug Waltz." Marsalis' own originals, "Fourth Autumn" and "Zee Blues," were also expertly written, with charming melodies and smooth, relaxed, yet impressive solos. While he'll probably never get as much publicity as sons Wynton and Branford, Ellis Marsalis certainly deserves high praise for his formidable piano skills.
Ellis Marsalis
Ellis Marsalis Trio
Pianist Ellis Marsalis is in excellent form for this trio outing with bassist Bob Hurst and drummer Jeff "Tain" Watts. The performances fall generally into the medium-tempo range, with Ellis scattering some witty song quotes throughout the lightly swinging renditions. The high points include one of the more delightful versions ever of Johnny Mandel's "Emily," some close interplay during "Little Niles" and a tongue-in-cheek version of "Limehouse Blues" that includes slapped bass, parade rhythms and Marsalis trying in vain to sound Dixielandish. One programming error should be noted: there is no such song as "Just Squeeze Me" and, rather than the one performed being Fats Waller's "Squeeze Me," it is actually Duke Ellington's "Squeeze Me, But Please Don't Tease Me."
Ellis Marsalis
Heart Of Gold
Pianist Ellis Marsalis, despite his connections to Ornette Coleman in the 1950s and his home base being New Orleans, is actually at his best when playing lightly swinging bop in a standard trio. Although he spent a period of time as Al Hirt's pianist, his renditions on this CD of such traditional numbers as "Dr. Jazz," "Do You Know What It Means to Miss New Orleans," "I Can't Give You Anything But Love" and "Sweet Georgia Brown" contain no stride or trad elements. Instead the enjoyable set (which also features Ray Brown or Reginald Veal on bass and either Billy Higgins or Herlin Riley on drums) often displays the influence of Wynton Kelly and players of his generation. As a footnote, "This Can't Be Love" is the recording debut of 14-year-old drummer Jason Marsalis.
Ellis Marsalis
Whistle Stop
For this CD, veteran pianist Ellis Marsalis performs songs composed by some of the top modern New Orleans players of the 1960s, including drummer James Black, tenor saxophonist Nat Perrilliat, clarinetist Alvin Batiste, saxophonist Harold Battiste, and himself. With the exception of Alvin Batiste's tunes (based on "Cherokee" and a Dixieland-ish blues), the originals have strong melodies, slightly tricky chord structures, and sound quite fresh. Marsalis utilizes his son, Branford, on tenor and soprano; bassist Robert Hurst; and drummer Jeff "Tain" Watts; the young Jason Marsalis sits in on drums during two numbers. Ellis Marsalis is in particularly inventive form on this unusually obscure material.
Ellis Marsalis & Branford Marsalis
Loved Ones
by Scott Yanow
On Loved Ones, a set of music on which each of the 14 selections include a woman's name in its title, Ellis Marsalis takes five piano solos and has nine duets with his son Branford Marsalis. With the exception of a brief cooking rendition of "Liza," all of the performances are taken at a relaxed and sometimes quite slow tempo. Ellis Marsalis mostly lets the melodies breathe, infusing them with his own personality (the reworking of "Stella by Starlight" is quite intriguing) and often giving the songs somber interpretations. One wishes that there was more variations in tempos and moods. Branford Marsalis' appearances on soprano and tenor are always an asset, sometimes livening up the selections although mostly playing a subsidiary role to his father. The overall results are pleasing and thoughtful if not quite essential.
The Ellis Marsalis Trio
Twelve's It
A combination of live studio tracks, this effort is especially fine because the mood and spirit of the music is so consistent. The disc also features the talents of yet another gifted Marsalis: Jason on drums and album production.
Ellis Marsalis
Duke In Blue
by Scott Yanow
Recorded during Duke Ellington's centennial year, this solo piano date by Ellis Marsalis is a tasteful tribute to Ellington. Marsalis expertly performs 15 songs from Duke's repertoire (including three tunes in a medley), sometimes modernizing the chords but always keeping the melody close by. The problem with the recital from the listener's standpoint is that the results are mostly very predictable and contain no real surprises. Marsalis' theme variations do not wander far from the melody, his treatments are conventional, and most of the songs are familiar warhorses. So although successful as background music or as an introduction to some of Ellington's most popular melodies, jazz listeners wanting more adventure and chance-taking may be a little disappointed by the safeness of it all.
Ellis Marsalis
Ruminations In New York
By Robert R. Calder
Published: May 10, 2005
This nice, rather than exciting, solo piano set pays tribute, consciously or not, to the late John Lewis's last campaign: on behalf of the Great American Songbook ballads which Lewis insisted were, with the blues, the foundation of jazz since the 1920s. Inspired no doubt by years creating his own melodic lines on Kern, Arlen & Co's tunes, Marsalis here produces several of his own on the old template, doing some classic things with them.
His opener has a nice tension between friskiness and the caressingly lyrical phrasing to which the number which follows is given over. Its development of inner voicings makes it sound like something Thad Jones wrote, but as in the majority of tunes here, there's a singable melody.
Stylistic interest lies in the eschewal of influences normally overworked and associated with such names as Evans, Jarrett, and Tyner. By way of innovation, Marsalis (b. 1934) avoids the danger of de rigueur mannered monotony; he deploys a deft left hand doing flexible swinging things better than they were done when the general style of this set's music was the latest thing.
Hear his support for the long Bud Powell-ish lines of "Haven's Paradise." "After" opens with a harmonisation surely indebted to Monk, but the ballad improvisation which follows isn't Monkish. "Tell Me" is more overt bop, an oblique take on "I Got Rhythm" with a very active bass line which walks and also sidesteps. "Orchid Blue" has a harmonic atmosphere from Gershwin or Ellington (Porgy meets Sophisticated Lady). "Happiness is the Thing" has a pacier opening, spring(ing) fresh, and a frisky ending. "When First We Met" so cries out for a lyric that it's delivered for the most part in a yet older ballad style, where the tune was modified without many alterations, but always tellingly, pretty well vocally.
When the attraction new players find in older bop has become a live topic, it's even nicer to hear a veteran play this music of pretty well his boyhood, relaxed even more than restrained, making a lovely sound on the piano and finally saying how good he feels in the encore-like "Zee Blues": a laughing walking bass all the way to the playful way he finds of ending.
This set was recorded two years back in New York. The insert notes are strictly a resumé of the pianist's resume, leaving little doubt about why he sounds so rejuvenated and relaxed in retirement after all those teaching jobs and routine gigs and raising all those sons.
Track Listing:
1.Things That You Never Were, 3.49, 2. A Moment Alone, 4:45; 3. Haven's Paradise, 4:06; 4. Homecoming, 4:42; 5. After, 4:25; 6. Tell Me, 3:34; 7. Somehow, 4:30; 8. Orchid Blue, 4:12; 9. Happiness is the Thing, 3:40; 10. Chapter One, 4:06; 11. When First We Met, 5:06; 12. Zee Blues, 2:14
Personnel: Ellis Marsalis, solo piano
Ellis Marsalis Quartet
An Open Letter To Thelonious
Monk
. He was the singular jazz spirit that makes jazz
jazz
and his songbook the richest in the music.
Monk's compositions, all of them, have entered the vernacular as jazz standards, those songs specifically composed for jazz as opposed to a Tin Pan Alley show tune adapted to jazz. His music is discordant, often difficult, all angles and sharp dissonant edges and rhythms and tempos, and often sounding as if they were composed by a committee on conference call. That is until the listener has invested the time necessary to reach that cognitive threshold beyond which Monk makes perfect sense.
Gratefully, there is plenty of Monk on record, because nothing replaces the authentic article. Yet, having said that, it is a true pleasure to hear a Monk-inspired recital like Ellis Marsalis'
An Open Letter to Thelonious
. The pianist skillfully straightens out all of the Monkian crags and jetties without eliminating the Monkian genius. Marsalis employs a saxophone quartet like the composer himself; employing son Jason on drums (just check out the New Orleans march on "Jackie-ing").
Marsalis and saxophonist Derek Doughet share a telepathic empathy that infuses the entire group building a synergistically cohesive performance unit. The band fully unites on "Epistrophy" and "Straight, No Chaser," fully integrating their individual talents with the composer's genius. Marsalis' playing is elegant and large. His solo "'Round Midnight" is worth the whole price of the disc. An Open Letter to Thelonious is the most fully integrated focus on Monk on record, taking its place alongside son Wynton's fine Marsalis Plays Monk: Standard Time Volume 4.
Track Listing:
Crepescule With Nellie; Jackie-ing; Epistrophy; Monk's Mood; Straight, No Chaser; Light Blue; Teo; Ruby, My Dear; Rhythm-a-ning; Round Midnight; Evidence.
Personnel:
Derek Douget: saxophone; Ellis Marsalis: piano; Jason Stewart: bass instrument; Jason Marsalis: drums.
Thelonious Monk is jazz's biggest enigma. Called the "high priest of bebop," the jazz Monk composed and performed was anything but. Technically, Monk's time and tempo were impressive, but he was no dazzling speed wizard like Bud Powell or arpeggio painter like Art Tatum. He didn't compose bebop, but bebop leaders recorded his compositions. What Monk was...was
A New Orleans Christmas Carol
By Dan Bilawsky
Christmas music doesn't usually come into stores, radios and homes until Thanksgiving time but, in a year when snow covered the East Coast before Halloween, early arrivals seem to be the norm. Guitarist Doug Munro delivered a Django Reinhardt-styled set of holiday classics on A Very Gypsy Christmas (GotMusic, 2011) in September; pianist Geri Allen tackled songs of the season on A Child Is Born, which hit stores around Columbus Day; and now, 2011 NEA Jazz Master Ellis Marsalis joins the group with A New Orleans Christmas Carol.
The elder statesmen of the best known family working in jazz today tackles a long list of timeless tunes in various configurations, from solo piano to quartet, and the resultant music is a display of pure pleasure and beauty. While the title of the album might lead some to believe that NOLA-slanted arrangements are plentiful, with second line grooves or Meters-style funk forthcoming, that's not the case. Marsalis merely uses the name of this collection to indicate from whence this wonderful music came.
In some places, Marsalis' playing simply evokes imagery of a family surrounding the piano to soak in the warm and tender sounds of the season on Christmas Eve ("Have Yourself A Merry Little Christmas"), but the majority of this music swings, sways and/or soothes in seemingly effortless fashion. Solos are succinct and stylish, and the arrangements are classy and charming.
Particularly notable performances include a trio take on Leroy Anderson's "Sleigh Ride," a warm interpretation of Vince Guaraldi's Charlie Brown-associated "Christmas Time Is Here," which features some fine vibraphone work from Jason Marsalis, and a rendition of "We Three Kings" that's built in the image of McCoy Tyner. "Christmas Joy," which features vocalist Johnaye Kendrick, is the better of the two vocal numbers on the record, but Cynthia Liggins Thomas' vocal performance on Thad Jones' "A Child Is Born" is far from second rate.
Each holiday season welcomes a new batch of Christmas-themed CDs, but far too many of them are ill-advised efforts to simply cash in on the spirit of the times. While it can be assumed that Marsalis would like to sell his music as much as the next person, A New Orleans Christmas Carol doesn't seem to have been made with that goal in mind. This is heartfelt music of merit.
Track Listing:
O Tannenbaum; The Little Drummer Boy; We Three Kings; A Child Is Born; God Rest You Merry, Gentleman; It Came Upon A Midnight Clear; O Holy Night; Winter Wonderland; Christmas Time Is Here; Silent Night; O Little Town Of Bethlehem; Have Yourself A Merry Little Christmas; Christmas Joy; Sleigh Ride; Greensleeves; The Christmas Song; We Wish You A Merry Christmas; Winter Wonderland (Remix); Hark! The Herald Angels Sing; The Little Drummer Boy.
Personnel:
Ellis Marsalis: piano; Bill Huntington: bass; Peter Harris: bass (13, 14, 18); Jason Marsalis: drums, percussion, vibraphone (7, 9, 17, 19); Roman Skakun: vibraphone (3, 6, 11, 15); Cynthia Liggins Thomas (4): vocals; Johnaye Kendrick: vocals (13).