Giovanni Guidi Trio
This Is The Day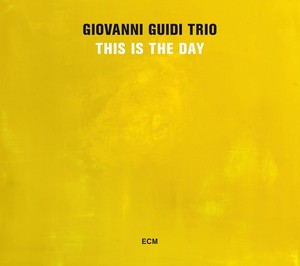 By Adrian Pallant
If you admire expressive watercolour impressionism in contemporary jazz, this album by the trio of Italian pianist Giovanni Guidi, who is thirty this year, with its evocations of fragile, rain-teary washes across a broad, receptive canvas will prove particularly satisfying.
On This Is The Day, Italian pianist Guidi and colleagues Thomas Morgan (double bass) and João Lobo (drums) follow up their 2012 debut City of Broken Dreams with another meditative sequence of diaphanous delicacies, bearing some resemblance to the restrained spirit of Tord Gustavsen or Ketil Bjørnstad. The pianist's big break came when compatriot trumpeter Enrico Rava was so drawn to his focused, minimalist attributes, at Siena Jazz's summer school, he decided to include him in his own groups (also recording on the ECM label).
Here, Guidi again reveals his finesse both as trio leader and, for nine of the twelve tracks, composer. He describes his colleagues and his approach thus: "What I really admire about Thomas and João is the depth and intensity with which they approach music of any kind. All the pieces that I write for this group are written with them in mind. Thinking about the characteristics of their playing – free, direct, profound and with a strong emotive element – I try to bring these qualities also into the music that I write."
Clearly illustrating that aspiration, opening number Trilly ebbs and flows like the gentlest breezes across an Aoleian harp. Softly-brushed cymbals and snare, along with spacial double bass, create the elevation for Guidi's restrained rubato melodies; and whilst the theme itself is almost of nursery rhyme simplicity, the collaborative, atmospheric effect is spellbinding. Carried Away exudes a decidedly Balkan air of melancholy which, as a night sky, gradually illuminates, coruscating with cymbal, high piano and bass highlights; and Game of Silence's weight of emotion suggests the dark, filmic qualities of Italian cinema.
The Cobweb is noticeably freer, as Morgan's quietly agile, spidery bass weaves its way through heavy, clanging, pianistic outbursts and disturbing percussive flutters before segueing into João Lobo's Baiiia, where Guidi's brighter piano motifs attempt to rise above the pervading disquiet. Echoes of Gustavsen are to be found in The Debate, where subtle, bluesy octave melodies roll both prominently and impudently over animated bass and percussion – a welcome moment of esprit.
Central to the sequence is the exquisite tenderness of Guidi's Where They'd Lived. For over ten minutes, the trio explore the luminous landscape surrounding its memorable, yearning theme which possesses lyrical attributes usually associated with Michel Legrand or John Barry. And the arrangement of Osvaldo Farres' Quizas quizas quizas (translated, Maybe) smoulders idly until blossoming into playful Cuban elegance, revealing delightful individual detail from each of the players.
Brief, turbulent Migration leads to a mistier variation of opening tune Trilly, – and then, interesting to hear this trio's take on Livingston/Malneck standard I'm Through With Love – typically wispy, yet with a cheerful resignation which provides a glimpse of Guidi's potential for something more sprightly. To close, his pictorial The Night It Rained Forever lashes descriptively at the windows, Morgan's ominous, sustained arco bass providing its drama until, finally… quiet peace.
For much of its 74 minutes, This Is The Day rarely breaks out of its state of subdued equilibrium. Nevertheless, it would be a mistake to treat it as background, and to miss its subtle sublimity.
Big Screen (Skelton, Newton, Farmer)
Take One
By TheGuardian
Big Screen is a trio: pianist David Newton, bassist Tom Farmer and drummer Matt Skelton. Their aim, to recast cinema music in the jazz idiom, is not new but the possibilities are endless. When it comes to bold originality and delicacy of touch, Newton is unbeatable. He can re-harmonise a tune so persuasively that you almost forget how the original sounded. And they choose some unlikely tunes too. How do you set about the theme to Chariots of Fire, or When Somebody Loved Me, the song from Toy Story 2? You'll be amazed by the transformations that emerge.
Alan Broadbent and NDR Bigband
America The Beautiful
By Dan Bilawsky
In the brief liner essay that accompanies America The Beautiful, pianist Alan Broadbent notes that he has "an aversion to being clever," but the rest of the music world never received that memo. Everybody from Irene Kral to Diana Krall and Charlie Haden to Charlie Rich has benefited from his brilliance with a pen and/or a piano. Now Broadbent gets a chance to live within his own well-written constructs.
America The Beautiful finds Broadbent in the company of Hamburg's NDR Bigband, revisiting a world that he thought he'd left for good when he left the employ of bandleader Woody Herman
more than four decades ago. And it's a welcome return, for he has a lot to say in this area. He uses the DNA of "All The Things You Are" to create something new ("Between The Lines"), he gives the great Billy Strayhorn a tribute that's weightier than what the man would've written himself ("Sonata For Swee' Pea"), and he creates a moving tribute to Herman that's simply breathtaking ("Woody 'N' Me").
As things continue, Broadbent plays with textures and counterpoint ("Covenant"), steps to the fore with his piano on a brief-and-direct winner written long ago ("Love In Silent Amber"), swings away on a tribute to pianist Sonny Clark piano ("Sonny's Step"), and introduces a tribute to his wife all by his lonesome ("Mendocino Nights"). And then there's the title track, which is revitalized with a facelift, yet retains its stirring qualities.
While Broadbent's charts and piano get a lot of well-deserved attention here, this is a collaborative affair, and the NDR Bigband proves to be quite the match for the man with top-billing. It presents a warm-and-rich, balanced-and-brandied sound that's miles away from the screaming brass-meets-silken saxophone sound that's so prevalent in more traditional outfits. The band does have plenty of firepower, but the big guns and heavy ammunition are reserved for the right times.
This group operates like a single well-oiled machine, but the individual personalities shouldn't be discounted or overlooked. Tenor saxophonist Christof Lauer proves to be a monster talent, whether burning or bathing in the glow of Broadbent's writing, bassist Ingmar Heller makes his mark on a couple of occasions, and several other band members get some space to shine.
America The Beautiful is remarkable, and that should come as no surprise. The NDR Bigband has proven highly capable on many occasions before, and Alan Broadbent seems to excel in every musical setting he settles into.
Track Listing:
Between The Lines; Sonata For Swee' Pea; Woody 'N' Me; Covenant; The Long White Cloud; Love In Silent Amber; Sonny's Step; Mendocino Nights; America The Beautiful.
Personnel:
Jörg Achim Keller: conductor; Thorsten Benkenstein: trumpet, flugelhorn; Ingolf Burkhardt: trumpet/flugelhorn; Claus Stötter: trumpet, flugelhorn; Reiner Winterschladen: trumpet, flugelhorn; Felix Meyer: trumpet (4); Fiete Felsch: alto saxophone, soprano saxophone, flute; Peter Bolte: alto saxophone, flute; Gabriel Coburger: tenor saxophone, soprano saxophone, clarinet (2); Christof Lauer: tenor saxophone, clarinet; Lutz Büchner: tenor saxophone, soprano saxophone, clarinet, flute; Frank Delle: baritone saxophone, bass clarinet, flute; Edgar Hertzog: bass clarinet, baritone saxophone, flute (4); Dan Gottshall: trombone; Rainer Sell: trombone; Stefan Lottermann: trombone; Ingo Lahme: bass trombone; Alan Broadbent: piano; Ingmar Heller: double bass; Marcel Serierse: drums; Martijn Vink: drums (4).
Benny Green
Live In Santa Cruz !
By Mark Corroto
We hope you've made the journey these past thirty plus years with pianist Benny Green. From hotshot young lion to keeper of the jazz flame he has consistently electrified audiences with his live performances. Live In Santa Cruz recorded at the Kuumbwa Jazz Center follows up on a recording he made as bassist Ray Brown's sideman twenty years ago. Green built a career, first as an apprentice to Betty Carter, then Art Blakey, Freddie Hubbard, then Brown. His career as a leader found early success with first Blue Note, then Telarc, and more recently, his revival with Sunnyside. As the market, or perhaps marketing departments, ebbed and flowed into then out of a taste for traditional jazz, Green's exposure has waxed and waned.
What hasn't diminished are his skills at the keyboard, and more importantly, his knack for entertaining audiences.
Playing Santa Cruz, side-by-side with Testifying: Live At The Village Vanguard (Blue Note, 1992) confirms his status as a true jazz maestro. The pianist recorded these tracks on his annual performance at Kuumbwa Jazz Center, and the audience ready, willing and primed for his appearance. The nine tracks are all originals, they range form the firecracker opener "Certainly" to the slow drag blues "Golden Flamingo," and an intricately simple ballad "Forgiveness."
Green's music works best in a trio format. Here he calls upon his musical twin, drummer Kenny Washington and bassist David Wong to favor the music. The crowd's energy is felt throughout. Green reintroduces "Phoebe's Samba," a composition written for his sister and recorded years ago on Lineage (Blue Note, 1990). The energy rises here and on his mayhem cyclone tribute to the hard bop pianist "Sonny Clark." Green's facility and hardwire swing carry the day. "Bish Bash" summons the spirit of Bud Powell at his bebop height, and the final track "Anna's Blues" has the crown on their feet. Green's music dares you to not clap, dance, or smile. Can't be done.
Track Listing:
Certainly; Phoebe's Samba; Catus Flower; Sonny Clark; Golden Flamingo; Tales Of Malone; Forgiveness; Bish Bash; Anna's Blues.
Personnel:
Benny Green: piano; David Wong: bass; Kenny Washington: drums.
Simcock & Goloubev
Reverie at Schloss Elmau
By Bruce Lindsay
Schloss Elmau, in Bavaria, was the recording venue for pianist Gwilym Simcock's Barclaycard Mercury Prize nominated solo album Good Days At Schloss Elmau (ACT Music, 2011). In March 2013 Simcock returned to the Schloss in the company of double bassist Yuri Goloubev. The result is Reverie At Schloss Elmau. It's the first duo album by these stylish players, although they have played and recorded together in many ensembles over the years including trios with drummers James Maddren and Asaf Sirkis.
Simcock gets most of the writing credits here—five, to Goloubev's three. Simcock's compositions are perhaps a little more jazz-oriented than Goloubev's, but there's not a vast degree of difference. Both men display a love of melody in their writing; each one shows a delight in using space to enhance the emotional impact of the music. The result is an impressive collection, the generally relaxed and reflective compositions combining with excellent recording (by Adrian von Ripka) to create an intimate mood.
Goloubev originally wrote "Lost Romance" for accordion—something which is not obviously apparent as bass and piano combine on this romantic ballad. Simcock's "Antics" is suitably jittery and urgent, the duo seemingly racing each other to a distant finish line. It's an enjoyable but uncharacteristic shift in tempo and rhythm. Calm returns immediately, courtesy of another Simcock composition, "A Joy Forever," featuring Goloubev's arco bass—which, appropriately, is a thing of beauty.
"Flow" is another of the pianist's compositions which is aptly described by its title—a rolling, flowing, melody. Goloubev bows his bass with precision and grace, despite working for the most part in what Simcock describes as an "unfeasibly high register" for the instrument. "Vain Song" is dedicated by Goloubev to his musical partner (the title is a nod to Simcock's own "Plain Song.").
"Reverie" was written for piano and double bass by the 19th century Italian composer Giovanni Bottesini. Simcock and Goloubev perform the piece beautifully, the bass readily evoking the mood of the title while Simcock's spare and unshowy accompaniment gives the piece more of a jazz flavor than it traditionally receives. The piece sits comfortably alongside Simcock and Goloubev's own writing: a testament to the timeless quality of the performances and compositions on Reverie At Schloss Elmau.
Track Listing:
Pastoral; Lost Romance; Shades Of Pleasure; Antics; A Joy Forever; Non-Schumann Lied; Flow; Vain Song; Reverie.
Personnel:
Gwilym Simcock: piano; Yuri Goloubev: bass.
Harold Mabern
Right On Time
By JazzMessengers
Any day that you get to hear jazz pianist Harold Mabern is a great day, and on his new release, Right On Time, you get two of those days with his trio distilled into one irresistible record. This recording was made on weekend of his 77th birthday party and the extra energy on these tracks is unmistakable. They revel in the complete Mabern experience, delivering everything from classic blues and swinging standards to delicate ballads and modal tempests.
Recorded live at Smoke Jazz Club, March 22 & 23, 2013
Personnel:
HAROLD MABERN, piano; JOHN WEBBER, bass; JOE FARNSWORTH, drums
Tracks:
01. Dance with Me; 02. Seven Steps to Heaven; 03. Don't Get Around Much Anymore
04. My Favorite Things; 05. To You; 06. Edward Lee; 07. Making Our Dreams Come True
08. Charade; 09. Blues for Frank 'n' Paul 'n' All; 10. The Nearness of You; 11. Cherokee