Kenny Werner
The Melody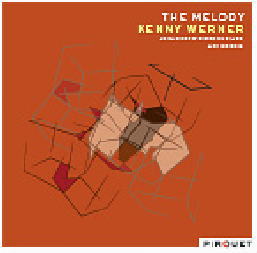 By Dan Bilawsky
The Melody lives up to its name, but not through the simple act of melodic dissemination: pianist Kenny Werner and his trio mates don't make their mark by addressing melodies so much as byundressing them, revealing what's beneath these tuneful coverings. All seven songs on the album—four Werner originals, a Broadway classic, and two standards—speak to the intimate art of dialogue, the respect that exists between these three men, and the inherent possibilities that live within a song.
Once polished with the cloth of invention, every piece here, be it a previously-recorded Werner tune, a new(er) original, or a classic, seems new. "Try To Remember," for example, shrugs off any maudlin qualities and nostalgic weight in favor of starry-eyed wonder, eventually revealing a touch of Sonny Rollins' "St. Thomas"; Dave Brubeck 's "In Your Own Sweet Way" is playful, quirky, and charming all at once; "Who?" is consistency and movement rolled into one; and "Beauty Secrets" is a wholly engrossing meditation on dark-complexioned allure, existing in the shadows while reflecting slivers of lights.
A flexible concept of the individual's function is central to the sound of this trio, as is the notion that no idea is so powerful as to require unwavering allegiance. This music morphs frequently, as rhythms prance, flow, stutter, and stride in unexpected ways, and each musician has a hand in making that happen. Drummer Ari Hoenig is just as likely to drive the action as he is to trace the melodic contours of a passage, bassistJohannes Weidenmueller is a grounding force and a harmonically astute linchpin, and Werner is a wide-open reservoir of musical knowledge, imparting intelligent thought with his every movement. With a decade-and-a-half of shared experiences and several strong albums already under its belt, it should come as no surprise that this trio sounds as good as it does.
Track Listing:
Try To Remember; Who? Balloons; 26-2; Voncify The Emulyans; In Your Own Sweet Way; Beauty Secrets.
Personnel:
Kenny Werner: piano; Johannes Weidenmueller: bass; Ari Hoenig: drums.


Albert "Tootie" Heath/ Ethan Iverson/ Ben Street
Philadelphia Beat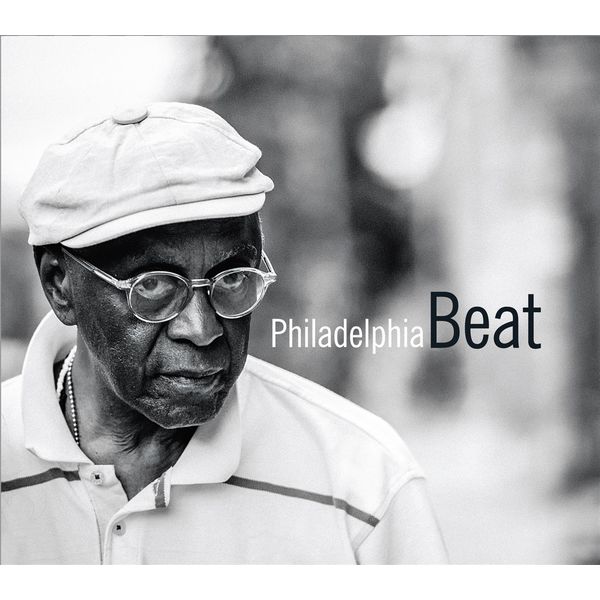 By Jeff Tamarkin
In their jointly written "Artist's Choice" column on Tootie Heath for JazzTimes, pianist Ethan Iverson and bassist Ben Street spotlighted the diversity of the drummer's sideman work, choosing a handful of recordings that illustrated Heath's adaptability. On Philadelphia Beat, the Heath-Iverson-Street trio's followup to 2013's Tootie's Tempo and 2010's Live at Smalls, the track list is also rather disparate, reaching to such wide-ranging sources as Monk, Bach, Eubie Blake, Yusef Lateef and the disco classic "I Will Survive."
Attempting to navigate such a crazy-quilt roadmap, in lesser hands, might court disaster, but given Iverson's work in the Bad Plus, much of whose career has focused on unexpected re-imaginings drawn from a bottomless well, there's nothing to fear. The album's dozen interpretive performances—there are no original compositions—are stylistically all over the place, but the trio's collective bond is airtight.
Of course this trio, helmed by one of the most swinging drummers in jazz history, employs creative but far more earthbound strategies than the Bad Plus. "I Will Survive" is interpreted as a mysterious, mixed-tempo blues. The loping, shuffling "Bags' Groove" that opens the record is adventurous but not at the expense of the indelible theme, and Kurt Weill's "Speak Low," while providing Heath with ample room to swing straight and twist things up shambolically, still relishes the standard's melody and structure.
José James
Yesterday I Had The Blues: The Music of Billie Holiday
By Mark F. Turner
There are many reasons why singer Billie Holiday is so admired—her captivating beauty, crafted phrasing, and the singular way she imbued emotion through each note. Yet the jazz legend known as "Lady Day" not only sung the blues, she lived it. In a storied life filled with heartaches, hardships and personal demons that included a long struggle with substance abuse, she eloquently articulated and expressed many of those sentiments in albums such as Lady Sings the Blues (1956, Verve) and enduring songs like "God Bless the Child" and "Lover Man." In celebration of her 100th birthday—April 7th 1915—singer José James provides a heartfelt and engaging homage to his "musical mother" with Yesterday I Had the Blues: The Music of Billie Holiday.
James's rising career has shown impressive versatility drawing from R&B, Hip Hop, Indie pop and electronic music; influences heard in 2014's While You Were Sleeping (Blue Note). Yet make no mistake; he's proven his merit as a jazz singer in The Dreamer (Brownswood, 2008). His burgeoning love for Billie Holiday came early in life as he recalls, "I discovered Billie during a difficult period of my teenage years...and as much as I loved Nirvana, De La Soul, and A Tribe Called Quest, her music spoke to me on a much deeper level."
With his smoky baritone and elegant phraseology, James is backed by a superb trio of jazz stars—pianist Jason Moran, bassist John Patitucci and drummer Eric Harland—who each recalls the extraordinary vibe during the recording session, in the release's video album trailer. While it's near impossible to channel the true essence of Billie Holiday the trio's consummate musicianship and singer's heartfelt handling of the revered material makes this a rewarding listening experience.
The straight forward yet fresh approach to these classics plays out well and while there are a few artistic liberties taken, they simply enhance the recording's deep aesthetic of music, vocals, and lyrics. When James breathes into the timeless "Good Morning Heartache" his voice articulates the feelings of a lover who's all too familiar with loss. Moran's empathetic arrangement of "Body and Soul" is similarly fascinating; the perfect balance of quietude, exploration and James's honey toned words. Additional highlights include a rapturous version of "Tenderly" and duologue between James and Moron in "I Thought About You" with a creative interlude and soulful refrain at the song's end.
The program concludes with one of Holiday's most remembered songs, "Strange Fruit." Its lyrics originated from a poem written by New York teacher and writer Abel Meeropol in the 1930's; an anti-lynching protest inspired by a photograph he had seen of an African American hanging in the South. It was recorded and sung by Holiday in 1939.

Southern trees bear a strange fruit,
Blood on the leaves and blood at the root,
Black body swinging in the Southern breeze,
Strange fruit hanging from the poplar trees.

Pastoral scene of the gallant South,
The bulging eyes and the twisted mouth,
Scent of magnolia sweet and fresh,
And the sudden smell of burning flesh!

Here is a fruit for the crows to pluck,
For the rain to gather, for the wind to suck,
For the sun to rot, for a tree to drop,
Here is a strange and bitter crop.

James adds a unique spin and performs the work a cappella, similar to a Negro Spiritual or African chant, threaded by a loop of soulful moans and harmonies as he beautifully sings the haunting verses which are still relevant today. Among the numerous Billie Holiday centennial celebrations, concerts and recordings, James's Yesterday I Had the Blues is an excellent tribute.
Track Listing:
Good Morning Heartache; Body and Soul; Fine and Mellow; I Thought About You; What a Little Moonlight Can Do; Tenderly; Lover Man; God Bless the Child; Strange Fruit.
Personnel:
José James: vocals; Jason Moran: piano; John Patitucci: bass; Eric Harland: drums.
Enrico Pieranunzi
Autour de Martinu: live at the bird's eye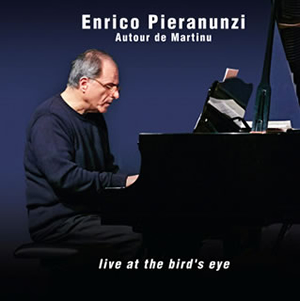 By ChallengeRec
Born in Rome in 1949, Enrico Pieranunzi has long been one of the best-known and appreciated personalities on the European jazz scene. Pianist, composer, arranger, he has recorded more than seventy CDs under his own name, ranging from solo piano to trio, and from duet to quintet. He has played in concert and in the studio with Chet Baker, Lee Konitz, Marc Johnson, Joey Baron, Paul Motian, Chris Potter and Charlie Haden, performing at all the most important international festivals, from Montreal to Copenhagen, from Berlin to Madrid.
Pieranunzi's formative years embraced both classical and jazz piano, and the influence of Debussy is readily apparent in the lush romanticism at the heart of his music. Emerging in the early '70s, Pieranunzi's lyrical approach quickly brought him to the forefront of the European scene, and in 1984 he formed a trio with Marc Johnson and Joey baron, the first of several outstandig groups with American musicians.
In 1989, 2003 and 2008 he was voted Musician of the Year in the Italian magazine Musica Jazz critic's poll and he was 1997 recipient of the Django d'Or Award for best European Jazz Musician.
Enrico Pieranunzi – piano solo
Tracklist:
01. Polka In A / Polka Reflections; 02. Esquisse De Danse; 03. Improesquisse II
04. Improitour IV / Rtournelle IV; 05. Esquisse De Danse; 06. Improesquisse I
07. Sonata K 492 / Vision K 492; 08. Intermezzo Nº1 / Impromezzo Nº 1
09. Sarabande In E Minor HWV 438 / An Angle On Haendel
10. Ritournelle II / Improritour II; 11. Sonata K 9 / Vision K 9
12. Mein Lieber Schumann; 13. Prélude En Forme De Blues
14. Blues For Martinu; 15. Horizontes Finales
Michael Wollny Trio
Weltentraum live: philharmonie berlin
By TheGuardian
On Weltentraum , the brilliant young German pianist Michael Wollny pursues his conviction that almost anything can become a "standard" vehicle for jazz improvisation – this set includes music by Alban Berg, Edgard Varese, the Flaming Lips (Be Free, A Way), and a live finale of Pink's God Is a DJ, sung by Theo Bleckmann. Wollny quotes "tonality and atonality; fragility and force, melodic purity, romantic totalism, endless melodies, dark abysses, angels, dream logic, light darkness, gothic beauty" as the opposites he toys with, and if that sounds over the top, the music bears it out. Bassist Tim Lefebvre joins regular drummer Eric Schaefer, and the music passes through a delicately dissonant investigation of Berg's Nacht, a rocking, fulsome Be Free, A Way, jazz swing peppered with quirky delays and damped notes on In Heaven and the faintly Brad Mehldauesque When the Sleeper Awakes, and through to the ethereally soulful God Is a DJ. There are plenty of contributing composers, and group-improv input too, but this couldn't be anything other than a Michael Wollny album.
John Patitucci Electric Guitar Quartet
Brooklyn
By Dan Bilawsky
Brooklyn is where it all started for John Patitucci. While the renowned bassist may have initially made his mark in sunny California, working with jazz luminaries and establishing himself as a strong presence in the studio scene in the '80s, his New York childhood helped to get him there. It's that starting point that serves as the inspiration for this project, which is something of a companion piece to Back In Brooklyn—a documentary on Patitucci's life expected to arrive in late 2015.
For this album, Patitucci returned to the scene(s) of his youth, literally and figuratively. He works exclusively with electric bass here, since that was the instrument for Patitucci when he started; the project was recorded at The Bunker, a studio located in Brooklyn; and it features a number of songs—Thelonious Monk's "Trinkle Tinkle" and "Ugly Beauty,"Wes Montgomery's "The Thumb"—that served to introduce him to jazz. In saluting those figures, Patitucci also nods to his grandfather, the man who brought home a box of discarded jazz records and, in doing so, opened up a new world for the bass-star-to-be. But that's just how Patitucci looks to the past. The album itself exists firmly in the present, as Patitucci teams up with super drummer Brian Blade, his rhythm teammate in theWayne Shorter Quartet, and a pair of wholly capable jazz guitar modernists—Adam Rogersand Steve Cardenas. With a band like that, it's clear that this isn't going to be some dated walk down memory lane.
Brooklyn begins with IN9-1881/The Search," a prismatic treasure painted with a pan-African palette of sounds. African music remains the focus on the follow-up track—Malian vocalist Oumou Sangare's "Dugu Kamalemba"—but Patitucci and company switch gears for the backbeat-driven, funky-and-soulful "Band Of Brothers." From there, it's off to Monk's world with "Trinkle Tinkle," a number that finds Patitucci and Blade trading solos, and "Ugly Beauty," a spare and transfixing performance with few traces of the composer's idiosyncrasies.
As the album reaches its midpoint, bluesy strains play a bigger part in the production. "JLR," a Blade-Patitucci duo take on "The Thumb," and a deeply felt "Go Down Moses" all speak to this crew's ability to get deep inside the blues, be it in form, language, or spirit. And then there are numbers that go in other directions: "Do You?" is a scintillating piece that swings, "Bells Of Coutance" is an ethereal episode, and "Tesori" is a touching solo bass work that Patitucci wrote for his wife and children.
While no single album can capture every angle of Patitucci's playing, Brooklyn manages to shine a light on his multifaceted electric bass work better than anything else in his leader discography. This music is electric in more ways than one.
Track Listing:
IN9-1881/The Search; Dugu Kamalemba; Band Of Borthers; Trinkle Tinkle; Ugly Beauty; JLR; Do You?; Bells Of Coutance; The Thumb; Go Down Moses; Tesori.
Personnel:
John Patitucci: electric bass; Adam Rogers: electric guitar; Steve Cardenas: electric guitar; Brian Blade: drums.