Gary Peacock Trio
Now This
By Karl Ackermann
Some of bassist Gary Peacock's earliest musical associations speak to a career that has been nurtured by unusually well-rounded experiences. Subbing for Ron Carter in gigs withMiles Davis, playing with the Bill Evans Trio and pianist Paul Bleyand a stay with saxophonist Albert Ayler provided Peacock with foundations that ran the gamut from main-stream balladry, to conceptually modern jazz to the most unrestricted free jazz. All of which led up to the three-decades long relationship withKeith Jarrett and drummer Jack DeJohnette for which he is best known and where his finely developed skills lend themselves to that highly innovative group.
With a very different trio, Now This is often darkly lyrical with a quiet dignity. DrummerJoey Baron—who often draws comparisons to Paul Motian—has never sounded more like the late drummer with a masterfully subtle touch. Pianist Marc Copland has worked with Peacock in various settings for three decades and is a master of harmonics. His work with guitarist John Abercrombie, saxophonist Greg Osby and bassist Drew Gress have earned high praise while Copland has remained puzzlingly under-recognized as one of the finest pianists and composers on the scene.
"Gaia" and "Shadows" the first to pieces on Now This are brooding and unhurried but are followed by "This" where a bit more dissonance is propelled by Baron's refined but forceful playing. Copland pushes that avant-garde essence as he guides the trio through "And Now," "Esprit de muse" and "Moor" the latter two being faster-paced and more complex numbers. Copland's fascinating composition, "Noh Blues," only hints at blues while providing a perfect backdrop for solos and interesting group interchanges. Throughout the pieces Peacock explores the full range of the bass pushing and pulling the music with him through unexpected turns.
There is not a wasted note to be found on Now This where the compositions—some re-worked, others, new—strongly suggest a portentous air. Peacock, Copland and Baron expertly develop the pieces in that light so that, despite the overriding thoughtfulness, it is never certain in which direction the journey is moving. Now This is an thought-provoking collection rendered by brilliant performers.
Track Listing:
Gaia; Shadows; This; And Now; Esprit de muse; Moor; Noh Blues; Christa; ;Vignette; Gloria's Step; Requiem.
Personnel:
Marc Copland: piano; Gary Peacock: double bass; Joey Baron: drums.


Adam Baldych & Helge Lien Trio
Bridges
By Act
The virtuosity of Polish violinist Adam Bałdych enables him to pass with astonishing ease through all kinds of borders: the boundaries of his instrument, the barriers between genres, the seams between composing and improvising. These dividing lines fall away as his playing coalesces with that of his fellow musicians. These attributes have led the UK magazine Jazzwise to call him "a refreshingly different European jazz star". As a player who is "a virtuoso and capable of delivering high emotion" (Fono Forum) with his "dervish-like intensity" (Jazz thing), he uses the tradition as the point of departure for new and exploratory journeys up and away beyond jazz.
Bałdych was born in 1986. His talent was spotted early, and earned him the designation of 'Wunderkind'. After an extended stay in the US, where he pursued studies at the renowned Berklee College in Boston, and then in New York, it did not take long for his international breakthrough to occur. Following a highly acclaimed appearance at the Berlin Jazz Festival in 2011, the German newspaper FAZ declared him to have "doubtless the greatest violin technique in jazz among players alive today." His debut on the ACT Label in his own name, "Imaginary Room" earned him an ECHO Jazz Award. The follow-up on ACT was "The New Tradition", a duo with the pianist Yaron Herman. That CD was assessed by the Süddeutsche Zeitung as follows: "people who want to know where the next Debussy, the next Grieg or Stravinsky is coming from would do far better to look around in jazz than in contemporary classical music."
That evaluation rings equally true for Adam Bałdych's new album "Bridges," where the opening of the first track is enough to demonstrate it clearly. A soft, lyrical melody becomes enriched with tonal colour. At the same time, the listener becomes aware of harmonic voicings that recall not just Slavic but also Scandinavian sounds. That is because, alongside Bałdych's own astonishingly varied range of string sonorities – from gossamer harmonics to a fully weighted tone similar to that of a cello – there is the sound of a pianist capable of a similar degree of variation. On "Bridges" Bałdych has the Norwegian pianist Helge Lien and his trio by his side. "I listened to his last two albums with great interest," explains Bałdych. "The producer Siggi Loch had given me one of them to start with, and I was impressed by the way this trio makes music together. I had been looking for a piano trio that would play my own compositions in a particular way, that is to say they would make the two musical personalities, mine and the pianist's, coalesce, to make something new from my music."
Helge Lien proved to be the ideal choice for this. His style has undergone continual development over the course of no fewer than eight albums with the trio. That evolution gives Lien the capacity to place his trust implicitly in bassist Frode Berg, who has been a fellow traveller from the start. Drummer Per Oddar Johansen, who joined a couple of years ago, is very different: his tendency is to liven things up. This trio's way is to create melodic shapes which are accessible and perfectly formed, yet never trite. The group's leanings towards the trio tradition from Esbjörn Svensson up to Brad Mehldau are evident, and yet the way they experiment both with the American heritage and Nordic sound-atmospherics is not just their own, it also reaches back into the lineage of the European late romantic classical music, to Debussy, or even to Chopin.
These are all antecedents, which the trio have in common with Adam Bałdych, who like Lien is a lyrical musician with a strong focus on melody, and who also loves rhythmic and dynamic development. Another significant facet of Bałdych's music is the way folk influences enter as such a strong element in his music. An example that illustrates this point well is "Polesie." The title is a clever conflation in of the words "Polish" and "Poesie" (poetry), while the music draws on the Eastern Polish folk tradition to which Bałdych was exposed via his grandparents. Over and above this, however, the four musicians have all found themselves totally at one with the overall theme that Bałdych has given to this album: silence. "With the world around all of us getting ever louder," says Bałdych, many people are finding that they become afraid of silence. They think they have to keep on talking just to feel good. Yet the acquisition of knowledge requires silence, and there are many things that can only ever be expressed in a whisper. In my experience, silence can be curative, so I have sought out sounds that emanate from whispering."
As each of the eleven pieces on this album emerges from silence - and almost always returns to it - they cast an almost hypnotic spell. That is what happens in the '100% improvisation' of the title track, in the wildly dynamic "Mosaic, in "Bałdych's poignant "Requiem" for departed friends and role models, in "Missing You," which despite its title is an upbeat swinger, and in "Up," in which experimental sounds are to the fore, and which takes off several times in surprising directions.
The album concludes with a sensational version of "Teardrop" by the UK trip-hop pioneers Massive Attack. "This piece has had a personal significance for me for many years", says Bałdych. "Its wonderful melody is also perfectly suited to the violin, the instrument gives it a folk-ish undertone. I've played the piece again and again in my head, and so I was determined to have my version of it on the album." As with the whole album, the bridge Bałdych has built can serve as an inspiration.
Personnel:
Adam Bałdych / violin; Helge Lien / piano; Frode Berg / bass; Per Oddvar Johansen / drums
Leszek Mozdzer & Friends
Jazz at Berlin Philharmonic III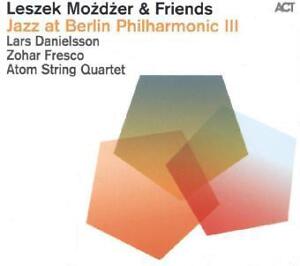 By Act
For many, jazz means new ideas, new sounds, and always doing things for the first time, and the same goes for the "Jazz at Berlin Philharmonic" concert series. On these evenings, surprising, unique combinations of musicians and border-crossing projects can be heard in the Kammermusiksaal of the Berlin Philharmonie. This is one of the many reasons why they have nearly always sold out since their inception in November 2012, and part of what makes them a highlight of Berlin's music scene.
On May 7th, 2014, "Jazz at Berlin Philharmonic" headed East on its musical journey to the jazz stronghold of Poland. Whenever the topic of Polish jazz arises, it's never long before the name Leszek Możdżer is mentioned. The 1971-born piano virtuoso is revered like a pop star in his homeland, his albums routinely make their way into the Polish charts, beating artists such as Sting or Beyoncé to the top spots along the way.
Możdżer's music is deeply rooted in Polish music tradition while at the same time striving for new horizons. Everything is thrown in, from classical to jazz to pop, all interlaced and in sync with one another. Możdżer's classical piano education enables him to explore his own worlds of sound with masterful technique. Chopin, the national hero of Polish music, is an ever-present influence but Możdżer also takes cues from modern Polish composers such as Witold Lutosławski, best known for his complex symphonic oeuvres as well as catchy popular "hits", and Krzysztof Komeda, the founder of an unconventionally lyrical, genuinely Polish jazz sound, and composer for many of Roman Polanski's films including "Rosemary's Baby".
For his "Jazz at Berlin Philharmonic", Możdżer enlisted the help of Swedish bassist and cellist Lars Danielsson, Israeli percussionist Zohar Fresco - perfoming both as a piano / bass duo or trio - and the Atom String Quartet. Without his friends, the concert evening would only have been half the occasion, virtuosity and musicality went hand in hand. Danielsson and Fresco are soul mates of Możdżer, and they have been collaborating closely for ten years now.
Performing with the Atom String Quartet was a new experience for all three men, they are one of the world's finest string quartets and are mentioned in the same breath as the American Kronos Quartet. Outstanding classical technique and a stupendous talent for improvisation enable the quartet to use their instruments with a range that has never been heard before.
Together, Leszek Możdżer & Friends, the protagonists in the sold-out Kammermusiksaal,conjured up a celebrated concert evening that once again shows that a mix of jazz, classical and folk music provides important impulses for the future of European jazz and Poland, here with Możdżer on the piano, plays a big part in that.
Personnel:
Leszek Możdżer / piano; Lars Danielsson / bass & cello; Zohar Fresco / percussion
Atom String Quartet :
Dawid Lubowicz / violin; Mateusz Smoczyński / violin;Michał Zaborski / viola
Krzysztof Lenczowski / cello
René Urtreger Trio with Yves Torchinsky & Éric Dervieu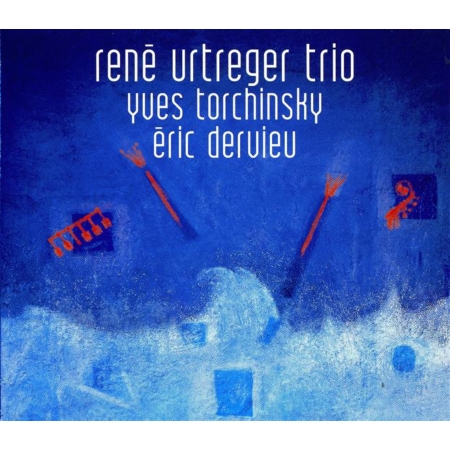 By AmazonFR
The French pianist René Urtreger, who celebrates his 80th birthday in 2015, was a member of the Miles Davis Quintet that recorded the celebrated soundtrack to Louis Malle's Lift to the Scaffold in 1957. He had become a frequent collaborator with Lester Young, Chet Baker, Sonny Rollins, Stan Getz and many others during an era when his native Paris provided American jazz musicians with a warm welcome. Until now, however, his only appearance in Britain had been in the 1970s, when he visited London in his rather different capacity as Sacha Distel's musical director.
Dans le petit monde du jazz, on l'appelle parfois le « roi René ». Comme en écho lointain de ce comte de Provence du XIVe siècle qui préférait les arts florissants des lettres et la compagnie des gens d'esprit aux ardeurs de la guerre et aux fréquentations nobiliaires. René Urtreger est un peu comme ça. Modeste dans ses propos, simple dans ses manières, discret sur ses exploits. Et pourtant, il a fréquenté du « beau monde » et, quand on connaît son histoire, on sait qu'il y aurait de quoi écrire le roman d'une vie dans le jazz.. Entre le premier enregistrement de René Urtreger et sa dernière production, quarante cinq ans ont déjà passé… « Autant dire une éternité pour notre époque pressée. Juste le temps en fait pour un jeune homme résolument moderne, happé au tournant des années 50 par le lyrisme inquiet de la révolution Be-bop, de se métamorphoser, au fil des disques et des rencontres, sans jamais dévier de sa ligne esthétique, en musicien intemporel, dépositaire miraculeux d'une alchimie musicale secrète et impalpable, à jamais intransmissible dans les écoles de jazz. Juste le temps en somme de vouer sa vie au jazz, pour en incarner finalement le romantisme quintessencié, juvénile et imperceptiblement… mélancolique » Il joue en trio avec Yves Torchinsky à la contrebasse et Eric Dervieu à la batterie.